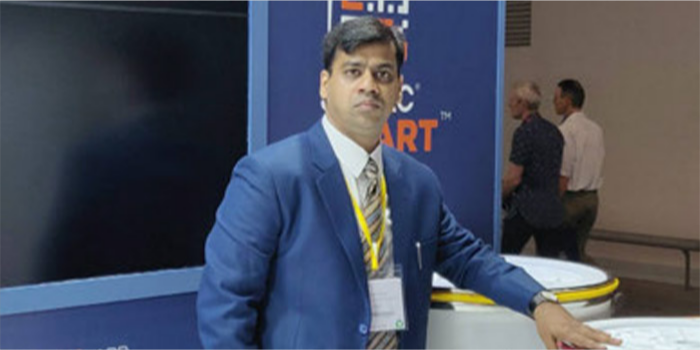 Our revolutionary sliver cans ease operational time
Himanshu Fogla, Director, Jumac Manufacturing, speaks on how the company is meeting the challenges of the market's demands today.
Jumac, a pioneer in spinning can manufacturing in India, was founded in the year 1974 with a mission to deliver quality cans, catering to the jute and textile industry. With superior quality being it's core philosophy, Jumac takes pride in it's most modern state-of-the-art manufacturing plant. The entire range of products and accessories are made in-house enabling full control and monitoring of the process.
Himanshu Fogla, Director, Jumac Manufacturing, speaks on how the company is meeting the challenges of the market's demands today.
Excerpts…
Take us through the journey of Jumac over the years.
It's truly unbelievable that we are manufacturing sliver cans for the last five decades. Perhaps that's our biggest strength and expertise. Founded in 1974 by Shyam Sunder Fogla, we started with manufacturing aluminium sliver cans for the domestic jute manufacturing industry. This is from where we borrow our name JU-MAC too. Pioneering the product, we were one of the first to manufacture and introduce HDPE sliver cans for the textile industry. The year 1988 was a turning point for us when we ventured into export markets.
Jumac has always been a step ahead in product innovation. From introducing plastic cans in 1897, butt sheet welding in 1988, hardened and tempered spring in 1996, dust-free casters in 2003, 1200mm cans for Truetzschler machines in 2015, multiplying springs in 2016 to the revolutionary Smart Can technology in 2019. Our innovations have redefined the industry, followed by the competition and are today a minimum benchmark for the product.Today, Jumac is a strong domestic player and exports to 24 countries, with a strong network of 12 domestic and 24 international partners, serving thousands of leading spinning mills worldwide.
How is your company meeting the challenges of the market's demands today? If any up-gradation/expansion has happened, please give details.
Being proactive has always been in the DNA of Jumac. We simply do not believe in following the herd, rather leading by example, by innovation. Being part of $250 million turnover Fogla Group, we are one of the first manufacturers in the trade to setup our in-house R&D lab. We made sure we were always on-time or ahead.
While challenging times like these are teaching the world importance of technology and going digital, we have introduced IoT driven smart can technology for our customers a year back. A tool that not only eases operational and maintenance time but also helps our customers track their orders from production to dispatch to deliver at their facility.
What has been the impact of Covid-19 on the business you are in?
Covid-19 is an unprecedented scenario. We are all in it together. We took immediate steps to shut down operations to ensure the safety and well being of our employees and their family. We also touch-based with all our customers and partners worldwide to give them confidence, support and reiterate our commitment to our core values.
Because we operate globally, we understand different countries will react differently to the situation, and so will industries in these countries. We are following up regularly with our partners and gearing up proactively with our strategies to make the best out of the current situation. Domestic markets are expected to resume soon as our facilities have also opened up after the lockdown.
It is slightly early to comment on the larger impact of Covid-19 as huge efforts to contain them are still in place. But as textile is one of the most essential human need after food, we expect a lesser impact in this sector.
What are your major products for the industry? What are the distinguishing characteristics and features of your major products?
We enjoy our reputation globally through mastering a single product – HDPE sliver cans. Our products with all its accessories are manufactured under a single roof at our 28,000 sq m facility across two locations. Equipped with German Machinery, our facility produces HDPE cans with seamless welded sheets and duly hardened and tempered springs ensuring precision and consistency.
Offering a wide range from 400mm to 1200mm diameter, our Cans are successfully used for a variety of fibres across leading OEM machines from Rieter, Truetzschler, LMW, Marzoli, etc. All our sliver cans come with the revolutionary smart can technology that simply eases the operational time and maintenance on the floor.
Are similar but cheaper products hurting your industry? Give some details. Do you think Government intervention is needed to stem cheap import? What are the other measures that you think are necessary?
There will always be demand for products at different price points, giving more space for the industry to grow. However, what matters is the value the product brings in. Sliver cans being a capital item with a longer depreciation time, the priority should always be on quality, consistency and after-sale service – attributes that Jumac has always associated itself with. This is why we enjoy over 78 per cent repeat customers globally.
In our sector, especially spinning cans have seen very few international players in the Indian market. The domestic competition is good and healthy.
Make in India is progressing well in many segments. How has it made strides in your company's production? What are the specific quality measures you have adopted/installed to take care of this?
Make in India has been a good initiative and of course, opened new avenues for Indian manufacturers. There is far more acceptance of Indian products in the global market than before and has also pushed Indian manufacturers to produce goods of global standards.
About 66 per cent growth in units sold in last one year and 50 per cent growth in export markets alone speak a lot of our product quality and its global acceptance. When customers buy from Jumac they invest in our values, our commitments.
Is your company in export? Which are the markets, old and new? What are the scope, prospects and problems?
Many countries with cotton production still lies untapped, but with growing globalisation and better investment opportunities, we soon expect many more countries to join in the race.
We have strong presence in 24 countries through our partners. However, we have exported to 36 countries across North America, Latin America, Africa, Europe, the Middle East and CIS countries, Indian Sub Continent and South East Asia.
In domestic production, does your company have any future plans to expand or diversify into other related products? Give some details, if so.
With growing demands, we are on way to our third production unit at Kharagpur that once operational will produce over 25,000 cans per month, apart from also being closer to the nearest port at Haldia.
We also are adding new products like trolleys and baskets in our kitty. Recta cans for the open-end machines are also in pipeline.