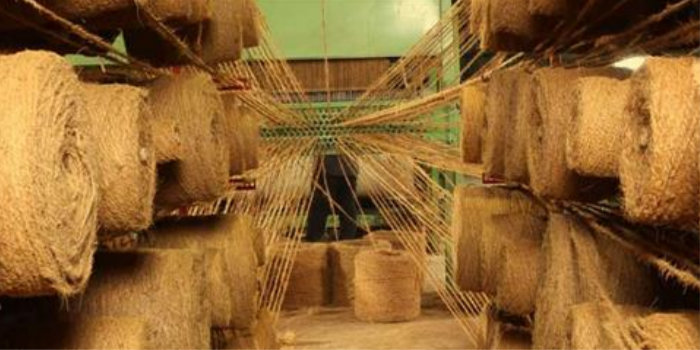 Opportunities galore for Indian coir industry
There is huge scope for growth of coir industry in India. In this article, Dr J Anandha Kumar throws light on opportunities offered in coir spinning and exports of various value-added coir products
Coir is a versatile lingo cellulosic fiber obtained from coconut trees (Cocos nucifera) and is available in large quantities, in the order of 5 million tonnes a year globally. The export, of coir and coir products from India came in at Rs 2757.90 crore for the year 2019-20, registering an all-time high record, which is around Rs 30 crore higher than that of the last year i.e. 2018-19 which stood at Rs 2728.04 crore. While the exports of coir pith, tufted mats, coir Geo-textiles, coir rugs and carpets, coir other sorts, coir rope and power-loom mats registered growth both in terms of quantity and value. The products like hand-loom mats, coir yarn, rubberized coir and power-loom matting showed decline in terms of quantity and increase in terms of value.
Coir pith with export earnings of Rs 1349.63 crore constituted 49% of the total export of coir products from the country. Coir fibre with an export of Rs 498.43 crore constituted to 18% of the total exports. The value added items put together constituted 33% of the total exports. The best way to bring the existing coir industry to a higher level is the development of new value-added coir products. This article throws light on the opportunities galore in coir spinning and the various value-added coir products for Export.
Introduction
Coir is the fibre obtained from the fruit of coconut tree (Cocos nucifera). It belongs to the palm tree family (Arecaceae) grown in tropical and sub-tropical countries. Coconut fruit consists of exocarp (the outer layer), mesocarp (the fibrous husk), endocarp (the hard shell) and the endosperm (the meat). Coir fibre is extracted from the coconut fruit after the removal of husk after the removal of the endocarp and the endosperm. The husk consists of 75% of fibre material and 25% fine material called pith. Though coconut tree grows in several countries, majority of fibre extraction takes place in countries like India, Sri Lanka and Philippines. Less than 50% of coconut husk are utilised for fibre extraction and remaining husks are used as domestic fuel and left over as waste which decomposes in due course of timer. Coir fibre consists of 43.44% of cellulose, 45.84% of lignin, 0.25% of hemi cellulose, 3.00% of pectin, 2.20% of ash and 5.25% of water-soluble compounds. Due to the high quantity of lignin, coirfibre is brown, stiff and has high flexural rigidity.
Two types of course fibres are available in the coir industry like white fibre and brown fibre. Fibre obtained from the immature green husk after a long retting process of 10 to 12 month is known as white fibres. Brown fibres are extracted from matured husk with a getting process of 10 days. Spinning of coir fibres has been carried out in India, Sri Lanka and Thailand. Coir fibre yarn is produced by the traditional hand spinning process and the mechanised spinning process. Hand spinning is being carried out by women workers in the rural regions of Kerala and provides livelihood to a sizable women population. Mechanised spinning process has got its importance as the demand for coir yarns is not fulfilled by the low production of hand spinning process. Most of the white fibres are processed in hand spinning and the brown fibres are processed in the mechanised spinning system.
Coir fibre industry in India
Coir Industry in India manufactures yarns, mats & mattings and other products using age-old processes due to which the Quality of the products leaves much to be desired. Table 1 gives the fibre properties.
Table 1: Physical properties of coir fibres
PROPERTY

VALUE

Length/Breadth Ratio
(L/B)

95.0

Fineness (tex)

35.0

Tenacity (g/tex)

20.0

Breaking Load (kg)

0.45

Extension at break
(%)

25.0

Flexural rigidity
(dynes/cm2 )

200.0

Density (g/cc)

1.40

Porosity (%)

40.0

Moisture regain at
65% RH (%)

10.50