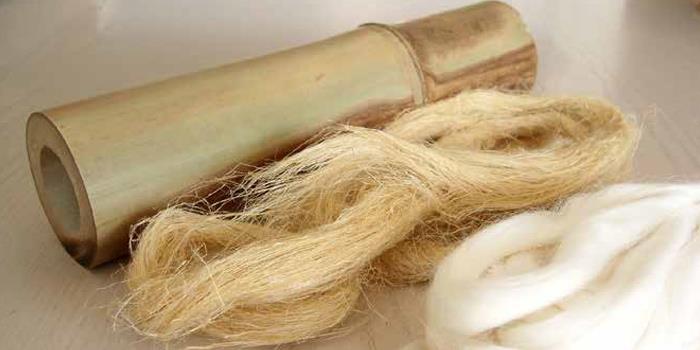 On the rise
The increase in awareness of the damage caused by synthetic materials on the environment has led to the development of eco-friendly materials. ITJ reports on various natural fibres available.
The increase in awareness of the damage caused by synthetic materials on the environment has led to the development of eco-friendly materials. ITJ reports on various natural fibres available.
With increasing concerns regarding envionment, rising oil prices and customer demand, textile researchers, producers and manufacturers are looking to biodegradable and sustainable fibres as an effective way of reducing the impact textiles have on the environment. Natural fibres are getting considerable research interest as reinforcement for the generation of polymer composites due to their high performance profile, environmental sustainability, biodegradability, lightweight, and low cost.
New fibres are developed by using new technologies, such as genetic technology, biotechnology, nano technology, microelectronics. New fibres that are the result of new technologies and keep appearing on the market are nano fibres made from several materials, ie., genetically changed natural fibres such as regenerated cellulose fibres (Tencel), chemical fibres from naturally renewed sources.
Natural fibres such as jute, sisal, silk, and coir are inexpensive, abundant and renewable, lightweight, with low density, high toughness, and are biodegradable. Natural fibres such as jute have the potential to be used as a replacement for traditional reinforcement materials in composites for applications which require a high strength-to-weight ratio and further weight reduction. However, natural fibres have low strength.
Regenerated bamboo fibre is obtained from the bamboo plant, which is an abundant and cheap natural resource. Bamboo, as a regenerated cellulosic fibre, is being more widely used in the textile industry due to its features such as being antibacterial, soft feeling, easy dyeability, absorbancy, breathability and having a smooth texture.
The development of a wool-like fibre from soya beans is a story of technological innovation. A soy protein fibre is the only plant protein fibre and a man-made fibre.
Linen fibre is a cellulose fibre derived from the flax plant trunk. Linen yarn is woven from the long fibres found behind the bark in a multi-layered stalk of the flax plant. In order to restore cellulose fibres from the plant, the wooden trunk and the inner pith (pectin), which binds the fibres together in a clump, must be eliminated away. Cellulose fibres are then ready for spinning. Linen fibre is one of the most strength of natural fibres. It is also comfortable and still widely used. The largest exporters' countries of flax yarns are China, Italy, Tunisia, and Lithuania, along with other high-quality linen fabrics producers such as Ireland, Belgium, Poland, Austria, France, Germany, Sweden, Denmark, Belarus, Latvia, the Netherlands, Spain, Switzerland, and India. Flax has the highest specific stiffness of all natural fibres.
Rieter's Com4® yarns are the yarns spun on Rieter end spinning machines. They fulfil the most exacting requirements and ensure competitiveness in a dynamic market. The spinning technology is decisive for the yarn characteristic. The four different spinning technologies ring, compact, rotor and air-jet spinning create four different yarn types: Com4®ring, Com4®compact, Com4®rotor, Com4®jet. Rieter has comprehensively evaluated important criteria for yarn trader, weaver and knitter. The best suitable yarn will support the quality of the final product and improve the customer satisfaction.
As an alternative, of banana fibre based on yarn and fabrics has features like lightweight, highly strong with low elongation coupled with physical and chemical characteristics. This Banana yarn & fabrics matches linen in its feel and textures, and is definitely an alternative choice. The banana fibre based apparels are biodegradable with no negative effects and is ecofriendly.
Arecanut cultivation is one of the traditional indigenous agricultural crops of the country, since olden times, and India is the largest producer of the Arecanut in the world. The Arecanut husk (which is a byproduct) is used as firewood and is rich in fibre and is used in production of yarn. The mixture of arecanut husk and cotton in fabrics has strong qualities like good bleaching and dyeing properties, which makes it a suitable input material for designers in the advance fashion technology world.
Suvin cotton is the world's higest long staple cotton, a traditional variety seed from Tamil Nadu. This cotton is famous for hand feel and strength.
– KARTHIK MUTHUVEERAN
Advantages and disadvantages of natural fibres
Advantages
Producible with low investment at low cost, which makes the material an interesting
product for low-wage countries.
Thermal recycling is possible, where glass causes problems in combustion furnaces.
Low specific weight, which results in higher specific strength and stiffness than glass. This is a benefit especially in parts designed for bending stiffness
It is a renewable resource, the production requires little energy, CO2 is used while oxygen
is given back to the environment.
Disadvantages
Price can fluctuate by harvest results or agricultural politics.
Lower durability, fibre treatments can improve this considerably.
Moisture absorption, which causes swelling of the fibres.
Lower strength properties, particularly its impact strength.