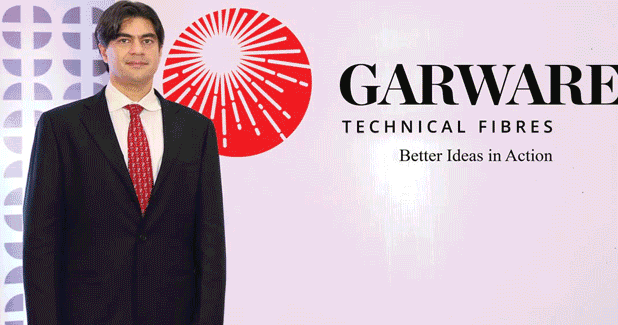 New Name, Same Old Values
Garware-Wall Ropes Limited is now Garware Technical Fibres Limited! The new identity and name is a reflection of its commitment for creating values.
Garware-Wall Ropes Limited is now Garware Technical Fibres Limited! The new identity and name is a reflection of its commitment for creating values.
Garware-Wall Ropes Ltd, synonymous with products in technical textiles field for more than 40 years, has come a long way since its inception. The company is now renamed as Garware Technical Fibres Ltd (GTFL). The rebranding is a part of a focused vision to double its profit over the next five to seven years and be amongst the Top 2 players globally in each of its major operating verticals.
Vayu Garware, Chairman and Managing Director, and third in the line of succession at the company, said, "My grandfather, Padmashree Abasaheb Garware, set up this company to cater to the local needs. He was the first in India to introduce nylon, polyethylene. Supplies from importers were not reliable, so he thought a domestic manufacturing capability of high specialty technical textile fibres would be a good idea."
"The new identity and name is a reflection of our commitment for creating value. With over 20 patents to our name, we are an idea-driven company which achieves differentiated valued added solutions that impact businesses significantly and adds unmatched value to customers", he added.
Why the new name after cementing a place in the industry for over 40 years? Vayu replied, "The company has a good share in all the segments of technical textiles and not just wall ropes, on which the company's earlier name was derived. Earlier our primary business was into wall ropes, but now the company has equal business in all the major technical textiles business, i.e., fisheries, aquaculture, shipping, sports, coated fabrics, agriculture and geo-synthetics."
"Over the past four decades, we have built a strong reputation for quality, value addition, application-focused innovation and we wanted this to reflect in our name and brand," said Vayu, "Our solution segments are niche and all these segments impact the larger economy. For example, among others, our solutions are focused on progress and productivity for agriculture and fisheries, which typically constitutes almost 14 to 15 per cent of India's GDP. The next five to seven years will be very important for us as we look forward to double our profits and this we will achieve by being among the top two in each of our major verticals."
Innovative solutions form the fulcrum of the growth strategy at Garware Technical Fibres as echoed in the mission statement "Provide innovative, application-focussed solutions to enhance the value of our customers globally."
"This is an exciting transformation for us and marks a strategic pivot in our future path in the technical textiles business," said Shujaul Rehman, CEO of GTFL. "Our presence significantly impacts the sustainability of food production with a positive impact on the environment. We will continue to grow our value added offering in more than 75 countries and are committed to growing both India and global business to serve our stakeholders."
The company's four pillars of value:
Ownership: Own the process of delivering results with entrepreneurial spirit and joy of working in an empowering environment.
Improve: Continuously improve products and services to become preferred partner of customers
Bond: Enhance family bond with the employees and business partners through fair and equitable dealings
Enhance: Enhance stakeholder value through profitable growth in sales and earnings
To meet the objective of continuously improving and widening its product range, the company has set up a full-fledged R&D centre, recognised by the Department of Science & Technology, Government of India. In constant endeavour to improve existing products and to meet stringent requirements of domestic as well as overseas clients, the R&D has been continuously developing application focused new products. GTFL has filed 27 patents in the last five years.
GTFL serves Indian market with seven offices, 18 depots and over 1600 dealers and sub dealers. The company has international presence in over 75 countries through six overseas offices across the globe. The manufacturing facility at Wai, Maharashtra is the largest unit in India and spread across 30 acres.
Q1FY19 net profit rises by 20.7%
GTFL announced its financial results for the first quarter ended June 30, 2018. The company's net sales grew by 0.4 per cent to Rs 244.3 crore in Q1FY19 as compared to Rs 243.2 crore in Q1FY18. The profit before tax grew by 20.1 per cent to Rs 46.2 crore in Q1FY19 as compared to Rs 38.4 crore in the same quarter last year. Net profit (PAT) has grown by 20.7 per cent to Rs 31.4 crore in the quarter as against Rs 26 crore in the corresponding period of FY18. EPS for the period is at Rs 14.33 in Q1FY19; this is a growth of 20.7 per cent over Q1FY18.
Sharing his views on the results, Vayu stated, "Our profit growth in this quarter has been on track at 20 per cent, spurred on by growth in new markets of our international business and more particularly improvement in mix of value added products. The sales value growth was muted primarily due to the continuing sluggishness in the domestic trade channel post GST implementation and higher pre-GST base effect of last year. This is expected to stabilize over the next few quarters. There is a reduction in other income this quarter, of which a significant portion is due to Ind AS mark to market effect on some treasury investments, related to the recent spike in interest rate. This is non-cash and notional in nature."
'Top Exporter' award
Recently, GTFL has been awarded the prestigious 'Top Exporter Award' for their outstanding performance in the fish netting export category and ropes category for FY15-16 and FY16-17 by the Plastics Export Promotion Council (PLEXCONCIL) at an award function held in The Leela, Mumbai. The Plastics Export Promotion Council sponsored by the Ministry of Commerce & Industry, Government of India, represents the exporting community in the Indian Plastics industry and honours outstanding export performance of the industry leaders across categories. Rehman said, "We are delighted by the recognition and appreciation received from PLEXCONCIL. The award is an acknowledgement of our continuous endeavour to ensure that enhance value to our customers through our differentiated solutions."
PLEXCONCIL undertakes various export promotional activities including participation in international trade fairs; sponsoring delegations to target markets; inviting business delegations from the overseas to India; organising buyer-seller meets both in India and the overseas, and servicing the needs of its members.