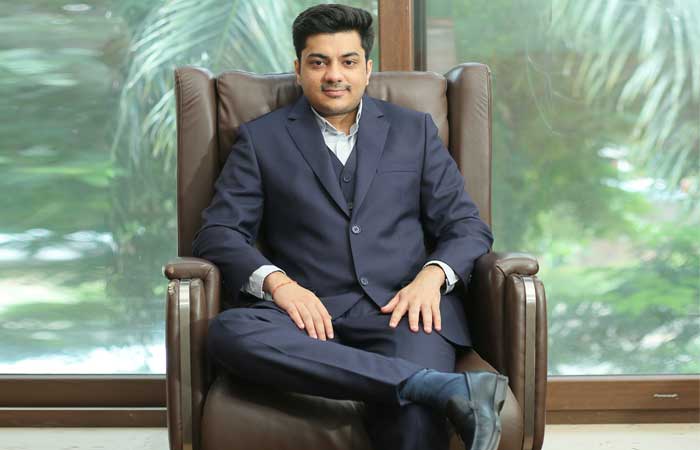 Nandan Terry is focusing on contract manufacturing model
Ronak Chiripal, CEO of Nandan Terry, has been associated Chiripal Group, which has succeeded in every business domain it has entered in. Nandan Terry – having vertically integrated state-of-the-art facility from spinning, weaving, process & CSP of terry towels – has been posting robust growth in the last few years. In this interview with Rakesh Rao, Ronak Chiripal highlights on the new growth opportunities and the company's future plans.
How was the performance of Nandan Terry in the first nine months of 2021-22? Which product segment is driving the demand?
I am happy to share that Nandan Terry has recorded an outstanding performance in the first half of fiscal 21-22, with almost 93% growth in revenue to Rs. 501.81 crores. This is close to our annual revenue recorded for the financial year 2020-21 which was Rs. 538.52 crore.
Nandan Terry has three main revenue buckets namely towel and towelling products, cotton yarn and woven fabric. Towel and towelling products has a lion's share at 73% of the revenue, followed by cotton yarn at 13.02% and woven fabric at 9.01%.
You are closely associated with the Chiripal Group (A well-known name in the textile business). How has this association helped you in building Nandan Terry?
Chiripal Group is a textile conglomerate which has succeeded in every business domain it has entered in; be it textile, flexi packaging or education. With a legacy of more than five decades, the brand enjoys a very strong goodwill in the market. With a strong workforce of 20,000 employees, we have a plethora of rich experience and talented manpower. With such long innings, we have managed to set up a robust team for operation, governance, supply chain and distribution. All this comes handy when you are setting up a new brand. I would say, I had an early orientation to think like an industrialist, thanks to my association with Chiripal Group which is close knit family. Our regular interaction with elder family members helps in comprehending complex business situations and finding most feasible solution in the optimal way.
Nearly half of Nandan Terry's business comes from exports. What is the secret of success in the global market?
Primary success factor in the textiles sector is producing visually appealing designs and innovative use of vivid colours to attract the buyer. We have set a very high benchmark for ourselves in terms of producing highest quality products. This has helped us in having a large volume of our revenue from exports. Our growing share of export from 2019-21 in towels and towelling products stands at 44.02%, 50.92%, and 47.90% respectively. Exports decreased as a result of Covid-19. We went back to the drawing board and evaluated the trends in each country and region to understand the buying behaviour and customising our products to suit our global customer. Vision of senior management coupled with our in-house designing team who have a superior understanding of evolving trends helped us in garnering larger market share. We are on a quest to enhance our global footprint by capturing new markets. We are constantly learning from our research and have an eye to identify emerging trends. This constant updating and upgrading helps us in understanding our consumer who is at the centre of our universe.
Has Covid pandemic opened up more opportunities for Indian textile companies?
The first wave of Covid had debilitating impact on manufacturing due to lockdown. As compared to it, most of the companies were better prepared to manage the second wave with all precautionary measures in place. Indian garment industry successfully managed operations in accordance with COVID-19 protocols. The demand which had been unfulfilled in the first wave was fulfilled in the second wave giving the textile industry necessary fillip. Many exporters had a good order book with enhanced orders from key markets i.e. US and EU.
Rollout of Production Linked Incentive (PLI) Schemes, which attempts to promote manufacturing operations in the country, has also aided the recovery of industrial activities. PLI Schemes have been authorised for 13 sectors so far, while 9 have been notified. The Indian government has announced the PLI Scheme for the textiles industry, with the goal of increasing the production of MMF fabrics, MMF apparels, and technical textiles. The scheme's total budgeted investment has been set at
Rs 10,683 crores, which would be spent over the following five years. According to ICRA, the scheme is estimated to attract investments of Rs 19,000 crore and a total turnover of over Rs 3 lakh crores over the course of the scheme.
Do you think having a robust sustainability policy helps in growing exports?
In FY20, the textile and clothing industry contributed 2% to the overall GDP and 11% to the entire manufacturing GVA. The Indian government is implementing several schemes for the textile and industry sector, including the Amended Technology Upgradation Fund Scheme (ATUFS), Scheme for Integrated Textile Park (SITP), and a scheme known as Samarth, with the goal of modernising and upgrading the technology of the Indian textile industry. It has also implemented the National Textile Policy of 2000, the Gujarat Industrial Policy of 2020, and the Duty Entitlement Passbook Scheme, with the NTP 2000's major thrust areas including increased exports, innovative marketing strategies, product diversification, and quality consciousness, among others. The Gujarat Industrial Policy, 2020 was introduced to build an enabling business environment aided by a single window system, as well as to enhance the whole value chain across product segments with the goal of creating a "Atmanirbhar Bharat." The Duty Entitlement Passbook Scheme ("DEPB") is a duty remission scheme that allows for post-export replenishment / remission of duty on inputs used in export products. Under the scheme, an exporter may apply for credit in freely convertible currency, or payment from a foreign currency account of a SEZ unit / SEZ Developer in the case of DTA supply.
What has been the impact of rising cotton prices of the business?
Rising cotton prices increased the volatility in the business projections with respect to Profits as margins came under pressures. Nandan Terry had anticipated this possibility and had taken precautionary measures like cotton hedging. Our buyers supported us by accepting hiked price so that overall impact was managed well.
Could you please elaborate on your manufacturing plant?
Nandan Terry has five manufacturing Units located in Gujarat, India which predominantly manage production of terry towels and towelling products for B2B market. We are vertically integrated manufacturers with operations that handle several aspects of the terry towel manufacturing process, including spinning, weaving, dyeing, cutting, stitching, and packing (CSP) and processing. Nandan has set up quality control facilities at each unit, consisting of quality assurance and quality control teams that check and conduct various tests on the products at various stages, beginning with the raw materials procured and ending with the finished products manufactured by us, to ensure that they meet the highest standards.
All of our production sites include a fully equipped Quality Control facility with experienced and certified personnel performing quality checks and inspections at all stages of the manufacturing process. Raw materials bought and completed goods manufactured by us are subjected to quality control and quality assurance inspections to ensure that they meet the quality requirements set forth by the relevant international regulatory body and consumers.
The quality control facility inspects and tests the raw materials obtained and the completed goods manufactured to guarantee that the target quality is reached. All of the units have complete testing capabilities for evaluating raw materials/inputs, in-process materials, and finished goods quality characteristics. If necessary, corrective action is conducted based on the results of the tests to ensure that the final goods meet the intended quality requirements.
According to you, why is it important to have a modern manufacturing facility to be competitive in the global market?
Modernization and technological advancement are critical for lowering costs and increasing output. Nandan Terry has invested in state of the art technology as we want to ensure that we stand head and shoulders above our competition when it comes to manufacturing superior quality products. We are on a constant lookout for latest technology upgradation introduced in the market and study its impact on the products. If a new technology is discovered in the textile processing industry, we are the first to adapt the same. We will continue to have a focus on the most advanced technology across all our manufacturing units.
A robust IT systems forms a backbone of business operations. Our commercial success is greatly reliant on technological advancement and innovation.
What are your short- and long-term growth plans for Nandan Terry?
India has benefitted as buyers have shifted their outsourcing to India as it is a reliant and quality manufacturer. While the world is adopting China plus One policy, India stands to gain due to large quantity of superior quality raw materials at a reasonable price. Majority of the global brands prefer working with India in the post pandemic world so I see a lot of growth potential. Many fashion brands are foraying in the home textile and India is their preferred partner for their sourcing needs.
We will eventually double our capacity as this increased demand trend continues in the long run. In the near future i.e. 2-3 years, our focus will be on contract manufacturing model which will help us in sustaining demands and achieve growth. We will eventually consider major capex expenditure after a few years. We are adding up 24 looms which will help us in catering to increased demand in the short run.