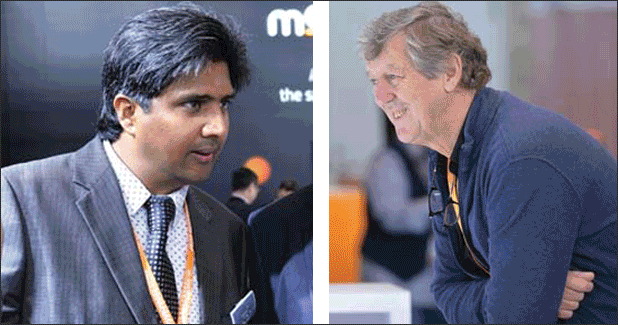 Mouvent's digital innovations for India
There will be two daily live demos (12h00 and 15h00) of the innovative TX801 digital textile inkjet printer at the Mouvent booth C7 in hall 11
Mouvent – the Swiss start-up company focused exclusively on delivering the future of digital printing using pioneering digital technology – will participate in this year's Gartex tradeshow, taking place from August 18-20 in New Delhi, India. There will be two daily live demos (12h00 and 15h00) of the innovative TX801 digital textile inkjet printer at the Mouvent booth (C7 in hall 11).
Having recently showcased its solutions in China and Turkey, Mouvent is confident that its revolutionary TX801 digital textile inkjet printer will be a star of the show at Gartex in India. The very compact TX801 – which prints with up to eight colours and can complete up to 50 per cent of the print jobs in a single pass, boosting productivity up to 200 m2/h – has been receiving a lot of attention at high-profile tradeshows lately.
"We are delighted that the industry reception of the TX801 has lived up to our high expectations," said Ghislain Segard, Marketing and Sales Manager, Textile Machine at Mouvent. "Industry experts have been impressed with the extremely high print quality at very high production speeds, as well as its precision and scalability. We are looking forward to demonstrating our technology in India, particularly so shortly after we announced a vital strategic partnership in the country."
Mouvent recently announced strategic partnerships with the principal distributors of textile printing solutions in four key countries, including India where the company will partner with Fortuna Colours & Prints LLP. Vinod Krishnamurthy, one of the co-founders of Fortuna Colours & Prints LLP, started digital printing on textiles in 1998. The company launched Mimaki, Reggiani, Hong Hua, Kornit, Huntsman and almost a dozen brands, ranging from ink over software to machines.
"It is a privilege to be partnering with Mouvent and we are very excited to help bring the TX801 to customers in India," said Krishnamurthy. "The Indian textile market is so varied and interesting – with everything ranging from exclusive high-quality textiles to huge-scale mass production – and the solutions that Mouvent has are very well suited to this market.