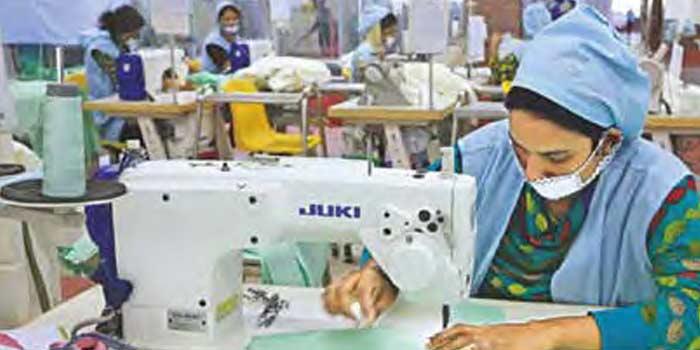 Modernisation, indispensable for development of textile
Without modernisation of its entire value chain, India can never become global champion in textile sector.
Without modernisation of its entire value chain, India can never become global champion in textile sector.
The Indian textile industry is one of the largest in the world with a market size of approximately $140 billion (2018-19) including handicrafts. India's textiles industry contributed 7 per cent of the industry output of India in 2018-19 and 2.3 per cent to the GDP of India. Employing over 45 million people directly and 60 million people indirectly, this industry is one of the largest source of employment generation in the country. India's overall textile and apparel exports including handicrafts were valued at $40.4 billion during FY 2018-19 with a share of approximately 4.5 per cent of global exports in textiles and clothing. This is still a very nominal share despite the textile sector in India being one of the oldest sectors and has witnessed revolutionary changes in transforming the industrial and economic landscape of the country.
The Indian textile industry comprises of traditional unorganized as well as organised segments. The unorganised segment, covering handloom, handicraft, sericulture, jute and wool provides employment to millions in the rural areas with relatively low capital investment. The segment is environment friendly and forms a part of the rich culture, heritage and tradition of India. The organised segment, on the other hand, plays an important role in bulk production, export and employment generation. The organised textile sector has more than 3,400 textile mills both in the small scale industry and the non-small scale industry sectors. In terms of capacity India occupies an advantageous position in the global textile industry. The table provides, at a glance, the capacity of India in textile production.

Modernisation in India vis-a-vis other competing countries

Despite promising prospects, the textile sector in India is unable to increase its exports share in global trade. The biggest challenge faced by the sector is the small size of production units and fragmented manufacturing. Another major problem faced by the industry is obsolete technology as compared to the rest of the world. Indian firms due to their small size are unable to invest in capital-intensive technology, which require huge financial investment.
As many as 80 per cent of garment production units in India are "small operations" with less than 20 machines. This makes it difficult for the domestic industry to achieve scale. Technology up gradation is a big challenge for these small and medium scale units with limited resources. However, China, Vietnam and Bangladesh have invested high in capital-intensive technology and have created large capacities in garment production having state-of-the-art technology.
India's spinning and man-made fibre (MMF) industry is one of the most organised, efficient, and modern industries of the country and as a result of which India has a strong presence in global exports of cotton yarn. India's share in cotton yarn export is highest i.e. 26 per cent in the world in 2016. The total installed capacity of spindles is the largest in the world with more than 50 million spindles and 8 million rotors. In MMF category, the total world export value of MMF yarn stood at $25.59 billion in 2016 with China have a significant share of close to 27 per cent followed by Indonesia and India. India's share has been steady and almost close to competing countries such as Indonesia and USA. India's strong position in spinning sector is clearly attributed to its organized, efficient, and modern industry in this segment of textile value chain.
India also has the world's highest installed loom capacity, which includes 2.77 million power looms; whereas China has more than 1.28 million power looms. However, in terms of availability of latest technology, China has more than 6.3 million shuttleless looms as compared to India's 1.5 million looms in this category.
Huge gap in technology, in this segment, in India is clearly indicated by the fact that China has a global share of about 51 per cent in export of cotton fabric as compared to India's share of 6 per cent in the year 2016-17. This huge differential is a reflection of India's inability to scale up the value chain although it leads in the production and exports of cotton yarn.
Approximately, 95 per cent of the weaving and knitting sector in India is unorganised in nature. Decentralised powerloom and hosiery sector contributes approximately 85 per cent of total fabric production. Processing segment is also dominated by large number of independent, small-scale enterprises. Since, weaving/processing sector in India is dominated by small scale enterprises; it has challenges like inadequate know-how, low focus on research and innovation in new product development and low technology up gradation. Due to these factors, weaving sector in India always has low automation levels and low productivity. Due to these factors, overall performance of fabric production in India is getting dampened. Weaving sector still remains one of the weakest links of the Indian textile and apparel industry. Identifying India's huge potential in this sector, there is a need for big investment for installation of advanced shuttleless looms in India. This will enhance the export performance of the country in fabric as well as garment segments.
India's garments exports has been around $16 billion during FY 2018-19, with a world market share of about 3.5 per cent. It is estimated that there exist close to 68,000 garment units in the organised sector, of which about 88 per cent are in woven cloth while the remaining are in knits. Indian garment industry is moderately modern in terms of technology. It is found that only the big players in the industry are investing in latest technology. A large number of small and medium players rely on second hand machines to fulfill both domestic and global demands because of lack of capital and import costs related to new technology.
Importance of technology upgradation, automation and Industry 4.0

Modernisation is the foremost factor for enhancing the global competitiveness of Indian textile sector. Modernisation is required to increase production, reduce cost, rationalize labour in various operations, reduce maintenance and make the industry energy efficient. In order to make Indian textile Industry globally more competitive, modernisation holds the key. Without modernisation of its entire value chain, India can never become global champion in textile sector. In Indian textile industry, due to number of factors, the vast majority of the textile units, especially in weaving, knitting and processing sector never tried to adopt latest technology available in the market. As a result the Indian Textile Industry especially in weaving and processing sectors has been suffering from technological obsolescence since last several decades.
Automation is also important to enhance the productivity of textile units in India and reduction in unit cost of product. Automation in garment production involves different processes including handling, spreading, cut¬ting, specific stitching and finishing and pressing techniques. Automation increases productivi¬ty, safety, efficiency, quality and consistency of products. The main benefit is that it works consistently, tirelessly and the speed of operation is fast. In future, level of automation will play a big role in determining the competitiveness of textile industry.
Industry 4.0 refers to the suite of technologies that lead to more efficient, automated and data driven manufacturing. Many countries have come up with Industry 4.0 strategy and allocated funds to specific work areas. The outcomes that have been aimed by these countries are increase in productivity by minimising downtime of equipments using predictive analytics and IoT, increasing manufacturing competitiveness, better resource utilisation, etc. Indian textile industry should be ready for Industry 4.0 transformation.
Embracing Industry 4.0 makes it possible to assemble and analyse data across machines, enabling rapid, more flexible and more efficient processes to produce higher-quality goods at minimum possible costs. This manufacturing revolution will undoubtedly boost productivity, promote industrial growth and reshape the profile of the workforce in textile industry.

Innovations and R&D

To achieve and maintain a predominant position in the international market, promotion of R&D is most strategic intervention for every country in the world. Except few big players, the textile industry in India is having the low-end technology due to the lack of R&D activities. Following table provides a comparison between India and China on R&D expenditure across sectors:
From the table, it is clear that share of Indian industries on R&D expenditure is very limited and there is a need for greater investment in R&D. More concentrated efforts are required from both Government and industry for promotion of R&D in India. Government R&D institutions and academic institutions should have greater interface with industry and take up R&D, which are more relevant to the emerging needs of the textile industry.

Textile engineering industry (TEI)
To achieve high growth in textile sector, it is necessary that Indiantextile machine manufacturing industry has to provide better technology at reasonable rate. The importance of textile engineering industry (TEI) in India can't be ignored for improving competitiveness of the Indian textile industry and providing solutions for modernisation. The capacity creation and technological levels in the Textile Engineering Industry in India has been largely influenced by the spinning sector which has modernised and expanded substantially in the last several decades.
The TEI in India has developed most of the modern looms and sewing machines for garment manufacturing. However, there is still technological gap in machines, if we compared it with hi tech machines available globally. Textiles machinery manufacturing industry in India should build up enough capacity to produce hi-tech weaving, knitting, processing and garment manufacturing machines keeping in view the growth projections of Indian Textile sector in coming years.

Government initiatives for technology upgradation

The Government of India had launched Technology Upgradation Fund Scheme (TUFS) in March, 1999 to encourage the Textiles Industry to invest in modernisation and technology up gradation. Recognising the need of technology up gradation in textile sector, the Amended Technology Upgradation Fund Scheme (ATUFS) was notified by the Government in year 2016 with an outlay of Rs 17,822 crore for a period of seven years from 2015-16 to 2021-22 with a view of providing state-of-the-art or near state-of-the-art technology to the Indian textile industry.
The scheme provides one time capital subsidy for eligible machinery, i.e., at the rate of 15 per cent for garmenting and technical textiles segments with a cap of Rs 30 crore and at the rate of 10 per cent for weaving and processing segments with a cap of Rs 20 crore. It is estimated that ATUFS will attract an investment of Rs 95,000 crore for technology up gradation in Indian textile sector. The Government support has helped the Indian textile industry to grow over the years and become more competitive in manufacturing and export.
Another credit linked capital subsidy scheme of the Ministry of MSME was started in the year 2000-01. The major objective of scheme is to facilitate technology upgradation by providing capital subsidy to micro and small enterprises (MSEs), on institutional finance availed by them for induction of well established and improved technologies in the specified sub-sectors/products including garment manufacturing. As of now, the ceiling on eligible loan under the scheme is Rs 1.00 crore. The rate of capital subsidy is 15 per cent subject to maximum ceiling of Rs 15 lakh. In year 2018-19, a total of 14,155 MSEs across sectors benefitted involving government subsidy to the tune of Rs 980 crore.

Apart from central government schemes, state governments have also launched several schemes for providing incentives to Indian textile sector for technology upgradation.
Majority of the units, availed benefits under TUFS have reported improvement in productivity/quality, reduction in cost, lower wastage, lower maintenance cost, increase in price realisation and reduction in labour cost across the segment. The spinning sector has been the biggest beneficiary of the TUF scheme. Low share of power loom and processing sector has emerged as areas of concern. Investment for technology up gradation in the downstream segments of weaving and processing is necessary to ensure that maximum quantity of yarn produced in the country is converted into value added products domestically.
Outlook for Indian txtile industry

Indian textile industry holds large potential. With the support of appropriate policy instruments, India's exports can attain a level of $90 billion from $40 billion in 2018-19 in the next 10 years at a CAGR of 8 per cent, if overall economic growth momentum is maintained. Overall textiles export growth can be sustained inter alia, by greater investments and by structural reforms to achieve scale and by addressing technological gaps in Textile sector.

Conclusion

Faster adoption of technology is a key for Indian textile sector to accelerate the pace of manufacturing and become globally more competitive. TUFS and its amended versions have helped Indian textile industry in upgrading the technology and increasing the capacity. However, in cost competitive era, the Indian textile sector has to invest more for modernisation with special focus on increasing automation of production processes and promotion of innovation and R&D in order to gain edge over its competitors like China, Bangladesh and Vietnam.
Authored by: Upendra Kumar Gupta, Deputy Adviser, NITI Aayog, and co-authored by: Abhishek Mukherjee, Research Officer, NITI Aayog. Views expressed are personal.