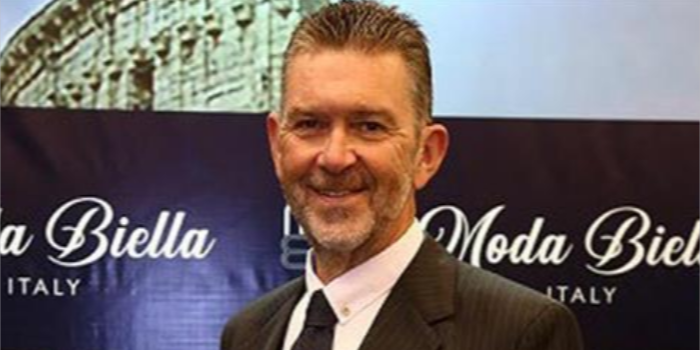 Moda Biella will always remain faithful to quality
Malcolm Campbell, European Advisor, Moda Biella, speaks on the foray into the Indian market, and the new wedding range
Moda Biella has been a revered brand in Italy for many years. The fabrics are truly top notch- with superfine exotic fibers to produce a remarkable array of superfine cloths. With a line-up of finely designed fabrics, this brand is not only deep-rooted to its heritage of making world class fabrics but also excels in technical innovation, and outstanding colour and design features. OCM, one of India's largest fabric manufacturers, forays into the Indian market with the launch of Italy's luxurious heritage fashion brand – "Moda Biella".
Malcolm Campbell, European Advisor, Moda Biella, speaks on the foray into the Indian market, and the new wedding range.
Excerpts…
Tell us more about Moda Biella's foray into the Indian market. Also brief us about the new wedding range for the Indian market.
It was after serious and careful negotiation that we decided to create, develop and introduce the Moda Biella collection to the Indian tailoring and garment market. Artisan designers and weavers have been involved in creating the heritage, and the provenance behind this outstanding collection of menswear fabrics in top quality cloths, already referred to as 'The Heritage of Luxury fabrics'.
Moda Biella's latest fabric range presents an array of luxurious wedding fabrics – a perfect amalgamation of glamour and elegance. The range has blends of merino wool with silk, linen or cotton, offering a vibrant colour palette with tones of burgundy, bottle green, chestnut and indigo to supplement the traditional blacks and navys.
We have also created a collection of 'European Influences' within our collection of two and three piece suits, fancy jackets with chinos or jeans, some outfits with a tie, some without, reflecting the choice of formal or more casual looks for the big wedding day.
Both collections are presented under the exclusive Moda Biella banner – "The Marriage of Love and Luxury" – say "I Do" wearing Moda Biella.
Given that Indian weddings are becoming increasingly elaborate and people are continuing to invest in clothes, how do you look at the Indian market for your range?
Indian weddings are a huge affair and have become more elaborate lately, giving the textile industry space to innovate and add diversity to their festive collection. The market likes to experiment and is very versatile in terms of colours and combinations that can be played around with.
Moda Biella has put together a wonderful range of fabrics, made with exotic natural fibres – perfect for the wedding season. We have also clocked the number of people attending an Indian wedding – ranging from 400 or 600 guests, so there are a lot of men requiring to be dressed!
Added to which, are the number of events through the wedding – be it a sangeet, a haldi, the wedding, a reception or other smaller functions – and at least four to five outfits may be required. The Moda Biella collection caters to this, with cloths, colours and designs to suit every man's taste and style, and for every event during the wedding celebrations.
The new range is an amalgamation of natural fibres. Kindly divulge more details on this.
Well, Moda Biella's wedding fabric range encompasses various blends, made of natural fibres like, merino wool, silk, linen, to mention a few. Nature friendly and eco-sustainability are key features of the Moda Biella collection as we work with fibres and blends from our natural planet. Whether it is wool grown from animals like merino sheep or cashmere goats, or from plants such as linen, cotton and bamboo, or from beautiful silk, the key is nature.
Merino wool is one of the finest fibres ever created, for comfort, for style, for elegance and for fashion. By adding the wonderful characteristics of other natural fibres such as cashmere for softness, linen and cotton for coolness, or silk for luxury, we have enhanced all these properties within our blended cloths.
While our competition have gone for synthetic cost-effective blends, such a polyester, poly/ viscose, acrylic and nylon, Moda Biella he remained faithful to quality, and only worked with beautiful blends of natural fibres.
What have sales in the festival season been like?
Since September 2019 (when our collection was launched), sales have been wonderful. We have captured the imagination of grooms and their brides with our strap line 'The Marriage of Love and Luxury', and they have appreciated our introduction of new vibrant colours that are relative and suitable for ethnic Indian weddings. Not only Grooms, but also their best men and male guests have found the Moda Biella collection to their liking. Apart from this, with the onset of festivals in October through to December, the Moda Biella collection has been well accepted by the trade and end customer alike.
I would like to know about your plans related to the ethnic segment that is an addition to your portfolio?
Moda Biella will continue to create and innovate for future seasons. We will work on beautiful new fabrics, wonderful colours and designs, and create new collections featuring new cloths such as jacquard designs with Indian themes. We're drawing inspiration from peacocks, tigers, and elephants in colours of turmeric, saffron, ginger, rust jade and the majestic, powerful red.
Take us through the retail distribution of Moda Biella fabric in India.
The target for Moda Biella is to feature in every retail store in every major city in India. Our European advisor Malcolm Campbell has just completed a tour of retailers across several cities in India in the quest is to create beautiful cloth for the master tailors to cut in to wonderful suits. We want to be the customer's choice for luxury cloths at affordable prices.
India is a cost-conscious country. I would like to talk on the pricing and try to understand the ways that will be used to maintain things?
Moda Biella is affordable luxury. Our cloths are robust, hard wearing, soft handling with outstanding performance. There may be less expensive compositions and prices on the market, but they will not wear or perform as well as Moda Biella. Moda Biella will always remain faithful to quality. Our marketing and education programme for Moda Biella will educate the client, the retail sales person and the retail customer the benefits and the value of the Moda Biella brand.
Do you think that the ongoing trade war, increase on import duty and depreciation of the value of Rupee will or is having an impact on Moda Biella?
All these political issues will no doubt have an effect on every aspect of life and society, not just Moda Biella. However, through our firm and determined policy of quality, nature friendliness and sustainability we are confident that the consumer will see the Moda Biella Brand as the champion for textile design, for creating beautiful cloth and for constructing quality suits, jackets and trousers. We will offer the best cloth at the most competitive price. Men still have to dress and wear clothes – we want them to look good, to feel good, and to be proud and individual in their Moda Biella suit.
What does growth look like for the rest of the year?
The Moda Biella collection is getting better. Our new collection will be better than the last one, our future collections will continue to improve and impress, to influence man's attire for weddings, for events, for casual wear. We have a New Formal collection, a Country Collection, textured weaves, structured designs, a barathea Blazer collection, Super Black, Cool Wool, a plethora of innovative and exciting cloths to stimulate the Indian customer.
We are the aficionados of textile design. We are new to the market place, and we will be the best on the market place. Moda Biella is true to designing beautiful cloth for India.