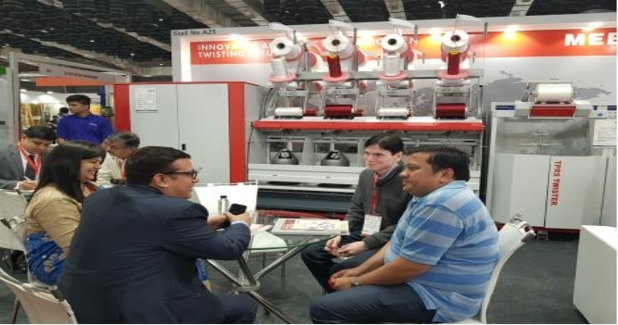 Meera Industries' latest innovations at GTTES
Meera Industries was pleased to participate during GTTES 2019, which was held in Mumbai from January 18-20, 2019.
Meera Industries was pleased to participate during GTTES 2019, which was held in Mumbai from January 18-20, 2019. It received an incredible response from the people who flocked to the exhibition from India and other parts of the world. During the exhibition, Meera Industries exhibited two of their latest machines – Carpet Cabler (CK) for BCF yarns and one step S/Z twister for industrial sewing thread.
CK-260 is a heavy-duty machine with a sturdy structure designed to produce premium quality BCF yarns at a most economical cost. Having a denier range of 1,200-12,000, CK-260 is suitable for all type of BCF (bulk continuous filament) yarns like PP, polyester, nylon, etc. CK-260 has an ergonomic design with advanced reporting features for quality, efficiency and production management.
CK by Meera has received astounding comments from big carpet yarn manufacturers. People were quite impressed to have such a technological marvel by an Indian company because till today only European manufacturers known to exist for this particular product segment. CK-260 is highly efficient, economical and easy-to-operate cabling machine comparable to other similar offerings from European markets. The company is highly optimistic for its success in the Indian and overseas market.
The second machine exhibited was the world's first one-step S/Z twisting machine for the industrial thread. No rewinding, primary and secondary twist. TPRS-50 is known for spinning to twisting in just one step.
Twisting up to four-ply and denier range from 3,000-20,000, TPRS is available in three different models: TPRS-19, TPRS-25, and TPRS-50. The machine drew appreciation from people visiting the exhibition. In TPRS, overall costing of producing S/Z yarns is 40 per cent less compared to traditional methods. Easy to use, highly efficient TPRS has proven to be a boon for stitch thread, embroidery thread, carpet yarn, industrial thread, and other similar industries.
Meera Industries has always been a front-runner with its innovative, authentic and futuristic yarn twisting solutions. Taking part in GTTES 2019 was a thriving step towards reaching out to customers. Meera Industries is also participating in ITMA, Barcelona in Spain to be held between June 20-26, 2019.