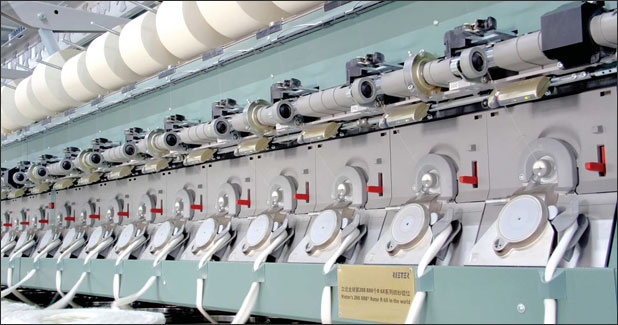 Material flow automation: Neuenhauser leads the way
Neuenhauser was established in 1955 as a design and manufacturing company, specialised in the area of automatic transport systems in the textile industry and also in different economical branches.
Neuenhauser was established in 1955 as a design and manufacturing company, specialised in the area of automatic transport systems in the textile industry and also in different economical branches.
Today Neuenhauser is compound of companies, in which each company is specialised in a defined special mechanical engineering and automation area. Thus it has a complete control about the design and manufacturing process while its customers will benefit to get a fully integrated system out of one source only.
Neuenhauser's machines and systems pass through a very sophisticated procedure, which compounds the manufacturing of prototypes, simulation and workshop tests. Of course it uses CAD workplaces for the project and design development. To Neuenhauser service belongs a very good documentation, the practical education and training of customers personal.
The activities of the main company will be supported by a good organized worldwide spread compound of Neuenhauser daughter companies and agencies. Neuenhauser is working continuously in new or advanced development of new products and automated handling systems to satisfy the current and future needs of our worldwide customers. Neuenhauser is in more than 20 national and international locations and brands. More than 2.700 employees have ensured continuous and stable growth since more than 25 years.
SaysUwe Lenkeit, Area Sales Manager, Neuenhauser: "One of the major systems offers is for material flow in ring spinning. Material flow from cotton bale to carding sliver today is running automatic by pneumatic transport of fibres. Cards have automatic can changers. Can diameters become bigger and integrated draw device is availbale. This also has made it possible in transport of large diameter cans. Automatic lap transport is available today."
Automatic roving bobbin transport is standard today. Different degrees of automation are available. It also can make available fully connect automation system to customer's ERP system (partially available today). This is the task for the future – Industry 4.0.
Lean production, flexible production is the order of the day. Successful company should involve automation partner in machine selection and and factory layout design.
Machine manufacturers mus consider automation (interfaces mechanical, electrical, data exchange) when designing machines
With over 50 fully automated spinning mills coupled with many smaller installations, the brand name "Neuenhauser" enjoys an outstanding reputation world-wide. Together our installations handle and pack out more than 10,000,000 bobbins per day.
With begin of the automation in the natural- and chemical fibre spinning plants, Neuenhauser has designed special handling devices and systems to handle the heavy natural- and chemical fibre bobbins ( eg. BCF-, Glass- and Carbon fibre)
Neuenhauser developed 1983 the worldwide very first fully automated bobbin doffing and handling system "AutoFlow" with the famous known Lifter-Doffer. This doffer type is stationary or movable in front of the production machines (eg, spinning frames) and takes off the bobbins. But this was the only first step in direction of automation in the textile industry. Neuenhauser developed more and more further automated handling systems included doffer for BCF bobbins, as well as overhead transport systems, intermediate buffer systems and automated packing systems.
What advantages automation offers?
In Neuenhauser's concept automation plays a very more important role than just to reduce the labour costs. Its most important aspect is to reduce the manual bobbin handling and their related problems. Thus it helps one to get a higher product quality. Automated Handling Systems (AHS) offers you the following advantages:
A complete automation process from production to shipping
A complete reduction of manual bobbin handling, which results in a substantive direct improvement of product quality
A secure and efficient material/product flow through the compact system configuration
A big reduction of labour costs which results into quick return of investment ( less than 3 years payback time )
Better room utilisation due to smart and space saving automation and handling systems
A clean, proper and efficient production environment
A complete PLC controlled workflow grants real time –control, comprehensive data management and the possibility to look and call for synchronous manufacturing production data through human machine interfaces for integration into an overhead PPS system
The possibility to overlook and follow up the production from the beginning to the end leads into quality improvement. And the customer service
High efficient packing processes
And last but not least a safe and ergonomic workflow.