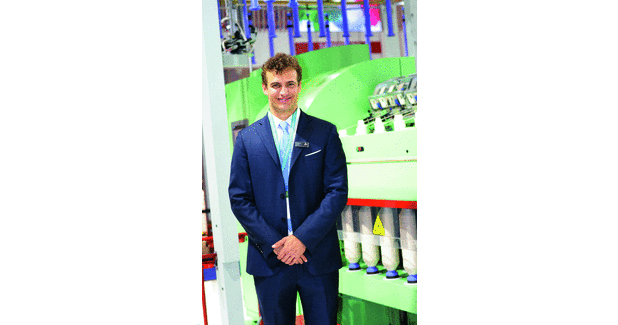 Marzoli automation lends edge to spinners
Marzoli launched its new MP1N at the Shanghai exhibition, and with this, it has two spinning frames -- MDS1 with tangential belts and MPIN for spindle tape drives.
Marzoli is well ahead of competition in automation right from the very beginning. Some of the sections in the machines like spinning are fully automated. The spinning frames and the transport system in the roving frame is fully electronic. We have the latest Siemens technology in these frames, said Francesco Gozio, Marketing Manager of Marzoli, an Italian spinning machinery manufacturer of repute.
"The automation in Marzoli machines are so unique that the spindles, ring reels and drafting systems are driven by separate electronic drives. Everything can be set on the touch-screen of the monitor — twist, drafts, slub yarns, fancy yarns, — make our technology one of its kind, giiving it competittive edge," Gozio said.
Speaking exclusively to the Editor of Indian Textile Journal, during his visit to Marzoli's stall at ITMA Asia+CITME 2018 in Shanghai, Gozio said; " Besides, we have launched two software platforms, YarNet and MRM, which are softwares to control the spinning mills. This will also help optimise the spinning process. Marzoli has been at the forefront of these sophisticated softwares since ITMA Milano 2015, from when it has been constantly developing these modern systems. These provide many advantages to the spinner. As Marzoli is a unique European supplier of the full line of machines for opening, preparation and spinning of short-staple fibres, its software platform can control every machine comprising the production process. Needless to say, the centralization and organization of all the messages coming from the entire production process in one intuitive and well-structured interface allows to have everything under control in any moment and to improve the speed of response in production operations."
YarNet gives its best in fancy yarn production as it extends the benefits of easiness and immediateness also to product development. Thanks to YarNet, the user can edit the desired slub at his computer sitting in his office, rather than standing in front of the machine display. This is a relevant advantage especially for complex recipes.
Marzoli launched its new MP1N at the Shanghai exhibition, and with this, it has two spinning frames — MDS1 with tangential belts and MPIN for spindle tape drives. "The MDS1 has a slub device integrated on the machine for the production of all types of slub yarn: no mechanical modification of the spinning frame. It has light and solid mechanics for the best slubbing performances and advanced compact system to guarantee excellent quality results with all types of fibres (cotton, synthetics and blends) and a wide range of counts."