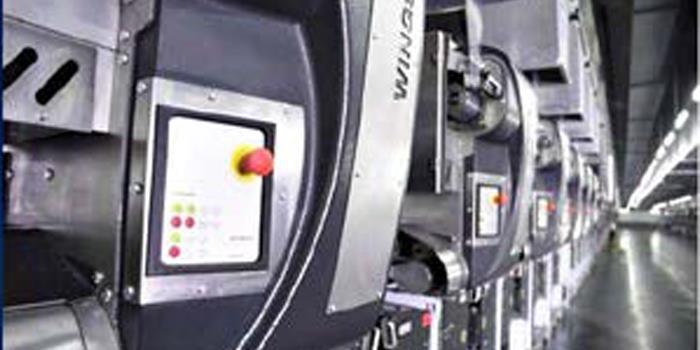 Manufacturing rPET FDY using Oerlikon's WINGS
As one of the world's first companies, Polygenta has, since 2014, been producing 100 per cent recycled POY and DTY from post-consumer PET using the patented chemical recycling process developed by per-PETual Global Technologies.
As one of the world's first companies, Polygenta has, since 2014, been producing 100 per cent recycled POY and DTY from post-consumer PET using the patented chemical recycling process developed by per-PETual Global Technologies.
The Indian yarn manufacturer, Polygenta, specialised on the manufacturing of sustainable recycling yarns, recently commenced production of recycled polyester FDY yarns at its facilities in Nashik. The yarn is produced using a combination of perpetual Global Technologies patented chemical recycling technology and Oerlikon Barmag's direct spinning system equipped with the 32-end WINGS concept.
The spinning plant was commissioned by Oerlikon Textile India technologists in close collaboration with the process experts at Oerlikon Barmag, with various FDY products currently being developed. The yarn produced caters to the requirements of premium-segment clients demanding high quality, cost effective sustainable solutions.
As one of the world's first companies, Polygenta has, since 2014, been producing 100 per cent recycled POY and DTY from post-consumer PET using the patented chemical recycling process developed by per-PETual Global Technologies. perPETual's process reduces CO2 impact by more than 66 per cent compared to virgin PET. The yarn is spun using Oerlikon Barmag systems and equipment. As a result, Polygenta is able to produce a wide range of DTY and FDY yarns that comply with the Global Recycled Standard (GRS).
Automated wiping reduces yarn breaks
Following its installation at several major yarn manufacturers in China, the first wiping robot has now been operating in India since the end of 2019. As already the case with our Chinese clients, the performance of the Oerlikon Barmag solution there demonstrates the same properties: an even, high-quality wiping process providing considerably reduced yarn break rates and higher full package rates. Regular wiping (cleaning) of the spin packs is important for process stability and yarn quality.
The performance data at the Indian yarn manufacturer was collated and evaluated over a period of three months. The results revealed that the yarn break rate has – regardless of the product – fallen by almost 30 per cent. The former running time breaks have decreased by 10 per cent and string-up breaks by 40 per cent. Consequently, full package rates have risen by 3 per cent, while waste rates have fallen by 0.2 per cent. "Yarn breaks are always an issue; they have a direct impact on the production figures. This is where the wiping robot reveals its added value", comments Stephan Faulstich, Technology Manager POY. The system automatically and autonomously controls the individual positions in accordance with the scheduled wiping cycles. In addition to the scheduled wiping processes, there are also events that cannot be planned or that are not immediately visible. Here, the wiping robot – as a result of its management functionalities – is able to identify issues such as yarn breaks or parallel wiping processes and to independently offer solutions. The same also applies to manual requests: if another action is simultaneously required here, the system identifies this and offers solutions.
The wiping robot operates in a cross-line manner. In contrast to manual wiping, the cleaning quality remains constant around the clock, considerably reducing the impact of the wiping on both the spinning plant process stability and on the yarn data of the spun yarn. And production times can be increased between two cleaning cycles as well: whereas repeated wiping is required after 48 hours in the case of manual wiping, utilising the robot extends the interval between two wiping processes to up to 60 hours. The considerable increase in the spinning process efficiency achieved by the wiping robot also has a positive impact on margins. To this end, one customer deploying the wiping robot was able to reduce its production costs for the same yarn by more than 3 per cent.
Oerlikon wins three large manmade
fibres orders in China
Oerlikon has received new large orders for manmade fibres production solutions from three of the world's leading manmade fibres manufacturers. All three companies are based in China and have been key customers of Oerlikon for many years. The orders are for Oerlikon Barmag's world leading filament-spinning technology for the highly efficient production of polyester fibres. The three projects have a total value of more than CHF 600 million (EUR 565 million). A very small proportion of these projects will be recognized in Oerlikon Group's order intake in 2020, and the majority will be accounted for in 2021 and 2022. On-site delivery and installation of these systems is planned for the period from 2021 to early 2023.
The systems business in China remains largely unchanged despite the short-term interruption caused by the coronavirus epidemic following the Chinese New Year celebrations. Long-term project planning for major customers in the manmade fibres industry has resulted in new major orders being placed with Oerlikon Barmag. One of the three new orders, valued at more than CHF 300 million (EUR 282 million), is the largest order ever received by Oerlikon Barmag, based in Remscheid, Germany.
The comprehensive manmade fibres technology solutions by Oerlikon are used along the entire value chain in polyester yarn manufacturing and contain cutting-edge automation and digitalization technologies. Oerlikon's innovative technologies will enable the three Chinese companies to increase their production capacities for polyester yarn and to remain competitive. Oerlikon Barmag will provide the entire system for WINGS POY and WINGS FDY, as well as the texturing machines from the eFK product family in phases over a period of slightly over two years.
"These three orders show that the Chinese textile industry continues to place its trust in the world market – and in Oerlikon. They make it clear that globally interconnected industries such as the textiles industry and business models like that employed by the Manmade Fibers Segment are more robust than many people believe," said Dr. Roland Fischer, CEO Oerlikon Group. Georg Stausberg, CEO of Oerlikon's Manmade Fibers Segment, added: "That these customers repeatedly select Oerlikon is primarily linked to our innovative technologies, but also due to the fact that we have been handling these extensive projects flexibly and reliably for decades and also mastering challenges that, like today, arise from global epidemics causing temporarily interruptions for production sites and logistics."
Oerlikon engineers materials, equipment and surfaces and provides expert services to enable customers to have high-performance products and systems with extended lifespans. Drawing on its key technological competencies and strong financial foundation, the Group is sustaining mid-term growth by addressing attractive growth markets, securing structural growth and expanding through targeted mergers and acquisitions.