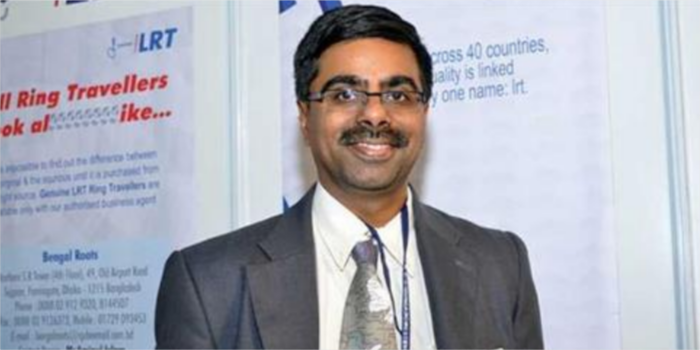 LRT holds 73.5% market share in travellers: JM Balaji
JM Balaji, Head – Marketing, Lakshmi Ring Travellers (Coimbatore) Limited, speaks on the demand for ring travellers and emerging trends in the industry.
JM Balaji, Head – Marketing, Lakshmi Ring Travellers (Coimbatore) Limited, speaks on the demand for ring travellers and emerging trends in the industry.
What are the market prospects for Lakshmi Ring Travellers' (LRT) products in India and how do you plan to position these products?
In ring travellers, LRT has a market share of 73.5 per cent in the Indian market. We have products for all segments of the market – whether it is for cotton or man-made fibres. We have products for the entire spectrum of raw materials, counts and spindle speeds. As far as India and the global markets are concerned, our prospects in this market are pretty good.
Can you brief us about the marketing strategies that were applied in order to stand out in the competition among industry?
Our products are the best in the industry. We have a range of products in terms of different profiles and finishes across all counts. In Travellers, we have very fine travellers for 300 Ne and 340 Ne counts. Probably, we are the only company in the world that could offer 32/0 and 34/0 travellers.
LRT offers total traveller solution. This covers not only the product range but also a very good reach in the global markets, including India. Our delivery is very good. We could offer travellers anywhere in the world within 48 hours to most of our customers.
We are one of the very few companies that gives problem-solving solutions to the customers so that they can improve the quality of yarn and improve productivity of the mill. These are all done at no cost to the customer. We also have agents across the world who in turn have a dedicated team giving the perfect service.
In this present situation, how do you think is the market for ring travellers? What are some of the emerging trends in the market?
I personally think that the market size of travellers will decrease because of lesser apparel sales post the Covid scenario. Downstream segments like knitting, weaving, spinning, ginning as well as raw material requirements will reduce. To what extent it will reduce, we will come to know as the days go by because there is still a lot of uncertainty in the market. We can cater to the demand for ring Travellers globally as we are well equipped in all the markets with sufficient stocks. So even in this situation of a lock down, we are able to sustain and grow our market share.
Modernisation and automation is increasing across industries. What is the significance of this for LRT?
Modernisation is increasing specifically with respect to ring frames. We are talking about ring frames in excess of 1,200 spindles which is popular nowadays. When people go for longer ring frames, they like to have a longer life of Ring Travellers. We have in our basket of products – finishes, which can cater to this particular requirement like Express plus travellers, which we launched a year back. This newly-launched travellers are giving us tremendous results and this is the benchmark in the industry today.
The next is auto doffing, which is coming up today in a big manner. Obviously the startup breaks reduction in auto doffing is a challenge. We have come up with various profiles and cross sections of Ring Travellers to reduce the startup breaks.
It has been more than a month for the lockdown. How it has impacted the business? What are your expectations from the government?
Due to lockdown our production was affected during this period. Mills in India were not operating and hence no requirement of Ring Travellers. Approximately two months of sales would be impacted due to the lockdown as it looks today.
We have faced problems with respect to the movement of goods for exports. Since our agents had sufficient stocks , it was not a big issue.
As far as international markets are concerned, our main market (China) is working. Around 45 per cent of our export sales goes to China. The sales in China has not been affected. Mills were partially operating in some countries lie Vietnam and Indonesia during this lockdown period , which helped us to reduce the impact.
As far as the domestic market is concerned, all the spinning mills are closed during lockdown. However, in the past few days, a few mills have started opening, but partially. Our exports contribute a significant percentage of our sales; so the impact has been reduced to an extent.
The production of ring travellers has been completely stopped because our factories, which are located in Coimbatore, and Annamalai, are in red zones as declared by the government. However stocks at our end and at our agents end were able to take care of customers immediate requirements although our factories were closed.
What kind of challenges are you anticipating when you resume business post-lockdown?
Probably the issues will be on the demand side. We need to see how fast the European and the US markets are going to bounce back. This, being an Election year for the US, probably US president, will be putting a lot of money in the hands of the people.
Once lockdown ends in the US, we hope, the demand picks up for the apparels , which will be a good for all of us. Most of the countries will want to have a balance between lockdown and economic activity and hence we expect this lockdown to end in most countries soon.
In South India, many of the workers are from Odisha, Bihar and other northern regions. Once the lockdown ends, we expect many labourers going back to their native. Labour shortage will be a huge challenge. Working capital will be an issue for the spinning mills. Also after lockdown, mills cannot operate at 100 per cent capacity, which will impact our sales.
The prices of raw materials have come down in the last 45 days, which will be a issue. Many mills have a stock of raw materials bought at higher prices and hence they may need to sell the yarn at lower prices as the demand for yarn will be weak after the lockdown. Cotton prices are almost 15 per cent lesser than what it was around a month back and this will be an issue for the spinning mills to cope after the lockdown.
Have you recalibrated your growth plan due to Covid-19?
Yes. LRT is very clear in terms of how they are going to approach post-Covid scenario. We are training all our teams to be very effective in terms of telemarketing. All our agents are very well equipped across the world to seize this opportunity to increase the market share. We are very confident that our market share is going to significantly grow in all the markets with the all strategies which we have devised.
Do you need to add anything else apart from this?
Our Traveller finish range starts from Sapphire plus, which is our base finish and is available for all counts all materials. We have other finishes like Hitech, Maxima, Ruby, Platina and Express Plus. Express plus is receiving tremendous response from the customers since we launched it. We have been receiving feedback from our customers that this has helped them to get better productivity, better consistency in yarn quality and helped them to increase the spindle speeds.
I think this will help us tremendously in the post-Covid scenario.