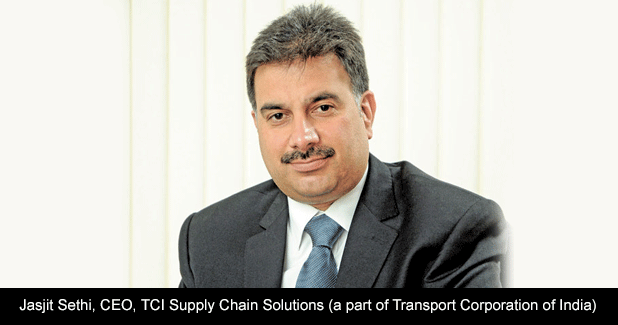 Logistics in textile firms are weak and need improvement
Apparels require greater care and hence good packaging. Due to rapidly changing style trends, the merchandise needs to reach the market on time as well´, affirms Jasjit Sethi
Apparels require greater care and hence good packaging. Due to rapidly changing style trends, the merchandise needs to reach the market on time as well´, affirms Jasjit Sethi, CEO, TCI Supply Chain Solutions (a part of Transport Corporation of India), in an exclusive interaction with The ITJ. Excerpts…
What are the present TCI services for the textile industry, domestic as well as export?
Transportation and logistics industry has a key role to play in the growth of textile industry, which is one of the pillars of the Indian economy. Advancement in the sector with passage of time and growing preference for flawlessness has made the role of the sector all the more critical.
TCI Group with revenues of over Rs 2,800 crore, is one of India´s leading integrated supply-chain and logistics´ solutions provider to the textile sector. The company has been working hand in hand with the textile industry players and the sector is one of the major verticals of the company employing dedicated staff. We have significant involvement in creating innovative solutions to meet varied needs of our clients. Our company delivers consignments in a time bound manner within India and in over 200 countries at a competitive price. We have also invested in IT software to offer customised services to our clients in the textile industry. This is besides managing entire supply chain of textile manufacturers and providing them value added services like knitting, packaging, labeling, etc.
Which are the segments in textile industry that need impeccable logistics support most? How does TCI make its voice heard?
Apparels require greater care and hence good packaging. Due to rapidly changing style trends, the merchandise needs to reach the market on time as well. Multi-modal transportation of goods is therefore required to ensure timely delivery of goods at multiple locations. Every customer is unique and need customised solutions for their business. As a preferred logistics service provider (LSP), TCI first develops an understanding of the customer´s market needs, challenges and logistics requirement to offer best-suited solutions.
The advent of technology, combined with the omni-channel assault and social networking, has made India´s garment industry a furious retail environment. This has put tremendous power into the hands of the end-consumer. Given the growing importance of e-commerce in Indian fashion, LSPs like TCI are playing a vital role for the garment sector now, more than ever before. Since e-commerce has made trends, and consumption, more instantaneous, the entire value chain focus has to be shifted, from cutting production costs to meeting a consumer´s requirements.
The emergence of e-commerce has also compelled brick-and-mortar retailers to embrace omni-channel retailing, which is a multichannel approach to sales that seeks to provide the customer with a seamless shopping experience whether the customer is shopping online from a desktop or mobile device, by telephone, or in a bricks-and-mortar store.
Omni channel retailing requires true integration between channels on the back end. A good LSP, therefore, has to anticipate evolving challenges, due-diligences and solutions for the garment sector´s supply-chain needs. At TCI, the endeavour is to constantly provide partners in the garment sector this support, which enables them to stay on top of a stunningly dynamic market.With a 1,500 strong e-commerce team, large distribution centres with 3,00,000 units´ storage capacity and the ability to process 1,00,000 units per day the company now dispatches order within five hours against the earlier 24-hour cycle.
In order to provide smooth and efficient services to the textile industry, TCI has come up with tailor-made solutions like carton dimensions, where specific weig