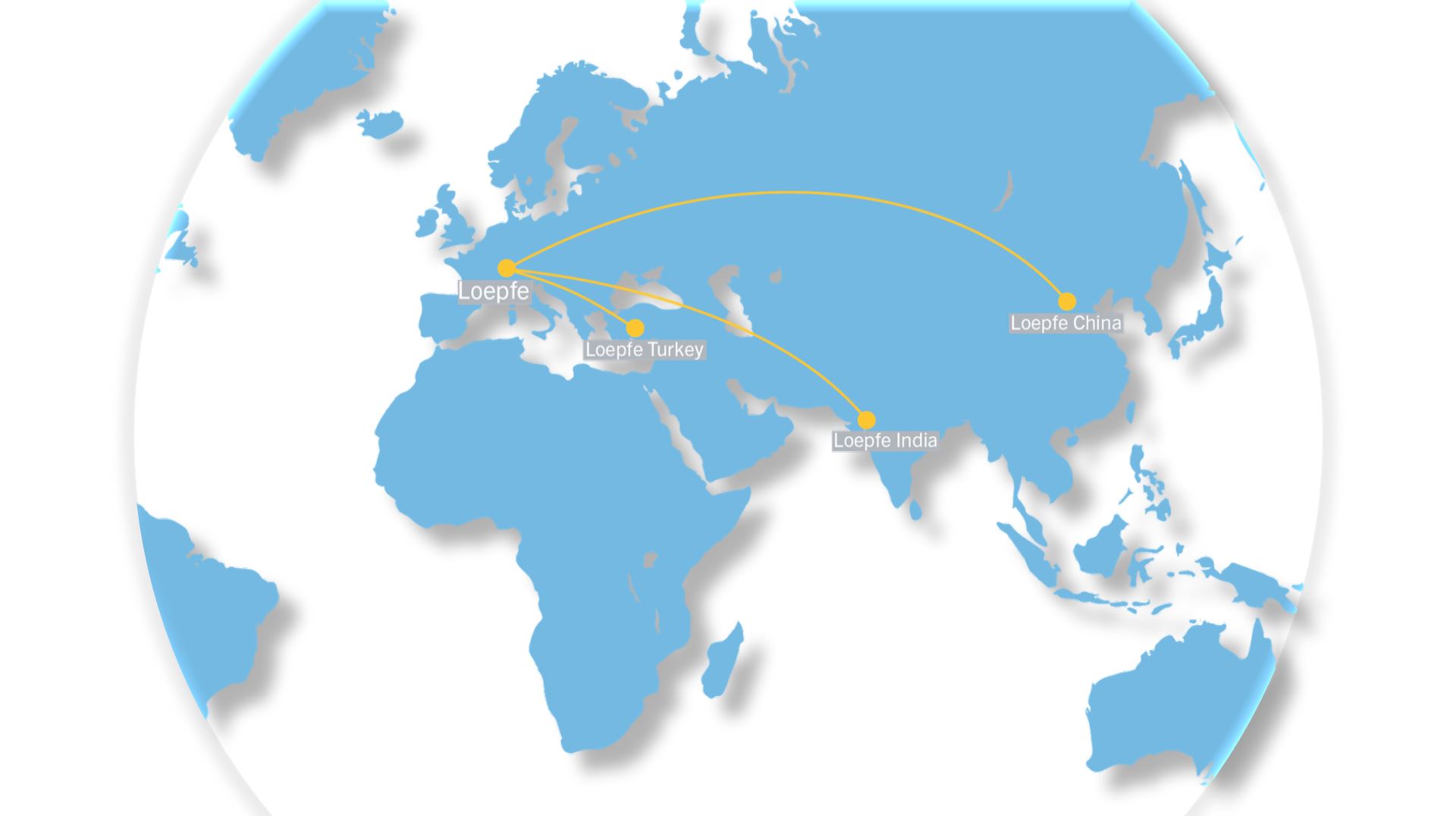 Loepfe expands local business units in China, India and Turkey
The integration of trusted service partners strengthens relationships with local customers and creates opportunities to collaborate on future product development.
As part of their ongoing commitment to customer-centricity, Loepfe Brothers have announced their expansion into China, India and Turkey. The strategic integration of key service partners creates dedicated business units that can provide a local service to customers, while drawing on the international support within the Vandewiele group.
Decades spent as trusted service partners ensures continuity and stability for clients during the integration period, with experienced and knowledgeable staff continuing to provide customer service and technical support. Further, clients will have the opportunity to impact the company's future product portfolio more directly. Direct feedback will lead to clients being a key part of solution testing and development, and to products being more closely aligned to their needs.
These strategic moves have been undertaken as part of Loepfe's long-term goal to provide more direct operational and strategic support to customers in the key markets, Turkey, India and China. The Loepfe business units remain independent within the Vandewiele structure.
Jürg Schneider, Head of Sales & Service, Loepfe Brothers says, "By being much closer to our customers, we're able to offer even more effective local installation, training and troubleshooting services. We want to thank our integrated service partners, who have successfully served our customers in key markets for years, for the smooth integration process. Every member of staff will continue to play an integral part in this transition, ensuring stability for our customers."
Dr Ralph Mennicke, CEO, Loepfe Brothers, states, "This strategic move reinforces our commitment to the three markets, Turkey, India and China. Our teams on the ground will provide product updates, upgrades and trainings, while collecting invaluable customer feedback. We warmly welcome each individual within our new business units to the Loepfe family. Their expertise and local insight are key to the success of Loepfe and play an essential part in our ongoing transformation."
About Loepfe
Loepfe Brothers have established themselves in the field of optical yarn clearers with pioneering achievements. Today Loepfe is recognised worldwide as the specialists for integral quality control systems. 50% of the worldwide yarn production is monitored by Loepfe yarn clearers.
The Loepfe headquarters are in Wetzikon / Switzerland near Zurich. Loepfe employ over 200 people. The Swiss production location guarantees stability and reliability. All Loepfe products are developed and manufactured in Switzerland. Loepfe quality is based on the employees' unique know-how and over 65 years of experience. Loepfe invest systematically in research and development of state-of-the-art technology, with its understanding of the complex requirements of the textile industry.
Loepfe Brothers lay the foundation for the international success of its textile quality assurance systems with sustainable products and highly personalised customer service. Loepfe are represented in all important textile markets via an international network of 90 agents and service representatives in 70 countries worldwide. Loepfe offer training and further education and ensure efficient local quality management at senior level.
About Vandewiele
Vandewiele acquired Savio Group in April 2021 and now has 4500 employees worldwide. Headquartered in Kortrijk, Belgium, Vandewiele casts a truly global footprint. The company is a market leader in designing and manufacturing high-tech machines and solutions for the textile industry – developing machines for the whole production process, from yarn production to the final finishing of textile products. Vandewiele pursues a progressive R&D strategy and a consistent investment policy. It has an established a state-of-the art production system, with the whole production process from A-to-Z being realized in-house – continuous interaction between R&D and production forms a virtuous circle.