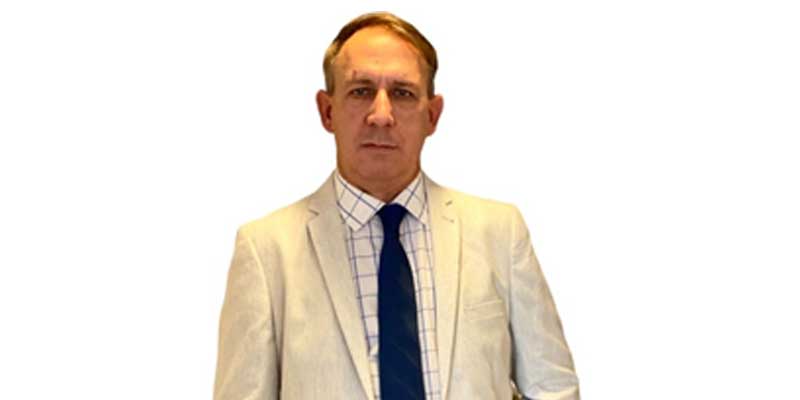 LAPP offers solutions for photovoltaic projects to simple rooftop installations
LAPP India is a 100 per cent subsidiary of LAPP Germany, a leading supplier of integrated solutions and branded products in the field of cable and connection technology. Each year, LAPP manufactures 130,000 km of control, instrumentation, power and data cables along with connectors, accessories and end to end systems. In this interview with Divya Shetty, Gary Bateman, Managing Director, LAPP India, explains the advantages of carbon neutrality and highlights the sustainable business practises the company is implementing nationwide.
What role does sustainability play in the textile sector, and how does LAPP strive to support it?
Sustainability needs to be built into the foundation of all organisational efforts and initiatives, irrespective of the sector. This is the policy we follow at LAPP. In 1996 when LAPP launched its operations in India, the textile industry was one of our two focused segments. The company has some of the most reputed textile manufacturers as its oldest customers. We are constantly rethinking, redefining and innovating cable and connection technology to meet the challenges faced by the textile industry. This also means creating durable, environment friendly products that serve as sustainable solutions for the industry.
Our efforts towards sustainability are distributed across the various levels of production process from avoiding the use of stabilisers containing lead in our PVC cable and conductor production to re-using cable production waste. Wherever possible, we replace potentially harmful material components and also opt for sustainable packaging material and sustainable supplier management, which have proven to be effective tools in avoiding unnecessary production waste and enable safe disposal of hazardous waste.
How is LAPP India setting the right example for the cable and connection technology industry in terms of environment friendly initiatives?
Protecting the environment has to be a responsibility at an organisational as well as individual level. Transitioning to environment-friendly options is no longer a choice, it has become a necessity.
We support the United Nations in implementing Agenda 2030 by working according to the 17 UN Sustainable Development Goals (SDGs), that built the framework for sustainable economic, ecological, and social management. We observe pioneering guidelines at European level, such as the EU Green Deal, material-related regulations such as REACH / RoHS, and support the objectives of the Paris Climate Agreement. Our cable and accessories programme includes halogen-free products which are safer options for people and the environment in case of fire incidents. They also offer protection from toxic reactions and benefits for recycling. All our products and packaging are asbestos and CFC-free.
Over the past few years, LAPP has also been expanding its product portfolio for solar and wind energy with products that have the longest possible durability, robustness and extreme flexibility.
What potential do you envision for the solar sector in India?
The solar segment in India is exponentially growing and holds huge potential. Renewable energy is increasingly being adopted with the environment crisis affecting different parts of the world. In the coming years, this sector will see major shifts especially in India, to keep up with the ambitious target to achieve 175 GW worth of renewable energy by the end of 2022, which will expand to 450 GW by 2030. It is the world's largest expansion plan in renewable energy and the installed capacity has increased 226 per cent in the last five years.
LAPP's portfolio has an exclusive range of products ranging from cables, connectors, and special accessories for the PV solar segment. We offer solutions for photovoltaic projects to simple rooftop installations and energy storage. We are targeting efforts towards local manufacturing/sourcing of solar products for India to provide our customers greater value. We have also partnered with CAHORS, a French multi-national company specialised in energy distribution to complement our wide portfolio of solar cables with an exhaustive product range that includes plug-in connectors, branch connectors, panel connectors, module junction boxes, enclosures, combiner boxes, and crimping / cutting tools.
What are the benefits of carbon neutrality and how essential is it in today's time?
Carbon neutrality will play an essential role in tackling the climate change crisis. There is a growing need for mandatory climate-focused regulations to be put in place for businesses, and it is only sensible to be prepared and begin the implementation voluntarily at the earliest. This approach will help mitigate possible regulation risks in the future, manage costs effectively and provide a sense of shared purpose among employees. Environmental concerns are also affecting the purchasing patterns of customers. Nowadays, customers are increasingly showing a preference for environment-friendly brands, giving carbon-neutral brands the competitive advantage in the industry.
How does sustainable production contribute to the business' growth? How does LAPP India ensure sustainability in their production processes?
Cooperative action is essential to drive change on a national and global level. No doubt, sustainable goods is a growing market, but business growth is not defined by just profits alone. It is essential to have a shared purpose that will eventually drive greater employee satisfaction and competitive advantage for your business.
We have established processes in place that ensure sustainability at every level. Our partner companies dispose old cables in an environmentally safe method. We majorly avoid stabilisers containing lead in our PVC cable and conductor production. Our production operations largely re-use cable production waste and all synthetic waste produced is re-used. We are also creating innovative solutions that replace potentially harmful material components in processes wherever possible.
Using the materiality matrix, we identify processes with the relevant environmental impact. They are then adapted in accordance with the project, particularly those with a high CO2 impact. We are committed to process optimisation and integration of recycling concepts for plastics and copper directly in production or through close partnerships with recycling experts.
How does LAPP India reduce electricity consumption and create sustainable spaces in the long run?
We have two state-of-the-art manufacturing plants in India- first one in Jigani, Bengaluru, and a second one in Pilukhedi, Bhopal. The Bengaluru plant can manufacture 550 metric tonne/month, where 90 per cent of the plant's power requirements are fulfilled by solar power, leading to a reduction in the carbon footprint of almost 1264 tonne/year. Within the plant, employees' transportation needs are met by electric vehicles. The Bhopal plant supports the retail, solar, infrastructure, building and OEM segments while having the lowest scrap rate and TCGP in the group. A 1-Megawatt solar power plant established on the premises meets the energy requirements of the plant.
What was the company's performance in 2022, and what are your plans for expansion this year?
India is currently LAPP's second largest market, having achieved a double-digit growth in 2022. We target to become an Rs 1700 crore company by 2027 with a strong focus on expanding our reach through various touchpoints across India and scaling up our local manufacturing capacity to meet the growing business demands. We have a strong presence in textiles, machine tools, automotive, railway, infrastructure, and mining sectors, and are looking to adding more segments to our portfolio, such as EVs and pharmaceuticals.
Our growth strategy for the company in the coming years will be based on two major pillars- business growth and understanding customer requirements. We will be targeting specific customer groups and exploring the avenue of opportunities offered by joint ventures. In 2023, we aim to continue setting industry benchmarks with our leading innovations and dedication to quality and unparalleled service. We will target our efforts on increasing retail presence and increasing the number of service points and warehouses across the country. Harnessing solutions for the e-mobility sector will also be a key focus area in the coming year. ÖLFLEX CONNECT and industrial communication will continue to remain major business priorities in LAPP's journey as a one-stop solutions provider for all cable and connectivity requirements.
We are heavily investing in R&D for our Indian customers to continue providing products of global quality standards with local relevance.