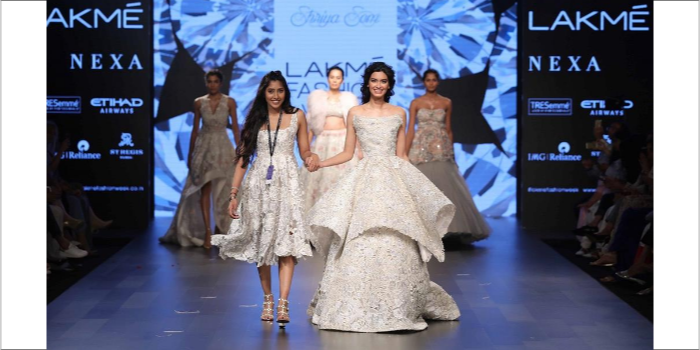 Lakmé Fashion Week announces 6 finalists
The second edition of Circular Changemakers, India's first investment readiness programme for circular fashion start-ups presented by Intellecap's Circular Apparel Innovation Factory (CAIF) in partnership with Circular Design Challenge, has announced a shortlist of six start-ups.
The second edition of Circular Changemakers, India's first investment readiness programme for circular fashion start-ups presented by Intellecap's Circular Apparel Innovation Factory (CAIF) in partnership with Circular Design Challenge—an initiative of Reliance Industries' R | Elan 'Fashion For Earth', United Nations Environment Programme and Lakmé Fashion Week—has announced a shortlist of six start-ups.
This season, the platform received over 45 applications from innovators across fibre/yarn, alternative materials, packaging, rental and reuse business models, traceability and supply chain solutions, wastewater treatment and circular inclusive businesses. Six start-ups have been chosen to make pitches to an esteemed panel after having gone through a rigorous online enterprise bootcamp to fine tune their business models, financial models, and presentations.
The finalists – Infinichains, BigThinx, Phabio, Twirl Store, Desi Hangover, Paiwand Studio will pitch their businesses to the eminent jury on October 22, Day 2 of Sustainable Fashion Day of Lakmé Fashion Week. Each of these enterprises work at different segments of the value chain in an effort of making fashion truly circular.
InfiniChains® is a leading Blockchain based technology company that help brands deeply engage with their users and build lasting trust through transparency. They are building a pilot with Pratibha Syntex for the application of blockchain in supply chain transparency in the apparel and textile industry.
Phabio creates PHA (Polyhydroxyalkanoates) pellets from organic waste and/or by-products. They have created a sustainable loop that create plastics which comes from nature and goes back to nature. Phabio claims to be on-course to become the first PHA producing facility in India and to bring the manufacturing cost of pellets down to the price of traditional polymers.
Twirl.store has a mission to reduce cloth wastage, ensure women empowerment, conserve natural resources, and meet the clothing needs of the poor. Twirl.store is perhaps the only Indian platform which offers a distinct buy-back policy for all clothing bought from the store.
Desi Hangover's vision is to be a global sustainable, conscious fashion brand that elevates underserved communities using the forces of capitalism for good. Their mission is to develop rural craft clusters through social innovation, ensuring a secure and sustainable livelihood for artisan communities in India.
Paiwand's mission is to design for circularity and longevity by producing authentic up-cycled fabric and apparel by creating employment opportunities for handloom weavers, artisans, and unskilled/semiskilled workers. Within 20 months Paiwand has up cycled 700 kg of waste from such designers and is still left with 2000 kg of waste to add value to. Their mission is to repurpose 40,000 kg of textile waste by 2023.
Bigthinx is an AI company operating in the $2.5 trillion fashion and retail industry, offering 3D mobile body scanning, clothing size predictions, virtual avatars, digital clothing, and virtual fashion shows, to address problems of clothing fit and look, e-commerce returns, and human body data. These avatars can be used to visualize clothing look and fit, to solve an additional 30 per cent of the reason for clothing returns.
The investor and strategic partner panel comprises of experts from across fields namely, Disha Gandhi, Associate Director, Aavishkaar Capital, Marieke Lenders, Head – Reweave Program, Enviu, Vineet Gautam, CEO, Bestseller India and Pinar Ademoglu, Investment Director, Sagana Capital.
Darshana Gajare, Lead Sustainable Fashion at IMG Reliance, said, "This year we have a very promising cohort of enterprises doing some incredible work across the value chain. Our vision for the Circular Changemakers platform is to enable strategic partnerships, through the online bootcamp curated by CAIF, we could already see great synergies for these startups to work together. We are eager to see how the entrepreneurs pitch during the final showcase at Lakmé Fashion Week."
Vikas Bali, CEO, Intellecap said: "We are very pleased with the quality of enterprises in our cohort for the second edition of the Circular Changemakers Program based on their impressive work across the textile and apparel value chain. This program is a great example of a platform that can provide both the much-needed investment support as well as facilitate strategic collaborations for innovators with circular solutions to help them scale. The final showcase at the Lakmé Fashion Week will provide tremendous visibility to our promising enterprises and I believe will result in facilitating the required support."
The shortlisted changemakers underwent a rigorous bootcamp by CAIF which focused on three modules, Capital Raising, Business & Financial Modelling and Investor Pitch Preparation, which were delivered by industry experts. Changemakers will get the opportunity to acquire strategic investments and partnerships through their pitch to a group of potential strategic investors from reputed impact investment funds.