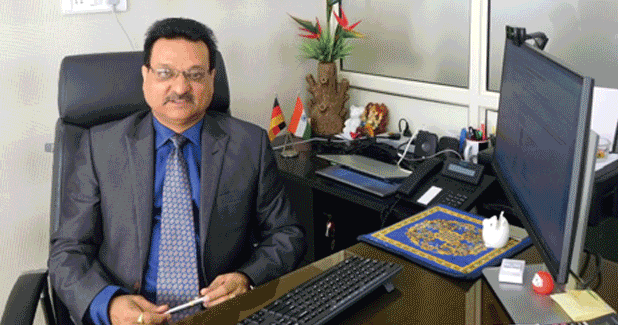 KUSTERS CALICO Creating a new benchmark in wet processing
Vadodara-based Kusters Calico Machinery Ltd builds machines and installations for wet processing of woven and knitted fabrics as well as for carpets and pile fabrics. Today, KCM enjoys a fully-satisfied customer base all over India by its innovative installations, process technologies, automations, vacuum systems and dosing stations in textile processing. Kusters is a leader in textile processing machines, serving the textile industry all over the globe with its unbeatable value deliverance.
Vadodara-based Kusters Calico Machinery Ltd builds machines and installations for wet processing of woven and knitted fabrics as well as for carpets and pile fabrics. Today, KCM enjoys a fully-satisfied customer base all over India by its innovative installations, process technologies, automations, vacuum systems and dosing stations in textile processing. Kusters is a leader in textile processing machines, serving the textile industry all over the globe with its unbeatable value deliverance.
Under the enterprising spirit and leadership of Sushil Verma (Managing Director of Kusters Calico Machinery Ltd), his dedication towards excellence and customer satisfaction, the company has reached new horizons and is providing customers the world-class technology, quality and services.
During an interaction with the Senior Sub Editor, Karthik Muthuveeran of the ITJ, Verma spoke on the achievements of Kusters Calico since its inception and provided details of its latest machines and developments.
Excerpts…
Take us through the journey of Kusters Calico over the years.
Kusters Calico was established in the year 1996 with joint venture between Eduard Kusters Maschinenfabrik GmbH & Co KG (EKK) of Germany and Calico Industrial Engineers (Calico) of India. Since then, we have been providing our state-of-the-art products to our customers both in India and abroad.
We have major two business verticals:
Textile wet processing machines
Converting machines
In the first week of February 2018, Jagenberg purchased 100 per cent shares of Kusters Calico and now Kusters Calico is 100 per cent subsidiary of Jagenberg AG Group, Germany. Recently, we are expanding our production capacity to cater to the increased demand of our products for textiles as well as converting machinery.
For Kusters Calico, what do you think are the achievements since its inception?
Our global footprint is our major achievement.
We are very successfully placed in export market where customers appreciate quality products. We have our presence from South America to Vietnam. All textiles producing countries are having our lines. Furthermore, due to our worldwide after sales network and solid product performance, we are getting repeat orders from our customers.
In the last two years in India also, we are seeing the quantum jump in order bookings for our products. We are very much focused for Indian market and strengthening our network here. We see good potential in Indian market. Our sales in India in the last couple of years have reached up to 40 per cent of our total turnover. Simultaneously, we have also added Bangladesh, Vietnam, Egypt, Iran, Thailand, and sold lines in these countries.
How does Kusters Calico meet the challenges of today? Give details of its latest machines and developments.
The challenges are on many fronts. First the world is facing major challenge of carbon footprint, where textile industry is major contributor due to large amount of energy and water consumption.
We, at Kusters Calico, invest our resources for development of eco-friendly machines. We use one of the efficient geared motors to consume less power, we provide one of the best washing compartments like ?Super Flush? and ?Combi Flush?, which consumes lesser water than the ?conventional washing compartments?.
We are working with our parent company, Jagenberg AG, for various research and development work to promote new technologies. We have started R&D cell in our design department and recruited four design engineers only to upgrade the designs, standardise the available designs and optimise the best material/bought out items available in the market.
Then, we are working on cost reduction, upgrading our vendor base, insisting timely delivery from our vendors and focusing on quality products at any cost.
How do you look at the potential of Indian market for the segment your company is in?
Textiles being workforce-oriented industry, and now with fashion fragrance added, there is huge potential for growth. In India, there are more number of players who are producing the textile goods with conventional or batch process routes, which consumes lot of energy and generate more effluent than latest processing machines.
To compete in cut-throat competition, these customers are now converting from conventional process or batch process routes to continuous or modern processing machines. Example is the Tiruppur market in Tamil Nadu. Due to exhaust process routes, textile producers were generating a lot of effluent, which resulted in close down or reduction in production due to stiff government regulations. Now most of the customers are converting into Cold Pad Padding and continuous washing processes to save energy cost and also these processes reduced drastically the effluent generation.
Kusters Calico is one of the leaders in textile processing machines. What are the advantages and benefits of your company?s processing machines over that of other competitors?
To be a leader in market is one thing and remain there and retain that position is altogether another ball game. To retain leadership, we always emphasise in continuous improvement in our products and to provide timely aftersales service and training to our customers. We believe in designing ?Solid Product?, which itself earn a name for us and help us to beat competitors.
I believe healthy competition is good and help you to develop new products and keep you on your toes to listen to customers. We emphasise more on our customer?s feedback and always work on product developments/improvements. We have good products like cold pad batch, various washing concepts, bleaching and mercerizing machines, which are proven in the global market. Since my joining at Kusters Calico, we are organising various technical seminars near customer clusters to get customer?s feedback about their requirement in depth, which help us in improving our products and to tailor made them as per customer?s need.
In exports, how has the company been faring? What are its major breakthroughs?
World is getting small day by day? we all are now global citizens. We are very successfully placed in the export market, and it gives me immense pleasure to inform that since last couple of years, we are continuously getting the ?Best Export Awards? from the Textile Machinery Manufacturers Association (TMMA).
We are very well placed in Turkey, Iran, Egypt, Bangladesh, Germany apart from the Indian market. We have very efficient network of agents worldwide, we are increasing our footprint in global market by appointing network of agents in Vietnam, Indonesia, Malaysia, Thailand, Uzbekistan where we see significant potential for our products.
What are the roadblocks that hamper India from realising its potential as a leading manufacturer of textile machinery?
Textile industry is the second largest employment generator in India after agriculture. The government is doing their best by offering various incentives but still a lot can be done to strengthen infrastructure of the industry.
Industry must earmark some profits for R&D, which is missing and without new development and continuous improvements, we can?t survive for long as what technology is being used today would not be usable in future. Those who invest today in technology will survive and be in a better position in future. Remember every technology has certain life and after that something new comes so you have to find that something new to keep your Leadership position.
If there are any expansion or entry into new areas give us some details.
To cater to growing demand of our products, we are adding one new assembly shop that will be inaugurated on April 11, 2018 by our Group Chairman, Jan Kleinewefers. We are also adding a number of CNC machines, including double column machining centre of 4 m x 1.5 m table size to manufacture in-house all critical components to meet our stringent quality and time requirements.
We have completely renovated our production facility to match the German quality requirements and I can proudly say that ?Our facility is one of the best in the Industry now?. We have a qualified and motivated staff who always believes in ?One step ahead?. We are working with our other group companies to introduce their products in Indian market as there are huge opportunities in our group.
What are your suggestions to upgrade technology base of the Indian textile machinery industry?
Indian textile producers are still producing the fabric in conventional or batch process routes, which is very old technology. This consumes 50 per cent more energy and 70 per cent more chemicals compared to continuous processing machines like cold pad batch, washing machines, bleaching machines and mercerising machines.
We are organising technical conference and taking customers to our various installations in India and abroad to educate them about the realistic benefits of continuous process machinery.
How do you think Make in India has progressed in the segment that your company deals with? What are your suggestions to give a boost to this revolutionary concept of Make in India?
Our company was already producing textile and converting machines in India with the technology which is with us for decades now. Jagenberg has [last year] purchased Polytype Converting, Germany, a leader in coating and lamination lines. This is our growing business vertical in 2018. Our group has invested Rs 10 crore in 2017, and we are further investing Rs 6 crore in 2018 to augment our production facility. Many new products are in pipeline to be introduced in 2018 and beyond.
In terms of performance, how was 2017 for your company as well as the industry you are in? Any plans for 2018?
The year 2017 was an excellent year for us in many ways. We introduced SAP B1, Inventor, HRMS, new assembly shop construction, a new CNC machine was purchased, revamped the complete manufacturing facility, established training room, a new canteen was started, among others. Set processes for every task we do to have consistency in approach to produce quality, recruited new experienced engineers, etc. Over that we increased our turnover and sold our machines to many new countries.
In 2018, we will cross Rs 100 crore sales target, and already, we have order booking up to August 2018. Expansion will be further continued in 2018 to add more capacity to meet increased demand for existing products and also for new products to be introduced in 2018.