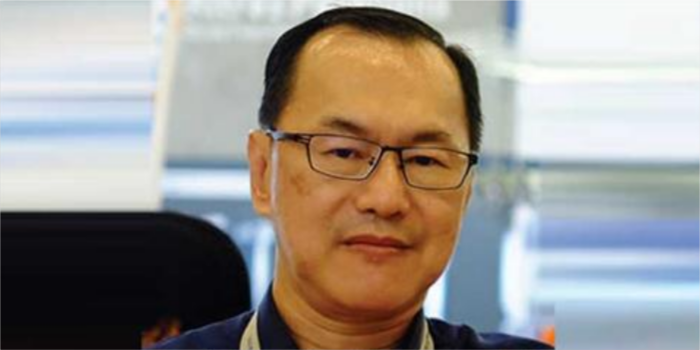 Knitting industry is changing dynamically
In this interview, B C Teoh, Sales Director, United Texmac Pte Ltd (Unitex), Singapore, highlights the potential of India and technologies offered by Unitex for Indian knitting industry
The
Singapore-based United Texmac Pte Ltd (Unitex) specialises in manufacturing of
premium circular knitting machines, and supply them to more than 40 countries
globally. In India, Unitex is represented by two agencies – Knit-Fab Technics
in Mumbai and Volstart Texnet Services in Kolkata. In this interview, B C Teoh, Sales Director, United
Texmac Pte Ltd, highlights the potential of India and technologies
offered by Unitex for Indian knitting industry.
How
is Unitex serving its customers in India?

The
rapidly growing Indian economy has a huge market potential. Our brand's
circular knitting machines are widely used in India, especially in Tiruppur,
which has a huge garment export market, and in Kolkata where the high-end inner
wear and domestic fashionwear markets operate. We offer machine models that
include single jersey, spandex jersey, pique airtex, 2-thread fleece or loop
knit, 3-thread fleece, terry plush, polar fleece, rib, interlock and the highly
versatile interlock-rib (interrib) 8-lock. These products have their unique and
individual advantages, which offer the customers great value and can make the
manufacturing process more efficient.
What
kinds of changes are you witnessing in the knitting industry?
The
India textile industry, with the backing of strong and stable political and
social environments, and being a key supply base for the global markets, has
been improving quickly in terms of product quality, consistency and delivery
accuracy. The knitting industry is changing dynamically and growing at a very
fast pace. Manufacturers have become more specific with their needs and
requirements, with better knowledge and idea of the product.
How
do you find the market for your knitting machinery and solutions in India?
Besides
having reliable and predictable production facilities, the knitters have a
raised awareness in using high quality modern knitting machines, which are less
dependent on the intervention of skilled workers and high volume of workers.
Our user-friendly machines reduce the need of high-skilled workers, which is
difficult to find nowadays, and reduce the number of workers needed in the
knitting operation. The bad experience of the coronavirus pandemic further strengthens
the mind set of being less dependent on high volume of workers and on
high-skilled technicians. The younger business owners in the textile industry
are also quick in implementing such widespread largescale changes in the
business mind set.
How
is your company incorporating automation and digitalisation in its machinery
and solutions for the benefit of its customers?
The
machines manufactured by our company is maintaining the pace at which the world
technology is changing and trying to keep up with the industry requirements.
Our Unitex knitting machines have features for knitting mills to link up all
the machines in a local area network for centralised and on-time production
control, with potential to link up to the corporate ERP environment. Latest,
accurate electronic sensors have been used in monitoring the machine
performance and sending alerts to users for manual intervention. High precision
server motors have been used in automatically adjust or change certain machine
settings based on pre-stored settings and historical data. Such automation and
digitalisation can benefit our customers to a large extent and help them
smoothen the production process.
What
are your growth plans for Indian market?
We
are trying to penetrate into more Indian cities where the textile market has
good potential and will be glooming in near future. For the lower end segments,
such as the Ludhiana and Surat markets are growing rapidly, we are gaining
market shares by offering a few more economical machine models to fulfil their
demand. Unitex machines will continue to incorporate more automation and
electronic control and monitoring features. More user-friendly features are
being introduced to enable the machine users to have more time focusing on
production quality and consistency, and be less dependent on human
intervention. Online marketing is being implemented to reach out to a wider
group of machine users and to enable quicker and more frequent interaction with
them through the modern IT channels including mobile phones.