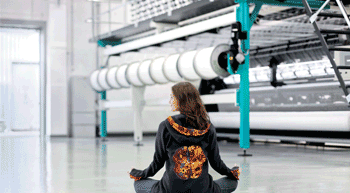 KARL MAYER: The home of innovation
KARL MAYER exhibited on two sites at ITMA ASIA + CITME, and at an in-house show at KARL MAYER (China) in Wujin, Changzhou. KARL MAYER offered at ITMA ASIA + CITME innovative solutions for warp knitting, weaving preparation and technical textiles.
KARL MAYER exhibited on two sites at ITMA ASIA + CITME, and at an in-house show at KARL MAYER (China) in Wujin, Changzhou. KARL MAYER offered at ITMA ASIA + CITME innovative solutions for warp knitting, weaving preparation and technical textiles.
The visitors saw an extensive range of products. The focus of the in-house was on the production of lace, and an important new development set new standards for multibar jacquard machines in terms of the cost:benefit ratio. This new machine demonstrated its potential by producing a fashionable lace for the outerwear market. The first machines have already been sold. In Wujin, Changzhou, KARL MAYER also displayed a new double-bar raschel machine for producing fashionable shoe designs, and a direct warping machine for warp knitting with a new, hybrid operation.
Tricot machines was the focus of the presentation in the NECC. KARL MAYER continued with the generation change that it introduced at ITMA 2015 in Milan. Manufacturers of technical textiles can look forward to seeing some new ideas for lightweight constructions on KARL MAYER's stand in Shanghai. This company also displayed a highly efficient sectional warping machine and an innovative sizing system.
KARL MAYER is currently working on a gradual generation change for its HKS machine series, which will delight its customers. The company will be showing the fourth generation of its HKS 3-M at ITMA ASIA. These extensive modifications have focused on the ergonomic machine design and the KAMCOS® 2 completely new automation platform. KAMCOS® 2 ensures that the functions of the state-of-the art textile machines are fully integrated. On the latest tricot machines, these include: camera monitoring as standard for complete, all-over fabric monitoring and the early detection of faults; the Laserstopp yarn monitoring system with rapid reaction times; and LED illumination with status display. The KAMCOS® 2 system also acts as the interface to the new KARL MAYER CONNECT app.
And, of course, LEO® is also included in the overall package of innovative machine features. This technology, which has been available in series since the beginning of 2016, can decrease energy consumption for companies by up to 10 per cent compared to the conventional version, and thus reduces costs as well as the carbon footprint.
An HKS 3-M, 218-inch, in a gauge of E 28, will be demonstrating all of these features in Shanghai. Additional to the HKS 3-M KARL MAYER also showed a further tricot machine in Shanghai.
KARL MAYER offered a real highlight for those visitors specialising in warp preparation for weaving – the ISOWARP. This sectional warping machine operates at an impressive level of performance – the productivity of this innovative machine may be up to 30 per cent higher during weaving preparation, and the weaving efficiency may be increased by up to 3 per cent compared to other models on the market. As well as being efficient, the ISOWARP is also easy to operate, reliable and accurate. The warped beams are of the highest quality at every length. The reasons for this high performance include a number of innovative technical systems, such as an Ethernet interface for linking up to the network and the KAMCOS® 2 system, which guarantees easy operation.
The second machine was shown by KARL MAYER's Warp Preparation Business Unit is the innovative HSB size box with prewetting facility. The HSB is the key element of the PROSIZE® sizing machine. It operates with three highly turbulent, uniform application zones and spray bar technology with a subsequent application/squeeze roller unit. Savings can be made in sizing additives, the energy needed for desizing, and effluent loads. It reduces the amount of size required by up to 10 per cent and the size application is also more uniform.
KARL MAYER's Technical Textiles Business Unit took a sporty approach to ITMA ASIA, where it displayed a high-tech bicycle made from CFP. It will, therefore, by demonstrating its commitment to the lightweight construction sector. When developing its innovative construction technology, KARL MAYER is a real trendsetter – with its bi- and multiaxial machines for producing reinforcement textiles for composites. KARL MAYER can also supply fibre spreading machines to make optimum use of the characteristics of different technical filament yarns, particularly carbon. The machines are tailored to suit the requirements of the customer and are, therefore, often customised machines. KARL MAYER has optimised its all-round service and added some new facilities. The result is 360° support. This customer support programme is the most comprehensive in the sector and modular arrangend. The key modules of this 360° support are service, spare parts, textile consulting, the Academy and sales. The new facilities concern the targeted use of online communication, such as the KARL MAYER CONNECT and KARL MAYER CHECK PARTS apps. By using the KARL MAYER CONNECT app, if necessary, the machine operators can communicate, quickly, without any errors, and in a target manner with the KARL MAYER service organisation. The machine data can also be accessed remotely.
In-house-show at KARL MAYER (China)
LACE.EXPRESS – a specialist for the outerwear market, which is redefining the cost-benefit ratio. The volume end of the market for lace for outerwear is just as lucrative as it is specific. It makes its own demands of manufacturers in terms of efficiency, versatility, quality and the types of machines used. KARL MAYER has reacted to this situation by developing a new machine series known as LACE.EXPRESS. The first machine in this series is the recently developed OJ 59/1 B.
The OJ 59/1 B produces large volumes of fashionable lace for the rapidly changing outerwear market, and is just as efficient as the JACQUARDTRONIC® LACE but is much more productive. This new machine can reach a maximum speed of 900 min-1 when producing standard lace for mass-produced garments.
In the multibar raschel machine sector, KARL MAYER presenting an innovation from the production repertoire of the ML 46 (Fig. 2) at the in-house show. The ML 46 is well established on the market. Equipped with 46 guide bars, this all-round machine offers extensive patterning possibilities and can, for example, also work stretch powernet fabrics, different patterns from different yarns, integrated panel separation and selvedge constructions. At the in-house show at KARL MAYER (China) in Wujin, Changzhou, an ML 46, 210-inch, in a gauge of E 18, demonstrated its features whilst processing thick liner yarns, having a count of more than 2,000 dtex. The second highlight of the show on the theme of multibar raschel machines was the new MLF 60/32 (Fig. 3), with which KARL MAYER is expanding its successful MLF range.
Die MLF 60/32 is based on the concept of the MLF 46/24, which was presented at ITMA 2015, and can, therefore, guarantee the same level of performance in terms of efficiency, quality and machine utilisation. This new addition to the MLF family has more guide bars and can offer a greater range of patterns. For example, larger and more opulent motifs and edge borders can be produced in a wider range of patterns. At the in-house show in Wujin, Changzhou, an MLF 60/32, 210-9-inch, in a gauge of E 24, will be producing a differentially patterned fabric for kebayas, a traditional Indonesian garment.
The efficient RDJ 5/1 warp knitting machine can produce a shoe fabric with a weft-knitted look. The new RDJ 5/1 (Fig. 4), which has been available since 2015, is setting the trend in shoe fabric fashions. The basic model operates with piezo jacquard technology, adjustable distances between the trick plates of from 2 to 8 mm, and N pattern drive, thus bringing a touch of colour to the in-house show at KARL MAYER (China). The 138"- wide machine, with a gauge of E 24, will be using a contrasting, multi-coloured yarn combination to produce a fabric having the look of a chunky, weft-knitted fabric to create a complete shoe piece. The brightly coloured designs are based on beams that are warped to match the pattern on a DS OPTO EC.
With this multi-coloured design, the RDJ 5/1 is delivering a warp-knitted spacer textile having a look that is currently in high demand at a production rate that speaks for itself. In terms of its productivity, this double-bar raschel machine is streets ahead of similar machines in the flat and circular weft knitting sector.
New for ITMA 2015 and now for the first time in China: an efficient direct warping machine for every running length and application. The DS OPTO EC combines sectional and direct warping, which means that it can do two things: it can efficiently warp both short and sample beams, as well as standard sectional beams. Its exceptional flexibility makes this machine a universal all-rounder for use in warp knitting preparation. In the cone operating mode, the DS OPTO EC can be used for developing new products, producing patterned sectional warp beams, processing short runs, and for carrying out processing trials on expensive yarns. It can also be used where space is limited. The DS OPTO EC is a highly efficient direct warping machine for producing long running lengths. This new machine in the DS machine series can also produce sectional warp beams of the highest quality – an important requirement for guaranteeing maximum efficiency during warp knitting. With its extensive range of products, the in-house show at KARL MAYER (China) is a must for the warp knitting sector, and is an ideal opportunity for visitors to complement what will be on show at ITMA ASIA.