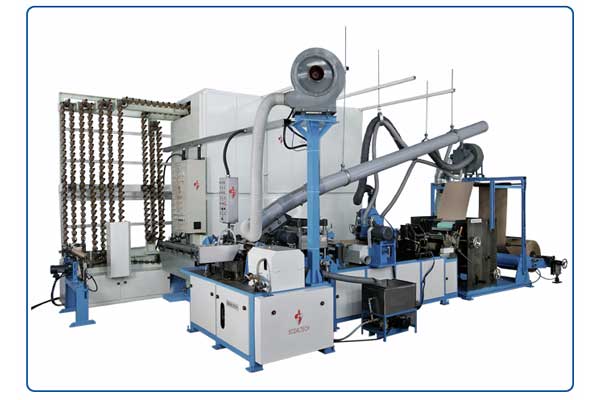 K U Sodalamuthu And Co offers latest machines
The product includes Automatic Paper Cone Plant, Edge Protector Making Plant and Ultra Heavy Duty Paper Core Winder
K U Sodalamuthu And Co supplies superior quality Paper Conversion Machines. The products offered by the company are designed and developed with finesse to meet the challenging expectation of its clients with its highly advanced mechanism and beneficial features of dimensional accuracy, less energy consumption, easy to operate & maintenance, and most important a cost-effective and reliable service life. The company is now offering latest machines which are listed below.
Automatic Paper Cone Plant
K U Sodalamuthu and Co, Coimbatore offers its latest model high performance Automatic Paper Cone Plant for production of textile paper cones for yarn spinning. This production line has a maximum rated capacity of 55 cones per minute depending upon quality of raw materials. The machine is equipped with a unique gripper winding system to prevent slippage of cone patterns and fitted with imported servo drive system for the winding section. The machine is versatile enough to produce cones of various tapers viz., 3 deg 30′, 4 deg 20′, 5 deg 57′ and 9 deg 15′ using kraft board, grey board and mill board reels with minimum changeover time. Programmable controllers facilitate setting up of the machine to desired speeds depending upon the quality of paper. An optional conveyor system is also offered to fully automate material handling to link the winding station to the electric drier to save substantial labour cost. The plant includes automatic cone finishing machine which does the following operations automatically:-
Lubrication at nose end, bull nosing, base burnishing, velvet finishing, bottom grooving, notching for 'y', 'u', 'v' shaped tail-end notches, auto counting and nesting.
The plant is ideal to produce high quality cones with superb consistency in dimensions to meet the demanding standards for usage in autoconers of famous makes like Schlafhorst, Savio and Murata.
Edge Protector Making Plant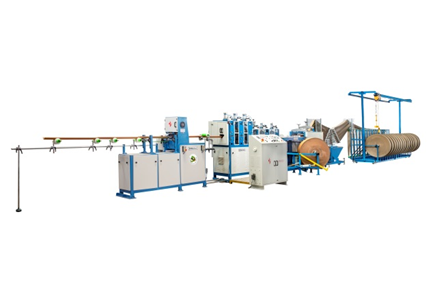 Sodaltech Edge Protector Making Plant is made heavy duty to produce high strength paper edge protectors and 'U' Profile channels which are very ideal to prevent damages to edges of various palletised goods and circular goods like paper reels, steel coils etc.
The machine is rugged, yet easy to use. It has facility to interchange profile design and variable speed drive for faster setting and control of process wastage.
The future of packaging lies in the recyclability of most of the packaging materials. Edge protector is an environment-friendly product using strong paper board which is easily recycled. The use of edge protectors eliminates the damage to edges and corners in handling, warehousing and transport operations.
The production line is fitted with latest model Servo cutting system for precise on-line cutting of edge protectors. The line also includes a wrap-around punching machine to produce wrap-around coiled edge protectors suitable to protect edges of goods like paper reels, steel coils, flexible film foil rolls and other circular goods.
This machine is suitable to make edge protectors with lug widths from 25 x 25 to 100 x 100 mm with maximum 6 mm wall thickness.
Ultra Heavy Duty Paper Core Winder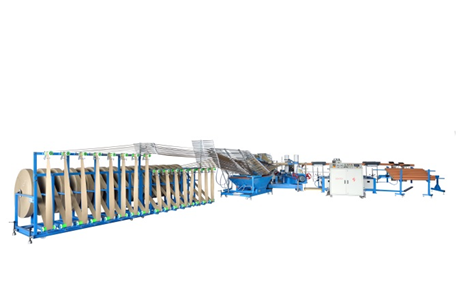 K U Sodalamuthu and Co, Coimbatore offers Ultra Heavy duty Spiral Paper Core Winder with On-Line Fine Cutting system suitable to produce ultra-strong cores and tubes suitable for paper mills, textile yarn carriers for DTY (Draw Texturised Yarn) nd POY (Partially Oriented Yarn) winding, aluminium foil winding, BOPP tape winding, Carpet yarn winding, Carpet storage cores, thermocouple tips, fabric winding etc.
This latest model Spiral Paper Core Winder is fitted with independent motor drive to the winding drums to prevent slippage of winding belt. Reel Unwinding stand and glue tank are fitted with motorised movement system to save time in setting of various sizes. The reel unwinding stands have capacity upto 40-plies and the cascade type glue application system comes with glue circulating pump. The on-Line Fine Cutting unit facilitates burr-free cuts of cores eliminating dust emission. The production line is capable of producing cores and tubes of inner diameter ranging from 50 mm to 600 mm with wall thickness upto 18 mm and length upto 5000 mm.