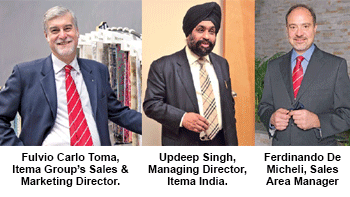 Itema exhibits at ITMACH INDIA 2014
Itema S.p.A, the largest privately-owned multinational company and global leading provider of best-in-class weaving machines, spare parts and services, is exhibiting at ITMACH 2014 and is sponsoring the ¨India
Itema S.p.A, the largest privately-owned multinational company and global leading provider of best-in-class weaving machines, spare parts and services, is exhibiting at ITMACH 2014 and is sponsoring the ¨India – Opportunities for Global Investment in Textiles¨ international conference, which will be held concomitantly with the trade fair in Gujarat´s capital, Gandhinagar, India.
Itema, which announced positive results for the first half of 2014, with 12 per cent year-over-year increase in sales, is the only manufacturer in the world to provide the top three shuttleless weft insertion technologies: rapier, airjet and projectile. In the last two years, the company has experienced a period of unprecedented growth, which has continued in recent months despite the slowdown in the global textile market.
Itema India has played a fundamental role contributing to the overall positive result for the Italian company and has registered a record growth in 2014 sales. At the helm of the company´s operations in India is the new Managing Director, Updeep Singh, who joined Itema in March 2014 bringing with him an impressive career in the textile market as senior manager in well-known international groups like Welspun.
Singh said on the occasion of Itema´s participation in ITMACH 2014: ¨This trade fair is an unmissable opportunity for Itema to present our strength to the textile market in the Gujarat area, highlighting the unparalleled growth of our company in the Indian market, the highly structured and effective sales and after-sales service and, of course, our state-of-the-art weaving machines.¨
Fulvio Carlo Toma, Itema Group´s Sales & Marketing Director, added: ¨Itema has recently reinforced our presence in India, choosing only the most qualified professionals to ensure all the support and expertise required to serve one of the most promising and, at the same time, demanding markets for textile machinery worldwide. We strongly believe that we can equip Indian Customers with the right technology and bespoke solutions, whilst at the same time providing great value for money – an overall win-win package which will undoubtedly further bolster Indian weavers´ renowned creativity and success.¨
The year 2014 has been the year of many product launches for Itema, namely two rapier models, R9000 and R880DT (terry) in March this year, as well as two new versions of the successful A9500 airjet launched at ITMA ASIA in June 2014. ¨With the new and extended airjet portfolio, we now offer our Customers exactly what they require, no more no less,¨ said Ferdinando De Micheli, Sales Area Manager India and Key Accounts.
De Micheli continued by saying: ¨Itema´s airjet A9500 – in its three distinct models: the A9500 original, A9500p and A9500e – offers an undisputable benchmark for the industry with dependable, right-for-application, high-speed performance, consistent fabric quality and versatility enabling the Customers to optimize their productivity and embrace rapidly changing market expectations.¨
Itema´s airjet A9500 portfolio is well received in some of Itema´s most important markets. The repeat orders and consistent outperformance in Customer trials, also in India, demonstrate Itema airjet A9500 is a winning choice to ensure weavers´ success. Itema has also noteworthy developments in the rapier weaving machines, with the rapier loom R9500, launched just two years ago, now generating half of all turnover in what is a remarkable feat and demonstration of overwhelming market acceptance, number of repeat orders and ever-growing Customer satisfaction. The rapier R9500 has proven an absolute best-seller and is, by far, the most advanced rapier weaving machine, with guaranteed maximum versatility in weaving also the most sophisticated home textile and upholstery styles, as requested from the top-class Indian weavers.
ITMACH 2014 is open to visitors from December 10-3 at The Exhibition Centre of G