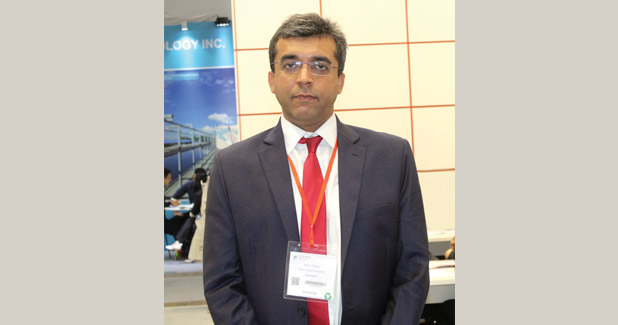 Intex ERP covers the entire textile value chain: R. Pandit
Headquartered in Germany, Intex Consulting is a consulting and software company, offering ERP solutions for the textile industry.
Headquartered in Germany, Intex Consulting is a consulting and software company, offering ERP solutions for the textile industry. The company's core product is the integrated business management standard software intex, which is developed for textile companies off all production kinds and sizes. Beyond the software range, Intex offers support and consultancy all around the implementation and the use of software.
During the recently-concluded ITMA Barcelona, Rohit Pandit, Managing Director of Intex Consulting Group, India takes us through the journey in India, and various solutions offered by the company for the textile industry.
Intex Consulting was started in Germany. Take us through the company's journey in India.
In India, we started our operations around 15 years back. The company was setup in India with an objective of covering the entire Asian markets. From India, we are servicing other international markets like Indonesia, Bangladesh, Thailand, to name a few. India is a fulcrum against which the Asian markets has evolved.
What are the solutions for the textile industry? What are its major USPs?
Intex develops business economic software solutions, which help you to improve your competitive position as a modern textile enterprise. We integrate this solution into your existing organizational and technical environment. This way we protect your investment in your present applications and open new for new global solutions.
The main product is the completely integrated and innovative ERP-Business-Suite software for textile manufacturers. In this application, we cover the Finite capacities and material planning. There are hardly any systems that can provide the simultaneous capacity and material planning. This is where we are differentiated. Beyond that, the whole system is a standard system. In all our experience so far, there has hardly been any need for customisation on the project. We have executed a system with all the standard functionalities.
Intex was formed in 1995 in Germany. Over the years, the product has always been enhanced/developed inside the standards. Everything has been developed from one single source, i.e. Intex, the company behind all the product developments. It has one single architecture, one single user interface from the Sales to Capacity and Material Planning to Shop Floor monitoring to Dispatch. We have extended through the ERP to the shop-floor with the embedded monitoring solutions. No other ERP solutions are offering such capability of a seamless data flow through machine monitoring in the same ERP database.
We are in the forefront of digitisation initiatives. We have the digital capability centre (DCC) at RWTH Aachen University, which is an innovative digital capability-building facility created by McKinsey & Company and dedicated to textile manufacturing. This centre makes smart wrist bands from narrow weaving through digitization of processes – right from sales order to the planning to execution to shop floor. Intex is the platform for the ERP system. In that aspect, Intex is going into specific areas where the adoption can be taken by the companies, again from the perspective of practical usage.
Who are your major clients in India?
Our major customers span across India and the textile value chain and scale of operations. We also have many referenceble customers in India in each value segment of textiles.
A big textile company usually have all the sectors (spinning, dyeing, weaving, etc) under one roof. How do you integrate textile ERP in these big mills?
Like I said, our software covers the entire "textile chain" – from fibre to product. By our modular structure, we are able to support single step operations, such as Spinning mills, Weaving companies, dye house etc. as well as Vertically integrated producers. Of late, Technical textiles is rising in prominence and our system has set procedures for both non woven and other forms of technical textiles manufacturing.
Whenever Intex develops a feature or a function, the differences are essentially coming from the side of the procedure handling for different textile processes and the unique requirements of that process. So, the point is that not only do we specialize in textiles but also within the specific domains of textiles. Speaking about nonwovens, we ensure that there is a separate procedure to do it because the way a nonwoven is configured is different from the way a woven product is configured. The handling is different; it is not linear when it is woven. In nonwoven, things are linear and thereby lies the difference in handling of the product. There is never a compromise in terms of solutions offered by Intex. We may not go into an area if we don't have the right solution mapping. The other aspect is the level of details to which we need to develop any new procedure handling. This is one area where intex always has the philosophy to go very deep in the concepts. This really is what makes us unique.
How do you find the Indian customers are responding to your products? Do they need education?
I think that the Indian market has moved beyond education. There used to be a time when we used to educate them about the need or usage of ERP in a business. However, [now] the education is more in the side of the evolution of the textile industry and IT itself. Typically, a company would have started with a homegrown system that was developed locally over the years. If the mill is still there, they will look at changing to an advanced system. There is a limit that the homegrown / legacy system can be recongifured or developed to. There is a market which is going through this evolution. We need to educate them on this aspect – i.e The advantage and scalability of a modern, unique and standardized textile specific system with a global application and usage.
How are you tackling this aspect?
It is completely up to the customers and their learning. If a customer has gone through that cycle or has gone through the evolution of homegrown systems, they will understand the pitfalls associated with it. You cannot educate them. It is their learning that drives them to more advanced systems. Having said that, an advanced system should also be easy to implement and adopt.
The main difference with the global system is the R&D aspect that goes into developing that system. Any local system will not have those kind of R&D budgets. For that, you need to go through a cycle of 25-30 years. In addition, you also need deep pockets to invest in R&D.
Adopting to ERP means minimum of six months of ROI. How do you make the customer understand?
This comes again from the customers learning. When we create an implementation plan, we always take the inputs from the customers and focus on the areas that are important for them. Every customer has their own focus areas.
There are various areas from which our product can guarantee ROI. Even if the customer is able to save 2 per cent by using our product, the ROI is huge. For example: one of our customers were holding a stock value of 'X', post implementation, he understood that he doesn't need those stocks. There was a clear visibility of demand and supply. This is where we achieve returns. Beyond ROI, it is also about sustainability. In the global competitive envirnment, textile companies look at ways and means in the operations are both competitive and sustainable. For example, based on the Sales Forecast or MRP in our system – the Materials and Capacities can be planned in such a way that you are cutting out over and under production as well as over and under stocking. This you can do not just for the final product but for all intermediate production or purchase stages.Furthermore, our engines for automatic sequence optimisation in the various areas of spinning, weaving, dyeing and finishing help by intelligent software procedures to become more sustainable whilst higher efficiency leads to a cost saving. Isnt't that the best approach to sustainability aspects? On the example of textile dyeing and finishing, reducing the number of re-porcessing, 2nd grade qualities, highest capacity utilization, reduction of cleaning times, combination of orders with same recipe and same affinities, and many other smart functions , we can achieve measurable results to the benefit of our customers.
How secured is your ERP system?
Intex ERP software solutions are in a highly secured architecture. The access from outside of the company's network is secured by virtual private network accesses (VPN) to get through the firewalls. With the Oracle database, we are working with one of the most secure environments available. As the data of our customers is the most sensitive, we are ensuring the highest possible security from our side. In addition to that, there is consulting to the customer's IT department that we can offer at anytime.