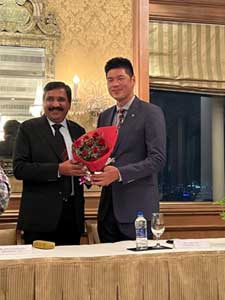 ICA President Alex Hsu visits the Cotton Association of India
In the presence of significant members of the cotton value chain, a Memorandum of Understanding was signed to strengthen the partnership between the two leading cotton bodies.

Mumbai
A delegation from the International Cotton Association (ICA), Liverpool headed by Alex Hsu, President, visited the Cotton Association of India (CAI). The delegation met the CAI team led by Atul S Ganatra, President and interacted on various cotton related matters of interest to both the CAI and ICA including the proposal to organise ICA training programmes in India, ICA Bremen certification of a few CAI laboratories and their recognition by ICA, proposal to organise ICA event in India, adoption of ICA Bylaws for amending the CAI By-laws relating to international trade, etc.
The CAI President had hosted a dinner in honour of the ICA President and visiting delegates where the delegation met Government officials, prominent members of the cotton value chain in India, the Board of Directors and the members of various Committees of the CAI. An MOU has been signed between the ICA, which is the world's leading arbitral body on cotton and world-over, majority of cotton trading is done as per the ICA Bylaws, and the CAI, a 100-year old apex cotton body in India. The MOU included the following areas of cooperation between the two leading cotton bodies:-
Organising yearly meetings to discuss issues of mutual interest and further ways to increase cooperation.
Visit of delegation and organising training programmes in India.
Information Exchange and Dissemination
Liaison with the Government
Addressing quality related issues faced by each other's members
The ICA delegation accompanied by the members of the CAI Crore Group also met the RoopRashi (IA&AS), Textile Commissioner of India, Pradeep Kumar Agarwal, Chairman-cum-Managing Director, Cotton Corporation of India (CCI) and the members of their respective teams to exchange views on various cotton related matters. A lunch was also hosted by the Textile Commissioner of India to the ICA delegates.
The ICA delegation which consists Alex Hsu, Bill Kingdon, ICA Managing Director, , Azeez Syed, their immediate Past President and Mohit Shah, Director will also meet the T Rajkumar, President and other members of Confederation of Indian Textile Industry (CITI) and Sanjay Garg , President, and other members of Northern India Textile Mill's Association (NITMA) and Multi National Cotton Companies based in India, which are the members of the ICA.
Before concluding their India visit, the delegation is also schedule to visit the Central Institute for Research on Cotton Technology (CIRCOT), a leading research institution on cotton in India.