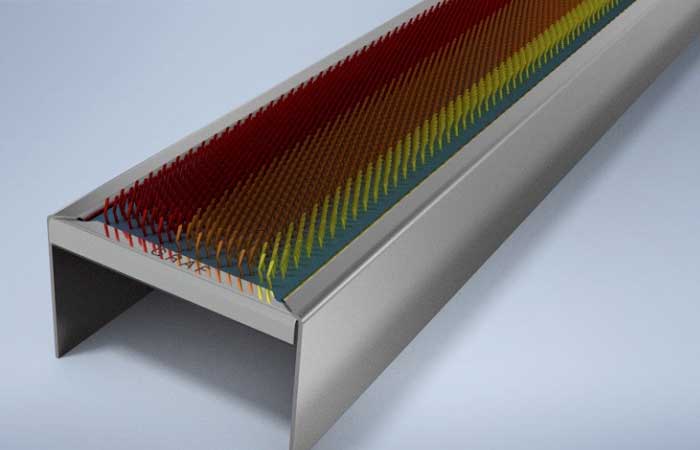 Hypertop: The future of carding
Hypertop offers unparalleled good fibre savings of up to 0.5 per cent.
Graf is introducing Hypertop, a new flexible flat which will sustainably change the efficiency of carding. With its patented multi-zone setting pattern and optimised tooth geometry, Hypertop offers unparalleled good fibre savings of up to 0.5 per cent while ensuring constant and optimal yarn IPI values.
Carding is often referred to as 'the heart of spinning'. To optimise the efficiency of this crucial process, Graf developed a flexible flat which significantly improves good fibre savings by up to 0.5 per cent. Hypertop demonstrates one of the fastest paybacks. It can be used for the processing of the whole range of short-staple fibres.
Unique design
Hypertop features an innovative multi-zone setting pattern, a strong wire and optimized tooth geometry (Figure 1). This new design offers the right balance between high force absorption and sufficient flexibility to limit fibre damages. The change from straight gaps to a gapless pattern processes the fibres with growing intensity, further optimising the good fibre savings to reach up to 0.5 per cent. It also ensures optimal and gentle defibreing resulting in fewer imperfections and a constant quality over an extended lifetime. Another advantage of this setting pattern is its tendency to facilitate removal of short fibres, waste and elimination of neps.
Remarkable performance
Hamboya Tekstil in Turkey is one of the first customers to implement Hypertop on its carding machines. The new flat delivered on its promises and beyond: the company witnessed a clear improvement of yarn values and good fibre savings of 0.32 per cent.
"We can confirm that the new HYPERTOP flat from Graf is a very good development for us users. In addition to the payback at the end of the lifetime, we also no- tice a positive result concerning yarn values. The tests we have carried out have clearly shown this result. We would like to particularly emphasize the very good result regarding the saving of good fibres by 0.32 per cent," Ender Dogaç, Mill Manager, Hamboya Tesktil.
Hypertop opens a new era in carding technology. With a payback period of less than one month, Hypertop is the best way to invest money for more efficiency and profitability.