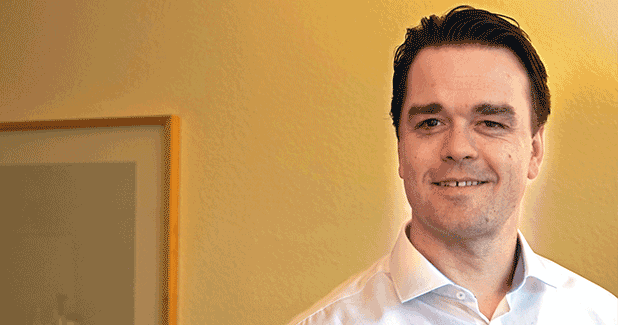 HYDRO_BOT to tackle moisture management
Five textile industry leaders have joined forces to launch HYDRO_BOT, a new revolutionising technology for moisture management. HYDRO_BOT will solve one of the biggest challenges in sports, work and protective clothing: to transport moisture to match human sweat rates in various climates, conditions and activity levels.
Five textile industry leaders have joined forces to launch HYDRO_BOT, a new revolutionising technology for moisture management. HYDRO_BOT will solve one of the biggest challenges in sports, work and protective clothing: to transport moisture to match human sweat rates in various climates, conditions and activity levels.
Behind HYDRO_BOT is Osmotex, a Swiss-Norwegian start-up dedicated to developing solutions for electro osmosis for moisture management.
"HYDRO_BOT is the result of 10 years of intense R&D in Switzerland. Over the past two years, the development has reached a new level with four strategic partners involved in the development effort. We are confident that HYDRO_BOT will represent a generational advancement in moisture management," says Trond Heldal, Director of R&D and Operations at Osmotex and the lead researcher on the decade long research and development effort.
The Swiss leading textile manufacturer, Schoeller Textil AG is the production partner for the HYDRO_BOT panels. The world leading premium sportswear brand KJUS is the primary product development partner and will be the first leading brand to take HYDRO_BOT to market in selected skiwear products planned for the 2018-19 season.
The high-tech wearable technology company Belginova is the technology partner for HYDRO_BOT. They are providing operating systems and switches for applying the moisture management solution. Belginova will also deliver HYDRO_BOT products through their own brand 30SEVEN.
Empa, the Swiss Federal Laboratories for Materials Science and Technology, has played a key role in conducting cutting-edge materials and technology research. Together with Osmotex and its three development partners, Empa is now involved in the final development to ensure the necessary durability, washability and performance of HYDRO_BOT under different conditions.
"The consumer is the central focus of our developments. We want to support people in their work, leisure and sporting activities with intelligent textile products. For this reason, we develop and produce highly-functional fabrics, knits and innovative textile technologies. We are very excited about the prospects for HYDRO_BOT as we see a great synergy for even smarter textile performance", says Siegfried Winkelbeiner, CEO of Schoeller Textil AG.
"KJUS is renowned as the leading innovator in ski-, golf- and lifestyle wear. As such, we teamed up with Osmotex to create an industry changing ski jacket. HYDRO_BOT opens up new levels of skiwear comfort for our product development, and we are excited about the new alpine layering system in the pipeline", says Nico Serena, CEO of KJUS.
"Based on many years' experience of developing car seat heating, I designed the world's first safe, durable, washable heating system: Novaheat®. Now we are very happy to innovate wearable clothing again using HYDRO_BOT as the engine for moisture management", says Pol Speleers, co-founder of 30Seven and Belginova.
"As the place where innovation starts we are very excited at Empa to contribute to new textile developments like HYDRO_BOT with our in-depth knowhow in materials science and computational simulation and to work with a group of outstanding companies covering the entire value chain of sports and performance clothing," says Prof Dr Gian-Luca Bona, CEO of Empa.
Osmotex AG has developed a revolutionary proprietary technology for electronically controlled moisture transport in membranes and textiles.
As as first step, the technology will be applied in clothing and launched as HYDRO_BOT. Osmotex AG is a Swiss corporation founded in 2008 funded by group of Norwegian and Swiss Investors and Banks. Osmotex AG is a research and development company dedicated to electroosmotic vapour and fluid transport. As the developer of HYDRO_BOT, Osmotex has pioneered moisture transport delivering the first ever electronically controlled active membrane to the market.
About Schoeller
Founded in 1868 with headquarters in Switzerland, Schoeller Textil AG is a global leader in high-performance textile manufacturing specializing in the sustainable developement and production of innovative textiles and textile technologies. As a system supplier of solution-oriented products, Schoeller addresses specific customer requirements and supplies its customers and partners with tangible added value.
About KJUS
Originating from an idea by Olympic ski champion Lasse Kjus and Swiss entrepreneur Didi Serena, KJUS stands for sportswear made of innovative, high-performance material with a distinctive, clean design. The award-winning collections Ski, Golf and Active Lifestyle are developed by passionate sports experts and tested by professional athletes. The company revolutionised the market with its extremely stretchable and functional fabrics. Unrestricted freedom of movement and a full range of features allow sportspeople to focus on the performance and make the journey the reward. KJUS is headquartered in Huenenberg, Switzerland and sells its products in more than 32 countries globally.
About Belginova
The high-tech wearable technology company Belginova is the mother company of 30seven®, the global expert in heated clothing for outdoor and professional use. Formed in 2006, we have our head office in Belgium. More than a thousand dealers in more than 13 European countries sell 30seven® electrically heated clothing. And there's so much more to 30seven® than cycle wear. Its heated clothing is indispensable whether you're walking, skiing, motorcycling, hunting, fishing or doing any other outdoor activity. 30seven® electrically heated clothing has been tested by professional cyclists, who experienced the benefits of cycling without cold hands or feet.
About Empa
Empa conducts cutting-edge materials and technology research, generating interdisciplinary solutions to major challenges faced by industry, and creates the necessary scientific basis to ensure that our society develops in a sustainable manner. As part of the ETH Domain, Empa is committed to excellence in all its activities.
See more details about HYDRO_BOT at www.hydrobot.com
Focus on sports clothing
Moisture management in textiles is a fascinating field, and The ITJ, eager to know more about the Hydro_BOT innovation, contacted Osmotex management for further details. Joacim Holter, Managing Director and Chairman of the Board, Osmotex, in an email responded promptly to a few questions from the Editor, Samuel Joseph.
Here are the excerpts:
How does Hydro-BOT really work? At what stage of production does it get involved and how?
HYDRO_BOT is an electronically controlled membrane that enables you manage moisture. It is built on the principle of electroosmosis using a battery as energy source, and a smartphone application to steer the moisture transport. The technology can be embedded into many types of textiles including work and protective clothing clothes, and sports performance clothing is the first focus area.
What is the difference between Hydro-BOT and other moisture management techniques and what is so revolutionary about it?
HYDRO_BOT is extremely effective and "overmatches" human sweat rates. It also is unique in the sense that it lets the user control the moisture management according to her or his needs.
How do the five companies plan to work together on this product? Will they be also going for more such products in future?
The partners work together to develop and test the functionality of HYDRO_BOT. It is expected that the first products will be commercially available to consumers later this year and for the 2018-19 season.
Where will the initial marketing begin — West or East? With sportswear and athleisure experiencing a boom all over the world, how do you see the future of this technology?
The early phase is focused on high altitude skiing through our cooperation with KJUS. They are operating globally, so we do not limit ourselves to Europe. However, we expect to see great interest from the textile industry and other areas of use, and we hope that the technology in the future will be available around the world and in many application areas.
How do you plan to take this concept to Asian countries especially to India?
We are currently focused on completing the development and testing. India and Asia in general will be very important markets when we begin to detail our growth plan. But first step for us is to deliver the product together with our existing partners and all our efforts are now focus on this exciting development.