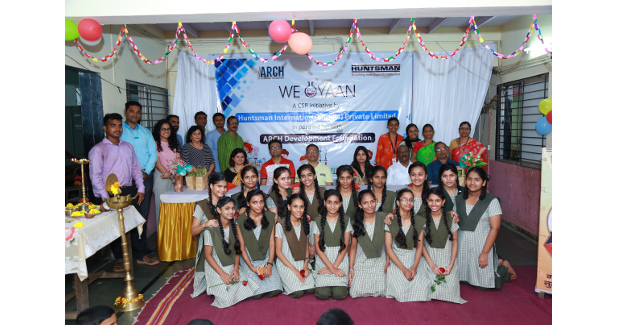 Huntsman builds Mini Science Lab
Huntsman, the global manufacturer and marketer of differentiated chemicals, has launched the 'WeGyaan' initiative at Gayatri Vidya Mandir in Bhandup in Mumbai
Huntsman, the global manufacturer and marketer of differentiated chemicals, has launched the 'WeGyaan' initiative at Gayatri Vidya Mandir in Bhandup in Mumbai, with the aim to inspire scientific interest in the minds of school goers. The company, in association with ARCH Foundation, built and inaugurated a 'Mini Science Lab' as part of the initiative to help 6 – 10th graders explore their scientific curiosity through experimental learning.
The 'WeGyaan' programme has been designed to enhance scientific reasoning and analytical thinking through practical learning, customised study modules, quiz competitions, debates, and other activities for students. In addition to this, the programme will also focus on training teachers, helping them impart knowledge more effectively.
Speaking at the inauguration ceremony, Samir Rawal, Country Manager and Director, India Subcontinent, Huntsman Corporation, said, "We believe that each and every child deserves an equal opportunity to develop their academic curiosity. Through this initiative, we are grateful to be able to contribute to the enhancement of hundreds of young minds. We are certain that this initiative will help provide an enriching learning experience and facilitate overall development."
Speaking on the occasion, Dr Kamlesh Kushalkar Global Product Stewardship & Regulatory Affairs, Huntsman International India Pvt Ltd, said, "At Huntsman, we believe in proactively contributing to the ecosystem we operate in, and education is an integral aspect. Through the 'WeGyaan' programme we aim to support the all-round development of children and communities. We are glad to have this opportunity to help these young bright minds explore their passion for science through practical learning."
Historically, it has been observed that high drop-out rates are attributed mainly to low motivation to learn, lack of interest and scarcity of resources. Huntsman, through its Corporate Social Responsibility efforts in the field of education, aims to provide the impetus required to facilitate comprehensive learning and holistic development of children.
The inaugural event was graced by Umakant M Tiwari, Principal, Gayatri Vidya Mandir and Pramod A Talekar, Secretary, Gayatri Vidya Mandir. The programme will further be rolled out at three more government schools in the near future.