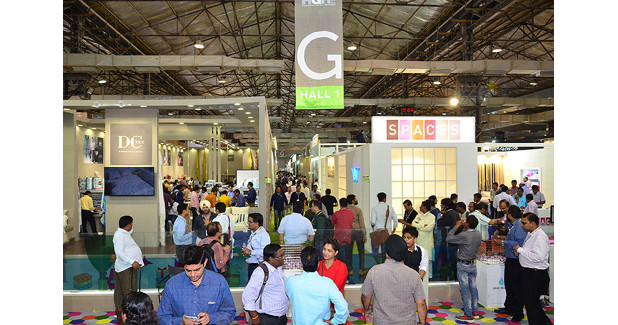 HGH India reflects rising interest in integrated home product offerings
HGH India 2018 continued to witness innovations and product launches by leading Indian and international brands and manufacturers. Home textile, home decor, houseware and gifting categories continued to attract eyeballs.
HGH India 2018 continued to witness innovations and product launches by leading Indian and international brands and manufacturers. Home textile, home decor, houseware and gifting categories continued to attract eyeballs. The Indian and International and suppliers at HGH India are amongst global leaders and are associated with world's top brands and retailers. Amongst them, in home textile companies like Welspun, Trident, Springfit and GM Fabrics;In Houseware, Corelle, Borosil, Berghoff and Noritake; in Home Decor Marshal, Exel and Sunrise were present at HGH India 2018, offering their world class quality and innovations to Indian consumers. In addition, HGH India presented pavilions with enriching group participation from renowned associations such as AIWA (All India Wallpaper Coverings Association), EPCH (Export Promotion Council for Handicrafts), EVSID (Turkish Houseware Manufacturers and Exporters Association), Golden Seal, HMCM (Handicraft Mega Cluster Mission) and HKTDC (Hong Kong Trade Development Council) among others.
Visitors were able to find latest and unique products from leaders in mattresses, table and kitchen linen, wall papers, blinds and window dressings, home décor accessories, fragrances and spa products, handicrafts, artefacts, gifts, cookware, tableware, kitchenware, kitchen appliances, storage among general houseware.
Home textiles and furnishing fabrics continue to be the largest selling categories in India's home products market. With a consumption growth of 15-20 per cent CAGR, they are creating increasing opportunities for existing as well as new retailers. Hundreds of new home textile stores are coming up across India every year. Many specialty stores like Jagdish Stores, Bharat Furnishings, Skipper, Darpan, Pride in cities like Mumbai, Delhi, Kolkata, Bengaluru, Hyderabad and Ahmedabad who are fast becoming national chains with 5-20 stores, were seen at the show. The top categories under home textile that saw traction were bed sheets, bed covers, decorative beddings, towels, bath linen and bath accessories, furnishing fabrics, curtains and blinds with their accessories, decorative made-ups, mattresses & pillows, rugs and carpets, bath mats, table & kitchen linen and coir and jute products – all housed at Hall 1 of the trade show.
This year the Houseware segment, which has been witnessing consistent growth at HGH, moved to a bigger Hall 3. With rising incomes, Indian consumer demand in all sub-categories of houseware has been growing annually between 20-25 per cent. New specialty retailers were seen sourcing products ranging from kitchenware, tableware, cookware, kitchen appliances, home appliances to security, bath accessories, storage, maintenance, cleaning and hygiene and outdoor and garden products. An important trend noticed was integration of houseware with home décor and home textiles at retail level due to changing buying habits of consumers, leading to increased demand from home textiles and home décor retailers for houseware. Hall 3 was populated with prominent brands like Versace (Italy), Corelle (USA), Clay Craft, Lock-n-Lock (Korea), Berghoff (Belgium), Borosil and Baltra among others.
This year, there was a dedicated home decor segment set up in Hall 2. Home décor products like wallpapers, decorative synthetic and wooden flooring, wall décor, table tops, murals, artifacts, paintings, decorative clocks, photo frames, figurines, flowers, fragrances, decorative candles & candle stands, decorative mirrors and lights; handicrafts and a variety of decorative furniture and accessories were seen as priority items for home retailers to attract and retain customers. HGH India offers opportunity for its home décor exhibitors to create national brands in this category, where products are almost entirely sold as unbranded commodities. Visitors experienced a complete voyage of discovery for their stores in hall 2, with widest ever range of exquisite handicrafts, artifacts and modern machine-made decorative accessories.
In the home decor segment, wallpaper deserves a special mention with 20 brands and distributors showcasing the widest ever range of wallpapers imported from all over the world, in an exclusive Wallpaper Pavilion organised by All India Wallpaper Coverings Association (AIWA). India is one of the fastest growing global markets for wallpaper where the demand is growing by 100 per cent per annum. Yet, the country doesn't have any domestic producer of base wallpapers and the entire demand, in premium as well as basic category, is met through import. Some of AIWA's members exhibiting through the Wallpapers Pavillion include Marshalls, Gratex, Excel Wall Interiors, H & H Wall Covering, Adornis, STC Wallpaper, Atco Interiors, Artisan Furnishing, Daga Wallpapers, Creative Wallpaper, W.S. India, Royal Wallpapers, InDesign, K2 Impex, S. C. Sheth & Sons, Sweet Home, Design Wrap and UDC.