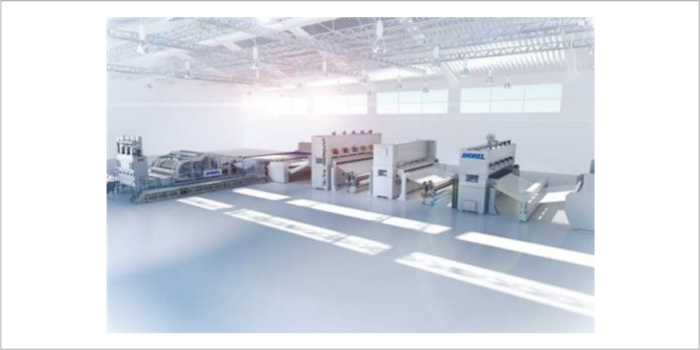 German tech for Indian textile industry
Today, textile machinery engineering is one of the important branches of engineering and plant construction in Germany. The industry produced textile machinery and accessories worth Euro 3 billion in 2019 in Germany and ca.
Today, textile machinery engineering is one of the important branches of engineering and plant construction in Germany. The industry produced textile machinery and accessories worth Euro 3 billion in 2019 in Germany and ca. 1 billion in the foreign manufacturing facilities. With an export of Euro 2.4 billion in 2019 and an export rate of 95 per cent, the industry is one of the strongest engineering branches in terms of exports.
India is traditionally one of the top markets of the VDMA member companies. Many VDMA companies can proudly point back to decades of close customer relationships which are based on mutual trust. But India is not just an export market, it is also a production and sourcing hub. Well-known VDMA members are producing directly in India, feeding the demand of the Indian domestic market as well as of other Asian countries.
In 2019, India stood fourth and received an export of Euro 147 million of textile machinery from Germany, which is a share of 6.2 per cent of the total exports.
India has a growing middle class, able and willing to spend more for clothes and home textiles than former generations were able to do. German textile machinery companies benefit from this trend because they are offering the technologies one needs to manufacture textile products of higher quality. Not to forget are textile producers focussing on technical textiles e.g. for vehicle manufacturing or civil engineering. This sector is in its early phase in India, but offers good chances for German companies, too. That is why the VDMA organised a seminar "Perspectives on technical textiles and nonwovens in India" at last year's ITMA in Barcelona. Two guest speakers from India informed some 22 participants about the latest activities of the Indian government to promote the development and production of technical textiles.
The textile machinery companies organised in the VDMA cover almost all different machinery chapters: spinning, nonwovens, knitting, warp knitting, weaving, braiding dyeing and finishing technology.
Automation and process control
Textile producers from India and from other Asian countries are increasingly interested to automate things. There is no textile sector that does not benefit from automation and process control. The effect is improved quality and consistency, cost control, improved work environments and employment opportunities. The R&D efforts of VDMA member companies paid off. They can offer textile manufacturers customised solutions.
Saving energy and costs
With its market leading technologies and machinery, German textile machinery manufacturers are already successfully offering energy- and resource-efficient solutions around the entire world. An expert team of member companies of the VDMA Textile Machinery Association has studied the energy saving effects across the entire production chain of five textile products: a cotton t-shirt, a functional t-shirt, a textile billboard, an architectural fabric and a hygienic nonwoven. The result of this analysis is impressive: In the manufacture of these products today's German technology can save up to 30 percent of energy compared to what was available 10 years ago. Frankly speaking: Today it is nearly impossible to sell machines that are not resource efficient, because costs for commodities and energy are among the major ones in textile production.
German-Indian bridge-head
VDMA and its 3,200 member companies from all machinery branches are well established in India. German Mechanical Engineering Industry Association (VDMA) has established an office in India which acts as a bridge-head between the German and Indian industries and shares expertise and experience with its member companies from different industrial sectors. With almost 20 years of experience and a team of committed and qualified experts, VDMA India maintains close relations with the Indian Industry, Indo-German companies, Embassy and Consulates as well as various Indian Industry Associations. VDMA India is the only association of its kind focussing on Mechanical Engineering Industry and is active in various specialised sectors. More information here: https://india.vdma.org/en_GB/
Webtalks as an answer to travel restrictions
The Covid-19 crisis has hit both – the textile industry as well as the machinery manufacturers. There are travel restrictions around the globe. Most trade fairs had to be cancelled. As an answer to these challenges, VDMA started a series of textile.
Machinery Webtalks – powered by VDMA
The experts from up to four VDMA member companies present their innovative technologies in a maximum of 90 minutes on a specific topic and will be available to answer the participants' questions. The presentations are held in English. Participation in the web events is free of charge. The series is well received. Participants from up to 25 countries do normally register. Many experts from the Indian textile industry take part in the webtalks.
Are you interested in these technology webtalks and topics? Please check
www.machines-for-textiles.com/webtalk for updates.
Production of masks and protective gowns
Due to Covid-19, masks and protective gowns etc. are in high demand. Whether masks, surgical gowns or disinfecting wipes, the production of the textile starting material is the first step in a multi-stage production process. The VDMA members are at the beginning of this technological chain. On http://www.machines-for-textiles.com/en/viewer/-/v2article/render/48015583, VDMA provides an overview of the range of services offered by textile machinery manufacturers at the beginning of the technological chain.
We are living in difficult times. Nevertheless, the companies of the VDMA Textile Machinery Association are looking forward to continuing and deepening the close customer relationships with the Indian textile industry.
The way forward
Until 2022 the global production of nonwovens will increase with annual rate of around 6.3 per cent to over 13.6 million tons. The greatest share in the market is, so far, represented by nonwovens for industrial and medical engineering purposes, followed by nonwovens for home and household uses and applications in the building branch. Accordingly, suppliers to the automotive industry or manufacturers of medical and hygiene nonwovens are important consumer branches for the 52 manufacturers of machinery and accessories for the nonwovens branch affiliated within VDMA.
The member companies' services are also in great demand concerning the production of other technical nonwovens or products for home and household applications. The dynamic worldwide progression in the nonwovens production and the development of new application fields provides German textile engineering with the chance to strengthen its top position in this market ahead of France, Italy and Japan with tailor-made machines and plants and innovative techniques. Intense research and development does not only lead to constant improvements in the machinery's technical performance parameters, supplying the customers with ideal economic and technological solutions, but also reveals new fields of application. Some firms correspond to the trend of investing in turn-key plants by co-operating in the projects.
Intense research and development in engineering of washing, bleaching, dyeing, printing and finishing machines does not only aim at better and new finish-ing effects, but also at complying with high economic and ecological requirements by reducing the con-sumption of chemicals, water and energy.
Footnote:
The article is authored by Rajesh Nath, Managing Director, VDMA India.