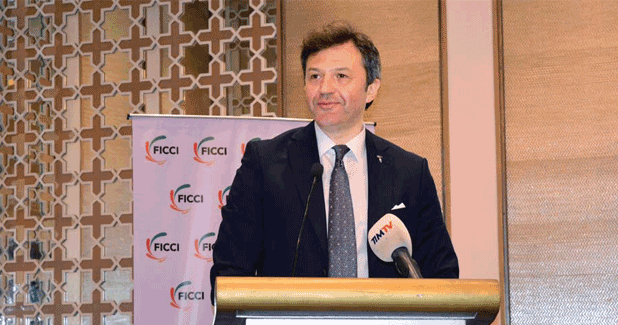 "Foreign trade between India & Turkey is $6.5 bn"
Turkish Exporters Assembly TIM as the roof organisation of the exporting firms around 71,000 was established in 1993. TIM determines the issues related to the export, conduct improvement studies, and to insure the transfer of the problems of the exporters to the highest competent authorities
Turkish Exporters Assembly (TIM) as the roof organisation of the exporting firms around 71,000 was established in 1993. TIM determines the issues related to the export, conduct improvement studies, and to insure the transfer of the problems of the exporters to the highest competent authorities.
In an interview with the ITJ, Suleyman Kocasert, Deputy Chairman, TIM, speaks on the business opportunities between India and Turkey.
Excerpts…
What are the various textile products that India and Turkey have been trading so far? How far has this trade progressed?
India is the second biggest textile and ready wear exporter of the world and ranks sixth in the apparel sector. In terms of silk and cotton production, India is second after China.
Similarly, Turkey is a very powerful country in textiles. Our annual textile and apparel export is above $25 billion. Sub sectors such as ready to wear, home textiles, textile raw materials are foreign trade items between the two countries for long years. Our textile and ready to wear export to India is approximately $40 million per year.
There are a lot of commonalities between India & Turkey. What kind of opportunities you see in cooperation between both the countries in Textiles?
We see the increasing business opportunities between India and Turkey especially after India's gaining its independency. The foreign trade amount between the two countries has arisen up to $6.5 billion, and about $5.7 billion of this amount is through exports from India. Of course, this situation, which is a disadvantage for Turkey, is not easy to maintain. That's why it is very important to take further steps towards increased investments and more balanced trade volume.
What are the thorny issue blocking the way for better relations in textiles between both the countries, according to you?
We can say that 300 million people of India has an important purchasing power considering 1.3 billion population of India. However, the fact that both countries are leading textiles producers and exporters has effects on textile foreign trade between India and Turkey.
There has been some issues regarding subsidies given to Indian textile exporters. What is Turkey's stand on this?
There are a lot of local and traditional enterprises in India although it is the second biggest supplier in global market. In terms of global branding, such enterprises should evolve as integrated and corporate structures and thus improve competitiveness. We know that India government has such projects.
Negative or less subventions may disaffect new textile investments in India. This may have an indirect reflect in cost increases.
Which are the segments in textiles do you think that offer good prospects for the growth of trade between Turkey and India?
Cotton, wool, silk, technic textiles and ready wear are fore standing sectors in India. There are small and labour intensive companies with limited technology.
Despite, we also know that in India there are important textile investments and direct foreign investments are also supported up to 100 per cent. Likewise, the sector will benefit from Professional Economy Areas to be formed.
What are the special efforts undertaken by Turkish Exporters Assembly in promoting trade with India?
We, as Turkish Exporters Assembly, make India Trade Missions during which B2B meetings and business forums are held. These trade missions are opportunity for Turkish companies willing to enter into or increase their trade in Indian market.
India, which presents important business chances as a potential market, is also a target market for food, chemical substances, construction products, iron and steel, automotive and sub-industry, machinery and equipment (textile and food machines, pumps and compressions), durable goods, mining and mineral, furniture, textile and ready-to-wear, wood based products such as paper napkins and paper towels and natural stone companies.
Do you see great potential for growth in trade in textiles, and what is your recipe for a boost to this trade between India and Turkey in textiles?
Turkey is one of the most competitive countries in global market in terms of product quality, fast shipment and production lead time in textiles sector. Thus, Turkey is one of the leading countries, which has high net trade surplus in textiles sector. High employment rate also provides an example. India, one of the biggest producers and with its very high population is a great trade partner.