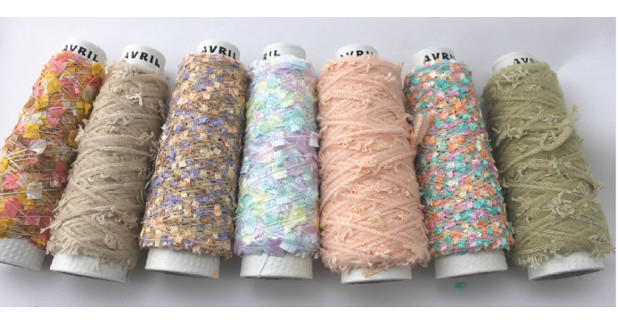 Fancy Spin System from A.T.E. ? add value to your yarn
A.T.E. has introduced Fancy Spin, a unique fancy yarn slub system designed to add special effects to yarn, for making ?fancy yarn?.
A.T.E. has introduced Fancy Spin, a unique fancy yarn slub system designed to add special effects to yarn, for making ?fancy yarn?. Fancy Spin would help spinners to fetch higher price realisation for the fancy yarn, and would also give them the much needed competitive edge. In the current context of uncertainty in the yarn market owing to the pressure on prices because of rising production costs on one hand and the increasing competition on the other, production of fancy yarn would provide the much needed relief to spinners.
What is fancy yarn?
Fancy yarn is an ?effect?, which is created by introducing in yarn of uniform thickness deviations such as varying thicknesses, or a change of count and twist randomly or regularly across the yarn length, thereby deliberately introducing ?defects? and producing a pattern or random effect in the yarn.
This ?defect? is viewed as the ?effect? or a ?slub? (also used to describe a thick or thin place in the yarn) and is called fancy yarn. Fabric made of fancy yarn has an interesting look or appearance and therefore is used to make different fashion fabrics.
Why fancy yarn?
There are several reasons why spinners would find expanding their product portfolio with a speciality product like fancy yarn quite promising:
Growing market demand: The market for fancy yarn in India is growing at a fast pace. Currently, the fancy yarn production in India is around 5-7 per cent of the total yarn produced in the country and is expected to double within five years.
Value addition: Fancy yarn offers a high price realisation potential of up to 5-25 per cent over conventional yarn. The value addition varies depending on typical yarn demand.
Wide scope of application: Fancy yarn finds application in denim, shirting, home decor, women?s wear, and knitting.
Types of fancy yarn
Core yarn: Produced through the addition of a core of different material such as Lycra
Slub yarn: Produced by changing the yarn diameter and other properties using the same material.
There are four types of slub yarns:
Slub yarn: In slub yarn, slubs are deliberately created to produce the desired pattern in the yarn. Slub may be introduced in the yarn regularly or at random. Slub yarn is produced by changing the draft, i.e., by changing the middle and back roller speeds as per required thickness and intervals. Today, the latest motion control technology with servo motors is used to produce slub yarn on ring frames.
Multicount yarn: Produced by creating multiple counts in the same yarn without slubs across the length of the yarn. The front roller also needs a servo drive in this case.
Multitwist yarn: Produced by creating a different twist in the same yarn count. When dyed, different dye pickups in the yarn give a fabric a very interesting appearance. However, the design of the fabric only appears after it has been dyed, making testing difficult for spinners.
Multieffect yarn: Produced through a combination of slub, multicount, and multitwist effect in the same yarn
Fancy spin system on ring frames
The fancy spin system can be easily used with any type of ring frame and open-ended machine. Controlled by a servo system and a PLC, the fancy spin system can produce slub, slub on slub, multicount and multitwist effects in a single package.
In order to ensure that a ring frame is suitable to generate fancy yarn, its drafting is separated from the existing drive and the individual servo motors are used to drive drafting rollers. The drafting roller speed is determined by the yarn recipe and the delivery speed
of the ring frame. This means that the drafting runs in synchronisation with the main motor speed. Slub yarn attachments are retrofitted on to ring frame. In ?slub? models, the second and third bottom fluted rollers on the ring frame are driven by the latest servo motors through the gear box and special gear systems. The servo motor is governed by a motion controller and a servo drive systems. l encoders are provided to monitor the fluted roller speeds. Parameters of the desired slub pattern, such as slub diameter, slub length and yarn length have to be entered in the display unit provided on a special compact machine panel. This data needs to be provided by the customer. Customers can also provide yarn samples, using which, the spinner can decide the parameters for production.
The following data needs to be input in the machine before starting the production:
Average count required
Slub thickness
Slub length
Interval between slubs
Slubs/metre
Ramp-up and ramp-down (this decides slub appearance and strength as well)
As soon as the device is put into action, the slub parameters are processed in motion controller. it gives appropriate command to the servo drive to run the servo motor at higher or lower speeds according to the pattern required, so the 2nd and 3rd bottom fluted rollers run at increased speed and the excess feed undrafted roving appears as a slub in the spun yarn. In a multi-effect system, one more servo motor is used to drive the front/delivery roller which helps to produce multicount and multitwist yarns.
Normal v/s fancy yarn ring frame drive
Concept of motion control technology
The important parameters of servo motor and gearbox used for making slub attachment are as below:
Speed: for dimensional accuracy of slub, its length and intervals
Acceleration/deceleration: effects on slub strength & appearance
Torque: control of torque delivered by motor to machine mechanism. It helps in the smooth running of the machine without under & overload conditions.
Standard specifications of slub yarn manufacturing system
Minimum possible slub length is 75 per cent of fibre length. Special technology is used for manufacturing micro slubs.
Slubs of up to 1.5 to 9.0 times diameter of basic yarn (? per cent) can be produced.
Can vary twist exactly on effects, thus giving the desired results in yarn.
Slub attachment can produce multiple diameter slubs and slub over slub & negative slub
The fancy yarn can be produced at almost the same spindle speed as that of normal yarn, without affecting the ring frame productivity.
It may be necessary sometimes to reduce the machine speed to some extent. The production speed reduction depends on parameters such as the number of slubs/meter, slub thickness and ring frame condition. Slub attachment in itself is not the reason for speed reduction.
Appearances in fabrics with fancy yarn:
The Fancy Spin system from A.T.E. is designed with optimum features to provide the best benefits to spinners.
Features of fancy spin system:
Latest generation motion control technology
Specially designed, sturdy variator gear box
Designed to avoid patterning in fabric and to produce larger effects
No production loss during changeover from slub to normal yarn and vice-versa
User friendly software and easy programming
No ends down during doffing or power failure
Minimum reduction in spindle speed while running slub yarn
Yarn board simulation on screen
Negative slub (optional)
Benefits of fancy spin system:
Higher price realisation
Expanded product portfolio
Payback period is 6 months to 18 months
(depending on market conditions)
No need for extra training to operator/supervisor
No need of special raw material like that used in core yarn
No need of special testing instruments
Low maintenance cost
Switchover from normal to slub and vice versa is possible in a few minutes
Machine becomes e-draft
No extra power required
Very small to no speed reduction; does not affect production ?and many more!
A.T.E. will also be introducing shortly the following attachments for manufacturing of some special types of fancy yarns.
Core (Lycra) attachment
Injection slub attachment
Fancy yarn is a good option for spinners to command a premium for their yarn and boost their bottom lines. Fashion is here to stay and so is fancy yarn!