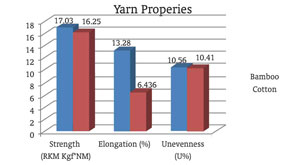 Fabric comfort: cotton v/s bamboo
Bamboo yarn shows better results in case of strength, elongation and hairiness, and while bamboo fabric is more extensible than cotton fabric, cotton fabric shows more stiffness and geometrically rougher surface
Bamboo yarn shows better results in case of strength, elongation and hairiness, and while bamboo fabric is more extensible than cotton fabric, cotton fabric shows more stiffness and geometrically rougher surface, reveal Ajay Rathod and Avinash Kolhatkar.
Bamboo plants are commonly cultivated in Asian countries. It is one kind of grass with hollow and woody stem. There are so many varieties of bamboo plant across the world. Nowadays, bamboo is widely used in the field of building and construction because of its toughness and other properties
A few decades ago, bamboo was traditionally used for making a variety of household goods such as furniture, sporting goods, handbags, flooring and cutting board, etc. Nowadays, due to developments in manufacturing processes, it is possible to produce fibre from bamboo stem, which has remarkable properties for its use in yarn and fabric.
Bamboo fibre is a natural, eco-friendly fibre. It is regenerated cellulosic fibre produced from pulp of bamboo stem, most commonly cultivated in Asian countries. It possesses unique properties such as anti-UV radiation; anti-bacterial, breathable, cool and soft handle, etc. Due to various micro gaps and micro holes in cross section it has better moisture absorption. Bamboo fabric absorbs and evaporates sweat very easily, hence it gives a comfortable feel. It can be spun into 100 per cent bamboo yarn and also blended with natural and man-made fibres like cotton, polyester, silk, etc.
Fabric made of bamboo fibre possesses better moisture transmission property, softer handle, drapability and easy drying. It has many applications such as apparels, sweaters, bath suits, mats, towels, t-shirts and socks, etc. Bamboo fibre has unique function of anti-bacteria, which make it suitable for underwear, t-shirt and socks. It has also wide scope in the field of hygiene materials such as sanitary napkin, masks, mattress, bandages, surgical cloths, surgical gown, absorbent pads and food packing, etc.
Due to anti-ultraviolet radiation characteristics of bamboo fibre, it is suitable for making summer clothing for the protection of human skin against damages of UV radiation (UVR). Wallpapers, curtains and sofa covers are produced from bamboo fibre because it absorbs UV radiation of different wavelengths from atmosphere. Hence it protects human skin from radiation.
Exposure of human skin to UV radiation of different wavelengths causes some serious skin problems such as ageing of skin, roughening, wrinkles, blotches, and sagging. And also sometimes it leads to skin cancer. The intensity of UV radiation depends on suns altitude, geographical position, atmospheric conditions, etc. With reference to above said skin problems. Bamboo fabric can protect human skin strongly from damages of UV radiation, because it naturally possesses anti-UV radiation characteristics.
Knitting yarns require high work of rupture, good resiliency, high ratio of primary to secondary creep, high elongation at break, low flexural and tensile resistance and adequate tenacity, etc. In knitted fabric use of doubled yarn with soft twisted singles enhances the properties. There is an overall improvement in tensile properties, hairiness, wet and thermal stability, pilling resistance and air permeability. The performance of doubled yarn in knitted fabrics even excels that of single yarn of same count.
Spirality is a fault that appears in single jersey weft knitted fabric where it results in distortion of shape and pattern. Spirality of knitted fabric is influenced by twist multiple, tightness factor.
Materials and methods
Table 1 illustrate the major differences in properties exhibited by the cotton and bamboo fibres. Cotton fibre shows higher strength and moisture per cent. And bamboo fibre shows higher elongation and uniformity index (percentage), etc.
<