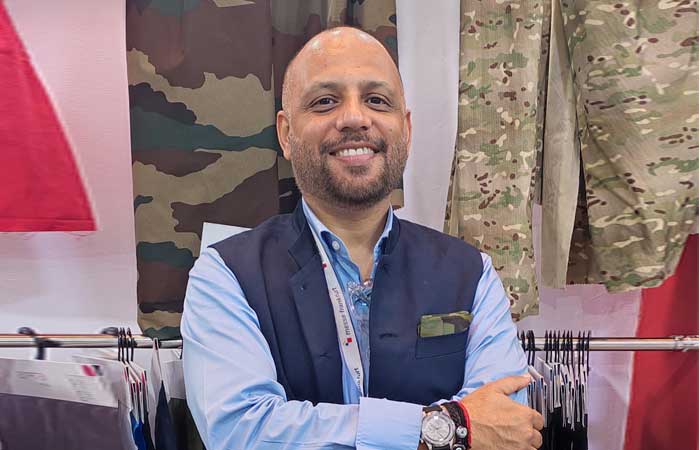 Exprtex aspires to become an import replacement company for nylon fabrics
Exprtex Shingora is a leading manufacturer and supplier of high-performance fabrics. The company specialises in producing fireproof, cold weather resistant, tactical, waterproof, and workwear-appropriate textiles. Their fireproof fabrics, made with advanced materials, offer protection against flames and heat and are widely used in firefighting gear, military uniforms, and other protective clothing. Amit Jain, Managing Director, Exprtex Shingora, discusses the prospects of the Indian technical textile industry and reveals the company's growth strategies in this conversation with Divya Shetty.
What do you foresee for the future of India's technical textile industry? Which sector is currently thriving?
We are just beginning, standing at the threshold of vast opportunities in India's technical textiles. I believe significant potential lies across various segments: agriculture, geotechnology, medical applications, and sport tech, where our focus lies. Sports technology might experience faster growth due to its direct relation to human wear, but I see equal opportunities in medical technology, geotechnology, and agricultural technology—each area holds promising potential.
How is the government supporting the technical textile industry? Any suggestions for improvement?
In the past two to three years, the government has demonstrated remarkable dedication to the technical textile industry. To enhance the workforce, collaboration with specialised institutes, such as the textile Institute, is essential. The government should facilitate curriculum changes in these institutes, ensuring graduates are well-equipped for the industry's demands. Financial backing for institutions like VJTI and NIT Jalandhar is crucial, with stringent fund monitoring.
Additionally, promoting awareness within the current industry and offering incentives can steer businesses from inexpensive fashion to valuable technical textiles.
What are the company's growth plans?
The company, although only two years into its journey, exhibits confidence and determination to expand its footprint significantly. The focus on becoming an import replacement company for nylon fabrics, especially considering the dominance of Chinese imports, demonstrates a keen understanding of market gaps and a commitment to local production. Our aim is to excel in the production of specialised fabrics like IFR and performance textiles.
The aspiration to compete with European counterparts highlights the company's global ambitions and commitment to high-quality standards. While the company has made initial strides in the domestic market, its plans for overseas expansion indicate a growing confidence in its capabilities. The mention of sustainable practices, specifically the success of nylon cotton products, showcases the company's environmental consciousness and ability to align innovation with eco-friendly solutions.
In essence, the company's vision encapsulates a blend of ambition, market awareness, innovation, and sustainability. By focusing on import replacement, specialized fabrics, global competitiveness, and sustainable practices, the company is poised to make a significant impact on the textile industry in the years to come.