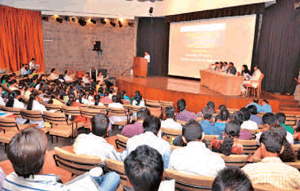 Emerging trends in fashion & retail industry
NITRA Technical Campus (NTC), the academic wing of NITRA, organised a seminar on Emerging Trends in Fashion and Retail Industry recently at the India International Centre, New Delhi. Keeping in view the strong desire of todays youth to work
NITRA Technical Campus (NTC), the academic wing of NITRA, organised a seminar on Emerging Trends in Fashion and Retail Industry recently at the India International Centre, New Delhi. Keeping in view the strong desire of todays youth to work in fashion and retail sectors and to familiarise them with the emerging trends in these sectors, the seminar was specifically designed for the students of textile and fashion colleges pursuing UG and PG level programmes. In this context it may also be noted that NTC offers a 2-year full-time comprehensive PGDM programme on Fashion Retail Management thus opening the gate for a rewarding career for young boys and girls. Sanjay Jain, Vice-chairman, NITRA and MD, TT Group, graced the occasion as session chairman. The seminar was further enriched by the presence of well renowned and seasoned speakers from fashion and retail industry of India and UK. About 200 students and faculty members from leading institutes of Northern India attended the seminar.
In his welcome address, Arindam Basu, Director General, NITRA, formally welcomed the speakers and delegates and spoke on the present scenario of Indian fashion and retail industry and the future prospects of these sectors. Sanjay Jain, while conducting the session, emphasised on the growing prominence and potential of home-brands in Indias fashion-retail market. He also acknowledged its valuable contribution to build and strengthen Brand India in the global perspective and thereby opening job opportunities in the country.
The presentation session was breathtaking. Tarang G Saxena, senior engagement leader with Third Eyesight deliberated on global fashion brands in Indian retail, followed by well-known productivity & lean management consultant Pooja Makhija, who opened up the nuances of new-age merchandising for fashion industry. Victoria Markham, senior lecturer with MMU, UK demystified merchandising both as an art and science. Following these, Vivek Agarwal, Asst. Director & Dean – Management, NITRA presented the activities of NITRA and NTC with special focus on its flagship management programme PGDM in Fashion-Retail Management. He also spoke about this programmes tie-up with Manchester Metropolitan University, UK and the lucrative career that students are likely to embrace on completion of this program.
Finally, the CEO of Luxury Connect, Abhay Gupta enthralled the captivating audience with his lively presentation on potential of luxury retailing in India thus unfolding a highly niche market. An interactive panel discussion and Q&A with professionals of tomorrow in the audience ensured that the seminar was of immense benefit to the young students.
To conclude, Dr M S Raizada, Director-Academics, NTC while proposing the formal vote of thanks opined that NTC, which is already a premium college and ranked 16th amongst the engineering colleges under UPTU, will soon become a hallmark of all-round excellence for nurturing corporate professionals for tomorrow in the areas of Engineering & Technology, and Management Sciences as well. Partha Basu, Public Relation Officer and Senior Faculty, NITRA coordinated the seminar.