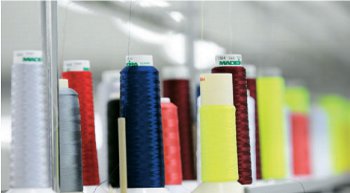 Efforts on to spur textile export growth
India's textile and apparel export growth has slowed down in the recent times on account of various internal and external factors
India's textile and apparel export growth has slowed down in the recent times on account of various internal and external factors (textile and garment exports rose 0.6 per cent to almost $18 billion in the first half of the current fiscal from a year before). The textile and garment exports' target of $47.5 billion for 2015-16 with a projected growth rate of almost 14 per cent from a year before seems to be a far cry now. To avoid a bad situation, the Ministry of Textiles has recommended corrective measures to other ministries concerned in consultation with industry stakeholders.
Some of these measures are reduction of excise duty on man-made textiles from 12 per cent to 6 per cent; enhancement of market coverage under the Merchandise Exports from India Scheme (MEIS); upward revision of duty drawback rates as well as value caps; continuation of interest subvention scheme and expanding its scope; and providing working capital at 7 per cent to exporters under priority sector lending. Of these, the government has taken action on recommendations related to MEIS, duty drawback (rates were raised by 2 per cent for textile products in November) and interest subvention.
The Ministry of Textiles has realised the potential impact of FTAs, including TPP, where the inclusion of a significant apparel producer, Vietnam, in TPP has the potential to shift global trading pattern, as Vietnam will get duty-free access to the US, Canada and Australia. Vietnam is already the second-largest apparel exporter to the US with a market share of 10 per cent. In order to gain sustainable competitiveness and edge over countries like Vietnam, the Ministry of Textiles is actively engaged with the Ministry of Commerce in forging new FTAs with major textile and apparel markets to offset the impact of TPP. India needs to sign FTAs with important markets like the EU, the US, CIS countries, South Africa and Turkey, and also with emerging markets in Latin America.