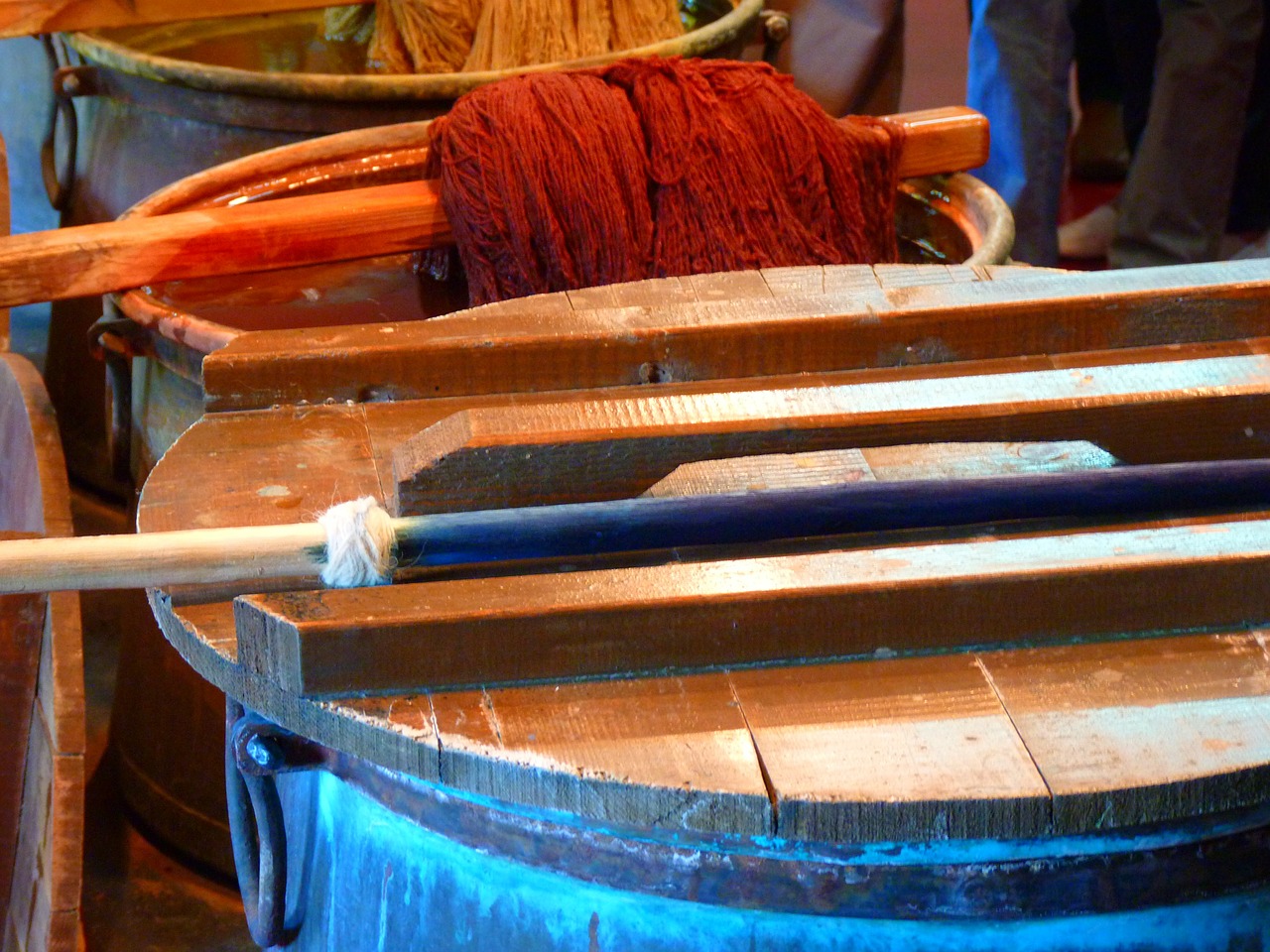 Discovering the future of dyeing techniques
Innovation in dyeing technologies ranges from pre-treatment of cotton, pressurised CO2 dye application, and more recently, the creation of natural pigments from microbes, informs Prof Neha Mehra.
As you enter a textile shop/market, what is the first thing that attracts you towards a garment?
I am sure that most of you thought about the colour or the print of the garment. The colours and prints play a large role in conveying a message/expression, which is a big part of fashion industry.
Humans have been colouring fabric for thousands of years. Nature provided the natural pigments for fabric dye until 1856 when WH Perkins discovered the use of synthetic dyes. Now, 90 per cent of the world's textiles are dyed synthetically and it has become a gigantic industry. But the industry remains relatively quiet about dyeing processes and their impact.
Traditional fabric colouration and finishing takes place in large tanks or baths that can require vast amounts of energy, heat and water. For fabric dyeing alone, the global textile industry uses between 6 and 9 trillion litres of water each year – enough to fill around 32 million Olympic-size swimming pools, as per the estimate of global research organisation World Resources Institute. Despite its huge size, it is difficult to measure how much water the textile industry really uses, as different machines need different amounts of water to get the same fabric dyed properly.
Conventional dyeing is majorly wet processing resulting in coloured waste water that is contaminated with some hazardous chemicals; contributes to greenhouse gas emissions considering the need to heat waterbaths, clean the tanks and run and cool heavy machinery such as printers; make use of chemicals and synthetic dyes which pollute the waterway which can cause all sort of harm such as killing fish and other aquatic life. However, not so long ago the environmental impact of the industry was something of an elephant in the room and not to be talked about.
Nevertheless, if a person was involved in any textile colouration conversation in 2022, he/she would agree that one of the first topics of discussion was circularity. While as a sector the dyeing industry is much more willing to address its resource-heavy ways, taking positive steps to reduce water and chemical use and carbon emissions can be harder than simply articulating the issue.
As more consumers become aware of the harmful effects of current dyeing practices, new technologies make way for more cost-effective, resource-efficient, and non-polluting sustainable dyeing alternatives. Innovation in dyeing technologies ranges from pre-treatment of cotton, pressurised CO2 dye application, and more recently, the creation of natural pigments from microbes. Current dyeing innovations can help reduce water usage, replace wasteful practices with efficient and cost-effective ones, and minimise the impact on our ecosystems. Few of these are discussed below :
Pretreatment before dyeing: Reactive dyeing on cellulosics uses large amount of salts and also causes wash-off processes to use a lot of water. Cationic treatment pioneers like Nano-dye process develop salt-free methods to provide cotton a constant positive charge (cationic charge), which improves and speeds up the uptake of dyestuff. Dow has also developed a similar pretreatment process called ECOFAST pure to produce cationic cotton. Another method by Coloriser technology modifies the cotton fibre's molecular structure before it is spun. The method used by Coloriser reverses the charge of raw cotton when it is treated, making it possible for the dye to swiftly and easily bond with it. These processes can replace the harmful chemicals that are usually needed in modern dyebaths.
Dope Dyeing: Doping, also referred to as solution dyeing, is an existing incremental solution. When you dope-dye polyester, you add the colour as the PET pellets are being spun in a melt. It only works for timeless tones because many businesses don't want to choose their colours so early and because it necessitates huge minimum quantities of cloth. Doping synthetic fibres results in approximately 90% fewer emissions than batch dyeing, according to the Higg Materials Sustainability Index.
Nanotechnology in dyeing: A pioneer in digital dyeing, Alchemie's specialised jetting method enables nano-droplets of dye to reach the threads of fabrics at great depths. This brings about a sustainable dyeing revolution and substantially reduces energy used by up to 85 per cent, water utilised by up to 95 per cent, and waste water from textile dyeing. Infrared light is used to start the dye fixing process, doing away with the need for high-energy cloth cleaning and the water demand of conventional dyeing. It also permits on-demand digital colour changes in any run length and reduces order minimums while delivering any necessary colour shade. Alchemie also provides Novara, a precision digital finishing technology that imbues fabrics used for outerwear, workwear, and athletics with qualities including anti-odour, anti-bacterial, and water repellence. It sprays nano-droplets on to the fabric and uses independently controlled nozzles to apply the finishing chemistry only where needed on one side of the material.
Natural pigments: Biobased dyes are made from organic inputs to replace synthetic dyes. Today, the majority of denim is dyed with synthetic indigo, which necessitates the use of hazardous and harmful chemicals. To produce an indigo dye that is ready for use in factories, Stony Creek Colours in Tennessee blends a cutting-edge processing method with specially bred indigo plants. They've partnered up with Levi's to sell plant-based-indigo-dyed denim together by the end of this year. Archroma's "Earth Colors" produces biosynthetic dyes using agricultural waste as a substitute for petroleum. The use of this material saves landfill and creates a natural plant-based alternative – dyes with the same quality and durability as artificial dyes. Although the available range is limited, the resulting products are wide enough and versatile enough that brands such as Patagonia, G-Star, Primark, Armed Angels and Esprit have already adopted them. As good as it sounds, natural pigments are not perfect. Despite significant improvements, their performance is still inferior to synthetic dyes in terms of color strength, color availability, reliability, durability and purity.
Microbial pigments: The disadvantages of using plants as the source of production of natural dyes is the production of large amount of biomass, destruction of species on a large scale affecting the biodiversity, colour production is season dependent and practically low colour yields (a few grams of colour per kg of dried raw material). To overcome these drawbacks, fermentation of microorganisms such as bacteria and fungi could be a valuable source for production of natural dyes. Microorganisms produce a large variety of stable pigments and the fermentation has higher yields of pigments and lower residues compared to the use of plants. Colorifix works on a concept that every colour in nature made by a living organism — plant, animal, insect, or microbe — is coded for by DNA. They insert that code into a microorganism that can then produce the colour, just as it is produced in nature. With this, the coloration programs are much shorter and lower in temperature than those using conventional dyes and just one bacteria-removing wash is required, rather than several baths. There also is no fixing step, or hazardous effluent.
Hybrid pigments: Ecofoot has developed hybrid pigments composed of a dye chemically linked to a polymer particle that reacts with cellulose fibres at temperatures as low as 25ºC. With the use of this technology, use of salt can be avoided, which otherwise is crucial to drive the dye into the fabric. This technology can be applied for dyeing cotton garments at low temperatures and also to wool in a more ecological process. Ecofoot-Indigo, a hybrid pigment used in dyeing denim, avoids using toxic reducing agents that are traditionally used in converting indigo pigment to a water soluble form. Common reducing agents are considered environmentally unfavourable, as the sulfite and sulfate generated in the dyebath can cause various problems when discharged into the wastewater. Together with hybrid pigments and auxiliaries, more than 50 percent of water in the intermediate and final washing water can be saved in the entire production and dyeing process.
Powder dyes from textile fibres: Officina, an Italy based company has developed a dye range Recycrom using recycled clothing, fibre material, and textile scraps. It developed a sophisticated eight-step system (patent pending) in which all the fabric fibres are crystalised into an extremely fine powder that can be used as a pigment dye for fabrics and garments made of cotton, wool, nylon, or any natural fibre. Recycrom can be applied to the fabrics using various methods such as exhaustion dyeing, dipping, spraying, screen printing, and coating. They are applied in the form of a suspension while most dyes are used as a chemical solution and hence it can be easily filtered from water, thus reducing the environmental impact.
Digital printing: Digital printing is an essential technology that gives designers and printers a platform to develop cutting-edge concepts for printing that effectively utilise their own skill sets. The 'next generation' of printing technology is thought to be this one. It has an advantage over alternative technologies due to the freedom to print several color shades on the fabric and the lack of restrictions on the number of colors or repeat sizes. Since no dyes or chemicals are released and water is conserved, it is a green method.
Supercritical CO2 dyeing: Materials that are over the material's critical pressure and temperature are referred to as supercritical fluids. In the super-critical fluid state, CO2, which is a non-toxic, non-hazardous, and non-corrosive gas, can dissolve and disperse pigments. Both synthetic and natural textiles have been successfully dyed using this approach. DyeCoo uses this patented and industrial proven technology where the CO2 dyeing does not need added process chemicals to dissolve the dye and gives more than 98 per cent uptake.
Plasma: Plasma is referred to as the fourth state of matter and is a mixture of partially ionised gases, where atoms, radicals, ions and electrons can be found. The technology is used for surface modification in order to increase the efficiency of several treatments and processes. The wide range of application areas for plasma technology includes pretreatment (desizing), change of wettability, pretreatment for printing and dyeing (increased affinity for dyestuff) etc. The plasma technology is considered to be very interesting future oriented process owing to its environmental acceptability and wide range of applications. The processes do not produce waste waters or chemical effluents, so the methods are economical and reduce the environmental impacts caused by the chemical textile industry.
While a variety of more sustainable options/alternates are available, the adaptation in the industry seems slow. This is due to the fact that, the majority of the methods and tools discussed here aren't readily available items that one can buy and then pour into a dyehouse vats like synthetic dyes are. Each technique still needs to be tested by dye houses to ensure that it works and to the satisfaction of price-conscious and meticulous fashion brands.
In a nutshell, the issues include machine cost, technology scale, and technology validation. A select few businesses are the patent holders. Innovative producers need to be aware that if they spend money on these new tools, brands will purchase the finished product—even if it costs a few cents more. Although initial investments are significant, several of these technologies may eventually have reduced cost per unit due to water, energy, and chemical savings.
To achieve net zero emissions by 2050, some of those reductions must come from existing, incremental solutions, such as water-saving techniques like reusing water, a switch to renewable energy sources, and effective machines that combine energy and water-saving operations. These fresh innovations will have to provide the balance. Technology for sustainability is available. The next phase is to determine how to persuade businesses to make investments in it.