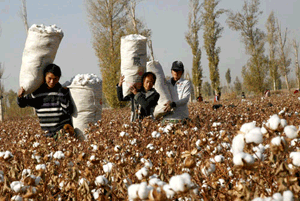 Cotton prices fall, acreage rises
With cotton prices falling below the minimum support price levels, the Cotton Corporation of India has begun procurement in the select markets of Karnataka, Telangana, Andhra Pradesh and Maharashtra
With cotton prices falling below the minimum support price levels, the Cotton Corporation of India has begun procurement in the select markets of Karnataka, Telangana, Andhra Pradesh and Maharashtra. On Monday, Cotton Corporation started a purchase centre for this season at Gadag in North Karnataka, while it has been buying from Adilabad, Shadnagar, Warangal, Guntur in neighbouring Telangana and Andhra Pradesh for the past few days. So far, it has purchased some 17,000 bales (170 kg each) cotton across the country.
Meanwhile, For Vidarbha's cotton growers, this may be the worst year despite a bumper crop estimated across the country. The good crop has led to prices falling below Rs4,000 a quintal, which is the average minimum support price (MSP). Farmers with high yield may be able to recoup some losses from low prices, but the long, dry spell in Vidarbha is expected to reduce yield, which is even otherwise on the lower side.
According to market sources, the biggest reason for the price slump in India is caused by the reduction in imports by China, which is a major buyer of Indian cotton. As against the regular average of 1.5 lakh tonnes, Chinese buying is down to less than 50 lakh tons. Cotton rates have halved to 68 cents a pound internationally during the last six months. Globally, a surplus cotton stock of 22 million tons is estimated for this year. In India, the production may cross 400 lakh bales. Adding the carryforward stock and imports, the domestic cotton supply could stand at 460 lakh bales. After optimum consumption, a surplus of over 160 lakh bales may remain in India.
The downtrend in cottonseed prices is also influencing cotton prices. Cottonseed prices have dropped by over 10 per cent from Rs 1800 per quintal to around Rs 1,600 recently. Also, the cotton prices are expected to be bearish on expectations of a record harvest amidst restrictions on imports by China, world's large importer. Farmers in India have planted a record 12.57 million hectares and production is projected to exceed four crore bales this year.
Some 42 percent of US acres had been harvested in the week ended October 26, up from just 29 percent a week earlier and higher than the prior five-year average of 41 percent. Farmers in the United States and India, two of the world's three largest producers, boosted acreage this year after prices rose in 2013. That boost, combined with falling demand in top consumer China, is expected to keep prices under pressure. They hit five-year lows last month as Beijing unveiled details of its new cotton policy, expected to sharply curb import demand in 2015. China's government has switched to a direct farmer payment program, scrapping three years of stockpiling that had boosted demand for imports.
World Demand & Supply Situation