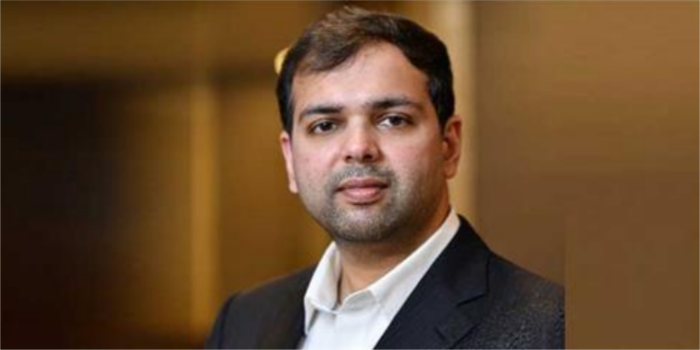 Chirag Pittie: SVP Global aims to become debt-free
In this interview, Chirag Pittie, Director, SVP Global Ventures Ltd, highlights on the changing dynamics of the spinning industry in India and how his company is gearing up for the future.
Pittie
Group's SVP Global Ventures Ltd, incorporated in 1982, is one of the fastest
growing cotton yarn manufacturers in India. With an aim to become the most
efficient spinner in terms of EBIDTA margins, it is focusing on boosting
productivity and streamlining operations. SVP Global Ventures' plants are
equipped with state-of-the-art technologies, which enable better quality of
production and at higher operational efficiency. Recently, SVP Global was
accredited as an approved supplier for Swedish retail giant IKEA. In this
interview with Rakesh Rao, Chirag Pittie, Whole-Time Director, SVP Global
Ventures Ltd, highlights on the changing dynamics of the spinning industry
in India and how his company is gearing up for the future.
The increase in cotton and yarn prices has become a major emerging
issue to many spinners. What kind of impact will this have?
Increase
in yarn prices have benefitted spinners. Cotton increase is less than the
increase in yarn prices leading to better operating margins for spinners.
The recent increase in yarn prices can be primarily attributed to
structural shift in textile supply chain, away from
China. The shift that was happening gradually has now accelerated.
Given the size of China's textile operations a small shift is also having
a major impact on the comparatively much smaller textile industry of India.
How would you describe the current state of the Indian
spinning industry?
Currently,
80% of Indian spinning capacity is more than 20 years old. There has been very
less capacity addition in the last 10-15 years. The subsidies that were
available for the sector have expired and there is now a barrier to entry for
new units. As a result, the new and modern units already setup will gain from
better operating margins. The subsidies continue to exist for downstream
fabric, processing and garment units, which continue to see capacity addition
fueled by high demand. As a result, the demand for yarn will continue to
increase.
What
are the challenges that this industry encounters? What would be your
suggestions to overcome them?
Although
India is very cost competitive, our capacities are much smaller than
China. The recent fallout of COVID pandemic and China Plus One, coupled with
human rights allegations on textile products originating from China, has
resulted in supply chain shift in favour of India, Bangladesh and Pakistan.
To
capitalise on the opportunity presented from China, there should be incentives
given to the industry to rapidly modernise the entire industry. Downstream
capacity additions can happen at a fraction of the capital cost and can provide
huge employment, foreign currency generation from exports for the country.
What kind of impact did the pandemic have on the industry and your
business?
Due
to Covid-19 pandemic, all the manufacturing units faced severe
disruptions. From shutdown during lockdown, to shortage of workers, supply
chain disruptions etc. We started operations towards the end of April 2020
after a stoppage of 1 month. However, our customers didn't start till
August-September. This resulted in creation of huge inventory. However, the
industry bounced back with huge increase in demand by November.
Do you think India is reaping the benefits of China-plus one?
China
plus One has been extremely beneficial for India. The global textile chain is
scrambling for alternate supply chains to reduce the dependence on
China. India must take advantage of this opportunity by modernising and
increasing capacity in the downstream textile industry which can be done at
very low investments. Also, this capacity addition can be done in very short
period of time. This will give a big boost to GDP as the downstream textile
industry is a high employment generator as well as boost foreign exchange
through exports. India already has the second largest spinning capacity in the
world. Spinners are also benefitting from a sharp increase in demand.
When it comes to automation and digitisation in the spinning industry,
very few manufacturers have made the leap and invested in technologies. Why is
that?
Spinning
is a capital-intensive industry. Automation and digitisation are very expensive
to carry out. Since the building is customised to the machinery installed, it is
also very difficult to carry out automation in an existing mill. Tamil Nadu,
which has 60% of India's spinning capacity, did not offer any incentive to the
industry for modernisation and capacity addition. There was already a logistic
issue in Tamil Nadu due to non-cultivation of cotton. The yarn markets of
Maharashtra, Madhya Pradesh, Gujarat, Rajasthan and Punjab also are very far
away and expensive to transport. As a result, the units located in the other
parts of the country modernised and added capacity whereas Tamil Nadu has
continued without capacity additions or modernisation.
What steps have been taken by SVP Global Ventures to progress
towards automation?
Our
manufacturing units are the latest and most modern and automated units of its
kind in the world today. The technology involved are absolutely state of the
art and based on machinery from worldwide leaders such as RIETER
(Switzerland), ELECTRO-JET (Spain), LMW (India), USTER
(Switzerland) and SCHLAFHORST (Germany). Some recent technology used are
as follows:
·
Spin Connect to access and control the data globally on any
smartphone
·
Energy saving kits with IE4 motors and silent spindles
·
Linkconer has features like Computer Aided Metering and Computer
Aided Package and with RFID chip in each caddy to identify rogue spindles
·
Loepfe Clearer
includes Lab Pack, Polypropylene sensor and Mill Master on every drum
·
Autocoro machine: Twelve synchro piecing and all machines with
seamless lot change to boost productivity
What types of technologies are you planning to invest in the
future?
The
company's plants are equipped with latest and up to date technology, which
enables better quality of production and at higher operational
efficiency. These are the absolute latest technologies across the world. These
are not available with other mills in India.
The
company's yarn output (40 CCW weaving) per spindle is at around 153 gms-154
gms, which is the highest in the industry. The company also has maximum
certifications for its products from key quality assurers related to
textiles such as Organic, BCI, OEK-TEX STD.100, Fair Trade, SUPIMA Gold and
ISO. Having these certifications establishes our unit as one of the highest
quality, HSSE standards and results in large brands and premium customers
purchasing their yarn requirements from our unit as compared to our
competition. The company has also recently been accredited as an
approved supplier for IKEA which is a testament to the company's products,
material, and services adherence to minimum environmental, social, and working
conditions requirements.
For
our future expansions, we would continue to invest in the latest
technology to manufacture the best quality of finished products at higher
operational efficiency.
Which are your major markets in India and abroad?
In
India, our major markets are Bhilwara, Ichalkaranji Shirpur, Indore, Ahmedabad,
etc. Our major export markets are Bangladesh, Pakistan, Vietnam, China,
etc. As a business strategy, we are focussing our India operations to
cater to domestic demand and Oman operations to cater to export demand.
What are the long-term and short-term goals set at your company for
the next 2-3 years?
Short-term
goals are to boost productivity to take advantage of the higher demand. There
is also a sharp focus on debt-reduction and streamlining operations. Long-term
the company aims to become debt-free and to be the most efficient spinner in
terms of EBIDTA margins.