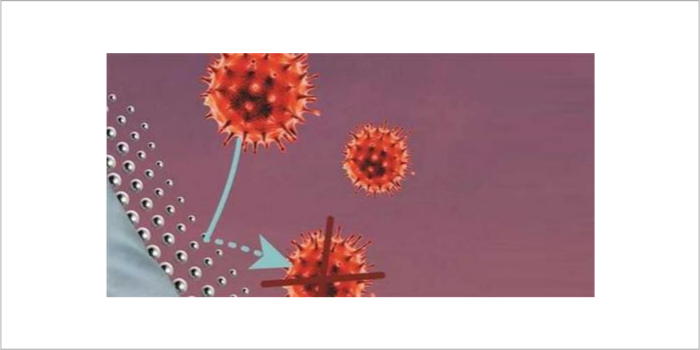 Can anti-viral fabrics be the game changer?
Several big players in the industry have launched fabrics and clothing that they claim can provide protection against the COVID-19 virus. Is it really foolproof or just a marketing gimmick? The ITJ cover story delves deeper into this.
In the times of the novel Coronavirus, we see an enormous need for treatment with antiviral properties. It is evident that the medical textiles industry worldwide has seen escalating use of anti-viral properties in fabrics used to make body coveralls and masks to save frontline warriors from getting virus-affected. And now, clothing brands in India are snapping it up to protect fashion consumers from COVID-19. Textile players like Donear, Siyaram, Welspun, Arvind, and D' Decor in partnership with international anti-viral tech companies have launched anti-viral fabrics that claim 99.99 per cent protection against COVID-19.
One such company—Swiss-based HeiQ Group—claims that their product 'Viroblock' technology has proven effective against the human coronavirus 229E and SARS-CoV-2, causing COVID-19, with a 99.99 per cent reduction of the virus in 30 minutes. Striving to help advance the global fight against coronavirus on textiles, HeiQ recently launched HeiQ Viroblock NPJ03, an antimicrobial textile treatment proven effective against human coronavirus (229E) in face mask testing, significantly enhancing the antiviral log reduction from 2.90 of untreated face masks to 4.5, a 30 times improvement with over 99.99 per cent reduction of virus infectivity in minutes. It is tested to last at least 30 washes. Since its launch the company has been utilising its full capacity of 145 tonnes per day in its four manufacturing sites on three continents.
Speaking exclusively with the ITJ about the revolutionary Viroblock technology, Carlo Centonze, CEO, HeiQ Group, said, "HeiQ Viroblock NPJ03 is a combination of HeiQ's vesicle and silver technologies. The HeiQ vesicle technology targets enveloped viruses, such as the SARS-CoV-2 (COVID-19) virus strain, providing rapid virus destruction, while the HeiQ silver technology inhibits the replication of both bacteria and deactivates viruses. The two mechanisms of attack result in a speed in locking down and destroying the virus that is unparalleled in the industry. As such, HeiQ Viroblock NPJ03 effectively helps prevent viral and bacterial contamination of textiles."
Centoze added, "HeiQ Viroblock NPJ03 is 72 per cent bio-based and made with cosmetic-grade ingredients that can all be found on the INCI (International Nomenclature Cosmetic Ingredient) list, making it a leading choice for safety among antiviral treatments on the market. HeiQ Viroblock NPJ03 has been certified hypoallergenic, skin-safe and non-cytotoxic. Dynamic air flow tests performed on treated masks over a period of eight hours showed that no components of the treatment were released into the airstream exiting the mask. People wearing a treated mask can have complete confidence in the technology."
Another company, a Swedish-based Polygiene introduced ViralOff, a brand for a treatment of textiles and other products that reduces viruses by 99 per cent in two hours. As per the company, ViralOff is the answer to an acute situation, but it will also be a more long-term solution that enhances the hygiene and protection factor on a number of products even when the Covid-19 pandemic has settled down. There are strong indications that antimicrobial wear will be the new normal in numerous applications, going forward.
However, a few experts claim that anti-viral fabrics is more gimmick than effective virus-prevention tool. According to Rachel Graham, an epidemiologist and assistant professor at the University of North Carolina-Chapel Hill, the fabrics are more or less futile given existing research shows the virus is primarily airborne in nature and rarely spreads through surface contact.
So is this process completely foolproof? Is anti-viral fabric enough to safeguard the wearer from a severe virus like SARS-CoV-19? Centoze of HeiQ says, "No, of course antiviral fabric is not enough to safeguard people's health. It is one factor in keeping people safe, but it needs to go hand in hand with other measures, such as keeping a social distance, wearing face masks when in crowded areas and closed rooms and washing hands regularly. Antiviral fabrics reduce the risk of virus transmission through surface contamination, but they do not guarantee 100per cent protection. They are added protection."
He added, "As soon as a fabric is antiviral, it is no longer a hospitable surface for viruses and bacteria. It destroys viruses and bacteria. As such it prevents the transmission of viruses through surface contamination, e.g. when you touch contaminated clothing or masks and afterwards touch your eyes. People are much more likely to catch a virus because an infected person coughed into their face than through transmission from an infected surface, but surface contamination cannot be ruled out as a risk factor. This is also why health professionals insist on people washing their hands thoroughly."
A spokesperson from ViralOff had this to say: "We have tested the active ingredient against Influenza A, BirdFlu, Norovirus and Corona (SARS) over the years, and in all cases, we have achieved 99 per cent levels of reduction. What we bring with the ISO18184:2019 is a standard test for the determination of the antiviral activity of textile products in a two-hour timespan, where it has to reduce the virus by 99 per cent, to pass. This test uses viruses of the Influenza A strain, but we can use more and other virus strains as they become available."
The spokesperson added, " We don't make any health claims. This is for the protection of the treated product. If, when and how this also is beneficial for the user depends on many other things. For instance, a face mask will never stop viruses from going through it, but we can ensure viruses don't live in and on it for long. Does this mean in any way that we can say you stay healthy? Of course not. Can we say it is a protection for the mask itself? Yes! And it will make your mask last longer too."
Speaking on the demand for these products, HeiQ CEO had this to say: "At this moment, the demand is very high. Since we launched HeiQ Viroblock NPJ03 in mid-March, more than a hundred brands have incorporated our antiviral treatment into their textile products. This speed is unprecedented in our industry. The whole process from vetting textile technologies to implementing them and launching treated products into the market usually takes a year, at least. But the danger, to our health as well as economic, has made the textile industry react fast and stay flexible in response to changed market needs."
He added, "The COVID-19 pandemic has such a global and long-lasting impact on everybody's lives, that we also expect that the demand will continue to be high for quite some time. The pandemic completely changed people's perception of safety, hygiene, and clean surfaces. This also means, that people will look for products that help them keep viruses away from themselves. Antiviral textiles help."
KS Sundararaman, Managing Director of Coimbatore-based Shiva Texyarn, said, "Anti-viral treatment on fabrics is a novel weapon in the arsenal against COVID-19. They form an important supplement to barrier based virus blocking methods which continue to be the mainstay in this fight. While their usefulness is undoubtable, the claims, particularly the swiftness of complete action, have to be studied in detail and usage has to be appropriate and responsible, otherwise manufacturers will be giving a false sense of security to the users. This is even more important as this class of materials is not regulated by any safety or efficacy standards yet."
Shiva Texyarn, which has partnered HeiQ Materials AG, unveiled masks with anti-viral coating under the brand 'Medic Virostat.'
KS Sundararaman, said that the masks will be introduced across India and sold online and offline. The masks have an outer fabric that has an anti-viral coating (HeiQ Viroblock NP J03), the middle layer is a protective barrier, and the inner layer is cotton fabric. Priced between Rs 49 and Rs 79 each, the products come in two sizes. They can be washed three times.
Rajendra Agarwal, Managing Director, Donear Industries, which uses NEO TECH technology and has partnered with HeiQ to power up its suiting and worsted fabrics, said, "Being in the textile industry, we wanted to find an effective way to combat this and to ensure people felt 'safe' in what they wore. What we have achieved is revolutionary and path breaking technology for the suitings space through a breakthrough combination of two synergistic technologies: Patented and registered silver technology for antiviral and antibacterial effect: Small silver particles are potent antibacterial and antiviral agents due to high surface area to volume ratio and unique chemical and physical properties. Like a magnet, silver attracts the oppositely charged viruses and binds permanently to their sulfur groups (forming silver sulfide) the virus is immobilised; and fatty vesicle technology as a booster that mechanically destroys viruses: The vesicle technology helps to deplete the viral membrane of its cholesterol content thereby destroying the virus."
He added, "One main advantage of our technology is that the touch and feel of the product remains undeterred. This is a revelation because normally when fabrics/suitings are treated with these technologies they become very coarse. What sets our product apart is that it kills the viruses and microbes within minutes, thereby reducing the risk of contamination drastically. The product has been tested and certified by various world-renowned labs including the prestigious ISO 18184 rapid test."
The fabric for the SECURO range of shirts has been finished by Donear and certified by HeiQ providing 99.99 per cent protection against bacteria and viruses, including the virus that causes CoVid-19 (SARS CoVid-2). The SECURO range from ZODIAC retains its properties for 30 home washes. The fabric is safe for human contact and on the environment and has been tested by HeiQ with the Peter Doherty Institute for Infection and Immunity Melbourne, Australia.
Said Arvind Mathur, CEO, Raymond UCO Denim, "We see a steady increase in demand for these products although many of such requests are still in enquiry stage. We are optimistic that consumer's focus on health and hygiene will give right momentum to these products in the coming months. The SHIELD collection is made from our existing infrastructure and doesn't demand any expansion, which is quite an advantage."
Raymond UCO has a long standing innovation partnership with HeiQ and the collaboration has been pivotal in global launch of innovative anti-bacterial fabrics a couple of years ago with HeiQ Pure. Our consistent engagement has placed another milestone in our innovation history with the launch of high-performance anti-viral denim fabrics.
SHIELD collection is a compelling innovation in the area of personal health and hygiene, offering a wide range of denim fabrics that aim to fight viruses and bacteria. The fabrics offer high protection against bacterial and viral activity and can stay effective even after repeated home laundry washes.
Added Mathur: "While the HeiQ Viroblock technology offers protection to textile surfaces from bacterial or viral activity, the wearer has to ensure other hygiene practices like wearing masks, washing hands, maintaining social distance etc., to stay protected from SARS-CoV-2 viruses."
In a major development in the area of anti-viral fabric, Arvind, a leading textile-to-retail conglomerate in India, has recently collaborated with Swiss Textile Innovator HeiQ to introduce HeiQ Viroblock technology in the country. Arvind will now be able to offer shirting and suiting fabrics, apparels and masks using this Viroblock technology under its brand 'Intellifabrix'. Tests on a virus similar to COVID-19 called 229E proved the treated material can destroy virus in a few minutes after contact of garments treated with HeiQ Viroblock.
When it comes to enhance anti-viral properties in fashion garments, fabric finish must also be supported with sewing threads which are treated with anti-viral technology. One such innovation was done recently by an Italian company Manifattura Italiana Cucirini SPA (MIC) which developed a new treatment called SAFE that makes the sewing thread especially suitable for all sectors demanding protection. Though it's more for PPE, technical textiles and even for sportswear garments, the brands must look into this kind of development to enhance safety of their garments with integration of anti-viral sewing threads alongside anti-viral fabrics.
Dr Somdutta Singh, an entrepreneur, who has launched her own line of made in India COVID protection merchandise in the country said that while these tech solutions may provide a degree of protection, they cannot kill the virus. "Anybody claiming their Anti-Viral fabric can kill the coronavirus is untrue," she added.
Morarjee Textiles, a vertically integrated textile company manufacturing high-end products in prints, dyed and yarn dyed fabrics in a variety of substrates, has launched ViroShield range of protective finishes in collaboration with Australia-based Health Guard Corporation. ViroShield by Morarjee meets anti-viral efficacy of 99.99 per cent on all corona strains including COVID-19, as per ISO18184 anti-viral test and Bacteriostatic efficacy test ISO 20743. The fabrics have a special chemical molecule which destroys the envelope cell wall of the virus, and as a result the virus dies. Thus, it helps in minimising the chance of re-transmission of pathogens by killing viruses and bacteria upon contact with the fabric.
ViroShield is compatible with all textile substrates and gives protection from droplets and fluids. In addition to being anti-viral and anti-bacterial, the finish is anti-odour, hygienic, skin compatible, non-irritating, and has no impairment on hand feel. The anti-viral finish on the fabric persists up to 30 home/laundry washes at 40 degree centigrade.
For the first time ever, the famous six-yard wonder—Surti Saree—has come in a new, 'infection-free' avatar. Laxmipati Industries, a manufacturer and exporter of sarees and textile fabrics from Surat, uses 40,000 metres per day to make sarees, kurtis as well as lehengas and the fabric is treated with antimicrobial finishing chemicals to keep them free from bacteria, viruses, fungi, algae and mildew.
Welspun India launched a range of antiviral home linens. Treated using a technology from Australia's HealthGuard Corporation, the fabric is 99.94 per cent effective against coronavirus and it will be made at company's plant in Anjar, Kutch. HealthGuard AMIC technology, has been used to develop the new range of antiviral home textiles, which includes products like, bed linens, carpets, rugs, terry towels and reusable cloth mask. The antiviral home textiles will be marked under brands – SPACES and Welspun Health.
D'Decor home fabrics has joined hands with Swiss textile innovator, HeiQ, to help their customers live safe and live beautiful. The D'Decor antiviral and air purifying range of products live up to the philosophy of safe and beautiful home spaces. They have formed an exclusive partnership with HeiQ to launch ViroGuard by D'Decor and AeroFresh by D'Decor.
Said Rahul Mehta, Chief Mentor and Past President, Clothing Manufacturers' Association of India (CMAI): "The fabrics will get an enthusiastic response from customers as people will have a feeling of safety with these products. However, the onus will also be on the manufacturers to ensure consumer confidence is maintained through quality."
RSWM of the LNJ Bhilwara Group has unveiled anti-viral fabric 'ViroSecure' via a technology partnership with Swiss firm HeiQ. 'ViroSecure' is in the premium segment and will be marketed under Mayur brand. Mayur will offer this fabric for making uniforms for frontline healthcare workers, school children, and defense and police personnel, in addition to suiting and shirting requirements.
There are more developments to come in anti-viral fabric segment, as it's something that's the need of the hour. Seeing the above two developments, one thing is certain that domestic brands are all geared up to treat their fabrics with technologies that can protect the wearer from any sort of bacteria and viruses.
HeiQ Viroblock: Tested effective against SARS-CoV-2
HeiQ Viroblock NPJ03 is among the first textile technologies in the world to be proven effective against SARS-CoV-2 by an independent institution*. SARS-CoV-2 is an enveloped virus from the coronavirus family that causes COVID-19.
Tests have been conducted by HeiQ with the Peter Doherty Institute for Infection and Immunity in Melbourne, Australia (Doherty Institute).
HeiQ Viroblock is designed to inhibit the growth and persistence of bacteria and enveloped viruses on textile surfaces. It's a unique combination of our registered silver technology for antiviral and antibacterial effect and our vesicle technology as a booster.
* McAuley J. (2020) Report on "Viral Stability and Persistence of SARS-CoV-2 on Treated Material". Doherty Institute for Infection and Immunity, Melbourne.