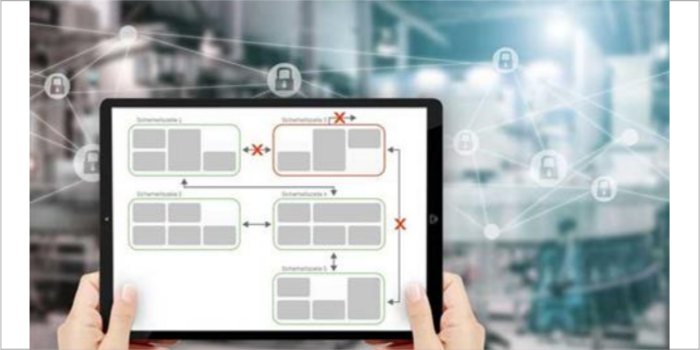 B&R's APROL process control system
In order to fully protect manufacturing systems against cyberattack, B&R has further enhanced the user management features of the APROL process control system.
Connectivity between production and automation systems in process manufacturing and the Internet is constantly increasing. In order to fully protect manufacturing systems against cyberattack, B&R has further enhanced the user management features of the APROL process control system. Distributed, autonomous security cells provide simple yet efficient protection for systems against malicious software and attacks from hackers.
In order to protect extensive manufacturing systems against cyberattack, they are divided into security cells. If one security cell comes under external attack, all other cells can continue to run unimpeded. This minimizes possible damage while simultaneously increasing the availability of the manufacturing system.
To achieve maximum protection, the manufacturing system must first be divided into autonomously functioning process cells. These consist of production-relevant zones, sections, sub-areas or subsystems. One or more of these process cells are then combined into security cells. The flexible client/server architecture of APROL allows up to 64 of these security cells.
The advanced multi-runtime server architecture of the APROL process control system ensures that all required systems operate independently. Each multi-runtime server includes its own LDAP server (389 Directory Server) that provides cybersecurity, allowing systems and subsystems within a safety cell to be operated even without an external network connection.
B&R simplifies development of pick-and-place applications
A ready-made software solution from B&R helps OEMs implement pick-and-place applications significantly faster. Not only does the system control the robot itself, it also handles coordination with other axes, conveyor belts or tracks.
mapp Pick&Place grants the user maximum freedom to solve the requirements of their process using any number of delta, articulated arm or SCARA robots. The software also allows developers to automatically optimize their process in different ways. They can choose whether the movement profiles should prioritize shortest pick duration, first in first out, or energy-optimized movement.
As part of the mapp Technology software framework, mapp Pick&Place is automatically linked to all of the other mapp components. As a result, it takes only a few clicks to set up coordination with other motion axes, B&R machine vision components or web-based mapp View HMI applications. The manual programming this would normally require has been largely eliminated.
B&R is the world's only single-source supplier for controls and robotics. Robots from its parent company ABB are fully integrated in the B&R automation system. Customers benefit from unprecedented precision in synchronisation between robotics and machine control. They need only one controller and one engineering system for development, diagnostics and maintenance.
ABB enhances portfolio of high-speed industrial robots with Codian acquisition
ABB has acquired Codian Robotics B.V., a leading provider of delta robots, which are used primarily for high-precision pick and place applications. Codian Robotics' offering includes a hygienic design line, ideal for hygiene-sensitive industries including food and beverage and pharmaceuticals. With the transaction, ABB is accelerating its engagement in the growing field of delta robots.
Codian Robotics is located in Ede, Netherlands and employs 20 people globally. The company will continue to serve its customers directly. The acquisition was signed and closed on October 1, 2020 and both parties agreed not to disclose any details regarding the purchase price.
"Our acquisition underscores our focus on breakthrough technology, helping our customers to fully realize the potential of automation and increase their flexibility in a rapidly changing business landscape," said Sami Atiya, President of ABB Robotics & Discrete Automation.
"Codian Robotics' technologies and industry expertise are the perfect addition to our suite of food and beverage, pharmaceutical, service robotics and logistics solutions, while also supporting ABB's machine-centric robotics offering."
"Over the years, we have developed an extensive product portfolio. ABB's impressive global presence and industry expertise will help us make our portfolio available globally. I am looking forward to working together to write the next chapter of our success story," said Freek Hartman, Founder of Codian Robotics.
While today the majority of robots in the food and beverage industry are not designed for touching food, Codian Robotics' portfolio includes a hygienic design that allows safe, open food processing.
"There is a strong need for pick and place robots that ensure high hygienic standards, accelerated by the COVID-19 pandemic. Our food and beverage, pharmaceutical and logistics customers are particularly interested in the potential of automation, enabling supply chains to continue to function, while protecting employee welfare," added Atiya.
In the future, ABB will be able to provide its customers with a broader range of delta robots and integrated solutions from a single source, contributing to ABB's machine-centric robotics strategy which integrates machine automation and robot control into a single platform.
Hans Wimmer, President of ABB's Machine Automation division and Managing Director of B&R, said: "With Codian Robotics we are acquiring one of the world's most successful suppliers of delta robots with an extraordinary track record in the machine builders' sector. In the future, we will be able to offer our customers fully integrated solutions – globally and for all industries."
ABB Robotics & Discrete Automation is a pioneer in robotics, machine automation and digital services providing innovative solutions for a diverse range of industries, from automotive over electronics to logistics. As one of the world's leading robotics suppliers, we have shipped over 400,000 robot solutions. We help our customers of all sizes to increase productivity, flexibility and simplicity and to improve output quality. We support their transition towards the connected and collaborative factory of the future. ABB Robotics & Discrete Automation employs more than 10,000 people at over 100 locations in more than 53 countries.
ABB is a leading global technology company that energises the transformation of society and industry to achieve a more productive, sustainable future. By connecting software to its electrification, robotics, automation and motion portfolio, ABB pushes the boundaries of technology to drive performance to new levels. With a history of excellence stretching back more than 130 years, ABB's success is driven by about 110,000 talented employees in over 100 countries.
B&R is an innovative automation company with headquarters in Austria and offices all around the world. On July 6, 2017, B&R became a business unit of the ABB Group. As a global leader in industrial automation, B&R combines state-of-the-art technology with advanced engineering to provide customers in virtually every industry with complete solutions for machine and factory automation, motion control, HMI and integrated safety technology. With Industrial IoT communication standards like OPC UA, POWERLINK and open SAFETY as well as the powerful Automation Studio software development environment, B&R is constantly redefining the future of automation engineering. The innovative spirit that keeps B&R at the forefront of industrial automation is driven by a commitment to simplifying processes and exceeding customer expectations.