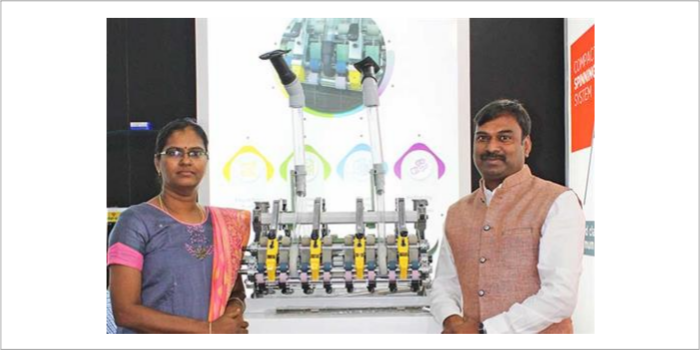 Banks should lower interest rates: G Muralikrishna
In this interview, G Muralikrishna, Director, Fiberplus Tex Products, speaks on the company's journey over the years, and some of the major products offered by them for the textile industry.
G Muralikrishna, Director, Fiberplus Tex Products, speaks on the company's journey over the years, and some of the major products offered by them for the textile industry.
Take us through the company's journey over the years. Brief introduction of the company. What are your major products for the industry? What are the distinguishing characteristics and features of your major products?
We are into spinning accessories. My journey has been really wonderful because I'm the first generation businessman. I have experience of working with European companies [having worked with Bracker and SSM in Switzerland] for which I took care of the Far East and Bangladesh markets. With my experience throughout the India and Far East Asia markets, I decided to start my company in 2011 with my wife who is helping me in the administration part. We now have 15 employees.
We are currently dealing into three kinds of products – value addition to the industry, high value consumables to maintain the performance of the industry, and essential items to run the industry.
The first product is the value addition of the industry. There is a big market for compact spinning. These are compact spinning retrofit attachments for existing ring spinning machines. We manufacture these and market it under our brand name – Fiberplus EcoSpin. After extensive trials, we launched these machines a couple of years back. We have supplied a few machines in Andhra Pradesh and Maharashtra markets. We are expecting some repeat orders.
Compact attachment is a tool to enhance the profitability of the existing spinning customers. These machines are available in the market, especially from Europe and Japan or even China. Because of the cost economics involved, these compact machines are not a luxury but a necessity. We have a product at an affordable cost, which can get a return on investment in less than a year – may be eight to nine months.
The second product we are dealing is card clothing from Geron Card Clothing. It's an imported card clothing and we are the distributor of the same. We keep the stocks here and sell it in the market. This is an innovative product that caters to the cotton industry. We also have some products that are unique and helps customers to enhance their productivity or quality through affordable costing. It's a patented product, and are not charging very high to the customers.
In April 2019, we also signed an agreement with Inarco, who is largest rubber cots and aprons manufacturers in the country. The agreement is for distributorship in Andhra Pradesh.
We are dealers for rings and travelers for Inno- Spin, north India Company, who got the technology from Korea around two years back. We have supplied these to a few of the leading spinning mills in Tamil Nadu. They are also into manufacturing of roving transport system.
We also sell Compact Spinning spares from SRM Technologies who is the pioneer and largest manufacturer of lattice aprons used in compact system.
In today's situation, how do you think is the market for compact spinning systems? What are the emerging emerging trends?
There is substantial development happening in compact spinning systems. If they are modernised, it will give you high-strength yarn, which can run without any problems. If you see in the last few years, we are getting inconsistent in the quality of raw materials, especially in cotton. I feel it is the need of the industry that compact could be used as a way to enhance your raw material spinability, and the same time increase your profitability.
Which are your stronger markets globally?
While working for the Far East Asian markets for more than seven years, I came across people who were showing interest especially in Indonesia, Uzbekistan and Vietnam is also a big market for us. There is a lot of potential for compact spinning globally.
With Western countries moving out of accessories market, do you see vast scope for India making a bigger impact in this market, in accessories and as OEM supplier?
If we could maintain our consistency and quality, there is definitely a big opportunity for India. India has a big engineering industry based in climatology who are doing a lot of their serving to automobiles. We have a good infrastructure. If we could gain the knowledge of the basic products properly and if we could understand the customers' application, then we [definitely] could meet their quality.
Are there any plans of expansion?
I really believe that the future of textile industry is in India. There's no doubt but the next coming few months will be tough. Restarting business and going back to normal will not be easy. It will take some time.
We do not have any plans for expansion, but we are working on our R&D so that we could do better and offer better products to our customers.
Modernisation and automation is increasing across industries. What is the significance of this for your company?
Nano dimensions are available in the industry when it comes to textiles, but still our people feel it's a luxury. The two things that are there is from our supply side and little of economics because we don't get orders in big volumes.
Brief us about the marketing strategies that were applied in order to stand out of the competition.
I always believe making a good relationship with the customer by understanding their problems and trying to stand by the customer in whatever the problems they face. More than sales, I believe in giving the best service.
How the lockdown has impacted the business? What are your expectations from the government?
Our business has been almost nil for the last two months. In fact, I have not received any business call or any email. I will trying to gather some leads and make it work during this uncertain times.
Small entrepreneurs like me expect some sort of relief from the government. Relief in the form of working capital. They should give 25 to 30 per cent extra working capital. Banks should lower interest rates. This is what is expected from the government. The news that is coming out is not very encouraging though.
What kind of challenges are you anticipating when you resume business post-lockdown?
In our three line of products, the major portion [around 80 per cent] comes from the first two lines. However, going forward [for at least next three months] we expect business only from the third line of business, which is low level consumables. This won't help us cover our expenses. Lack of funds will be a major problem. We have to increase our working capital.