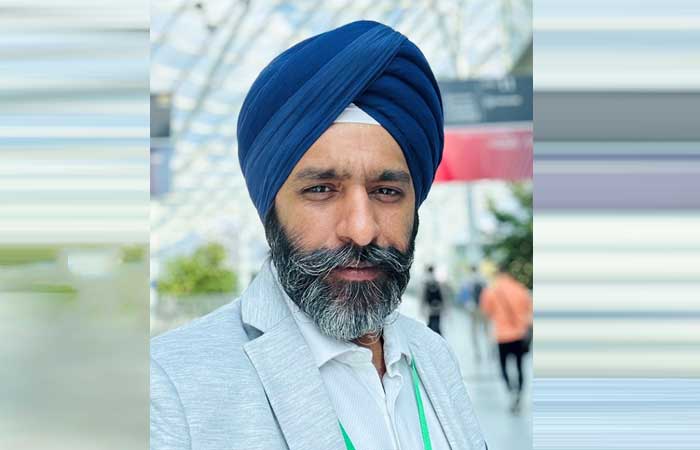 B-Tex is ready to present global innovation for technical textile
B-Tex began its journey around 2 decade ago and earned the reputation as a formidable choice in the textile industry for fabric inspection, winding, slitting & packing systems for technical textiles, woven & knits with collaboration with RealTime Srl (Italy) for technical know-how and defect logging software. Bhupinder Singh, Managing Director, B-Tex Textile Machinery, underlines the services offered by the company and its growth plan.
How is your company serving the textile industry?
We have supplied special tailor-made machines for high quality technical textiles manufactures like Khosla Profil, SRF, Texport, Wilhelm Textile, Milliken, Hearth Textile, DFR Ltd, Bharat Textile, Ceat, Baggit, etc..
B-Tex has also created a niche for itself by designing specialised hi-tech machines for quality fabric manufacturers for woven and knits like Rajapalayam Mills, Grasim, Himatsinghka, GM Fabrics, D'decor, Premier Mills, Tesssitura Monti, Grasim, Alok Industries, NSL Textiles, Raymond Zambaiti, Soktas, Morarjee Mills, Indocount, Jindal Mills,  Mohan Spintex, Arvind, Paramount, Vardhman, M/s. Maral overseas, Kanodia, SVG Fashions, Centex, Bakson, Pyarelal Group, PI Cottex, Orbit Fabrics, etc. and exported to many countries.
What are the advantages offered by your company & its products to its customers?
Today with the manpower and space crises representing a severe challenge, automation is the need of the hour in all processes to reduce manpower, increase production with reports generation and Nirvana helps you to achieve all this with Italian know-how and software against traditional cutting method.
In the year 2016, B-Tex flagged off and join hands with Realtime Srl (Italian Collaboration) for technical know-how and 4 point defect logging software to develop Auto-Cut-Pack System, model Nirvana a mandatory innovative step towards future of cutting and packing system.
What are the benefits of Auto-Cut-Pack and what is the ROI on the system?
Nirvana is a boon to inspection and packing department. Due to optimised cut plan, 2-3 per cent A-Grade fabric is saved and mind it, its lots of business and profit for quality and quantity manufactures. Along with this, it reduces manpower up to 60 per cent as there is bare minimum handling of fabric due to automatic packing with sorting and all the extra manpower is eliminated. All defect entries through touch screen in Italian software delivers lots of reports like shift-wise, sort-wise, operator-wise, production and department-wise to improve quality. 40 per cent space is also saved as Auto-Cut-Pack singlehanded delivers 80,000 mtr/day with LDPE and HDPE packing with single operator. There are lots of other benefits like auto-samples, folders, barcode, automatic labelling, etc.
We have successfully delivered this system with software to some high quality fabric manufacturers in last few years. We recommend, any fabric manufacture, who is packing more than 10,000 metres per day should upgrade to this system and with respect to our previous installations and customers feedback, we expect 4- 6 months for the ROI of the B-Tex Auto-Cut-Pack System.
How do you plan to increase your exports in the coming years?
India ITME-22 had been great success to B-Tex. We launched our all new Auto-Cut-Pack Machine – Model Nirvana with LDPE & HDPE Packing. We were glad to welcome textile giants like Manmohan Singh, Updeep Singh, Alaaggapan R, Gurudas Aras, etc. to demonstrate the machine.
ITMA 2024 Milan Italy, was yet another success where we demonstrated 4 point defect logging system with our Italian collaboration RealTime Srl and received lots of appreciation and enquires, which is leading us in export market.
B-Tex is preparing to capture the global market by participating in ITME- Africa 2023 and ITM-2024 in Istanbul, Turkey.
How has been the performance of the company in FY24 (so far)? What are the factors contributing to your growth?
B-Tex has 2 pillars innovation and automation and this keeps us ahead. At B-Tex, we design and deliver automation solutions for Inspection and packing department with Italian know-how and software to global standards of excellence with local support. With Italian know-How, our machines are famed to be at par with that of Italian standards in terms of inputs and performance, sold out at affordable price. Our machines are the physical manifestation of years of industry experience and it's our constant endeavour to keep abreast with the latest technologies. We are with our customers' right from conceptualisation to the final product, which helps us deliver tailor made solutions.
We can proudly state that pre and post sales service is our hallmark and this always keeps us on our toes.
What are the recent major projects B-Tex has delivered?
We are proud to announce our recent State-of-the-art machines was delivered to technical textile manufactures, SRF and Texport Syndicate under the guidance of Dileep Somaiyaji, who is well known as technical textile expert in the industry. Also we have delivered complete turnkey project for Rajapalayam Mills with Fully Automatic Conveyor and Packing Station, where no manpower is used for handling the fabric roll for fabric inspection and rolling from loom shed to packing station.
Apart from these, B-Tex is committed for 2 Auto-Cut-Pack System and few technical textile and export projects in pipeline
Sustainability and Innovation seem to be the two key trends in the industry. How is your company preparing to tap these 2 trends?
Of Course, sustainability and innovation are important driving forces of the fashion and textiles industry, which revolutionise the sector, as well as its processes and production flows. With respect to sustainability, our after sales team and technology team offer numerous possibilities for modernisation. Our Italian collaboration for technical know-how and software allow us to sustain and grow in any challenging situations. With new Innovations we are ready to deliver the state of the possible machines.
What are the emerging trends in the industry?
Automation is the new trend in textile Industry. We all are aware of the difficulties textile industry had faced to bring India to present position in global market. But today due to manpower reliability and quality control aspects the industry is moving to automation. It is not important to invest in new machines but even upgrading the existing plants will help to achieve the goals on time.
B-Tex helps to convert existing traditional cutting to Auto-Cut-Pack system where customer gets benefits of 2-3 per cent of A-Grade Fresh fabric with lots of benefits like 40 per cent reduction in manpower, space, transportation, increase in production and decrease in rejection.
Our Inspection and Grading Software (IGS) helps to get all the report on your finger tips for daily production, dispatches, stocks, etc. This keeps our Clients ahead of their competitors.
What are your growth plans?
India is considered to be preferred supplier in recent times, due to increase demand and widespread acceptance in our products, we are under expansion. We are sanguine about the overall scenario and are ready to face the new growth phase of textile industry.
B-Tex is setting up new manufacturing plant at outskirts of Mumbai for manufacturing and Assembling of the machines with In-house German laser cutting technology, 8 tank powder coating and other with state-of-the-art machines.
Recently we have launched our all New Auto-Cut-Pack System model Nirvana combined with LDPE and HDPE Packing in one Go. This will surely change the traditional cutting and packing system to high end automation and deliver lots of benefits to our clients.