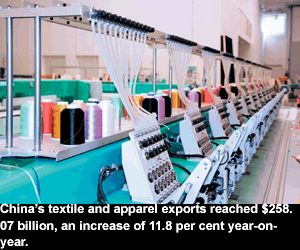 As largest-ever ITMA Asia? 2014 opens…: Dragon still reigns supreme
As the 5-day Shanghai show opens its doors on June 16, 2014, China's supremacy in textiles and clothing stays unchallenged despite a few threats looming large. Samuel Joseph reports.
As the 5-day Shanghai show opens its doors on June 16, 2014, China's supremacy in textiles and clothing stays unchallenged despite a few threats looming large. Samuel Joseph reports.
Despite dark clouds gathering over China's economy?rising labour cost, spiralling RMB and a sluggish export market?the Dragon still rules the global textile kingdom.
Jiang Hui, Chairman of the China Chamber of Commerce for the Import and Export of Textile and Apparel, is happy to list the statistics. He says that by the end of 2013, China's textile and apparel exports reached $258.07 billion, an increase of 11.8 per cent year-on-year. China's fastest growing export market is now the ASEAN region, which increased by 30.15 per cent, making the region China's third largest apparel export market. Exports to Europe, the US and Japan?China's largest export markets in that order?have increased moderately, and Chinese apparel enterprises are still relatively profitable, seeing a year-on year profit growth of 17.06 per cent.
According to statistics from the General Administration of Customs, China's exports of textiles and garments amounted to $26 billion in 2013, an increase of 7 per cent over the same period last year. China continues to focus on upgrading technology and skills to reach an international level for textile and other industry sectors, and this is one of the priorities under the government's 12th Five-Year Plan period (2011-2015).
Let us take a look at textile machinery scenario. China is far from putting a stopper on investment or production in textile machinery. Statistics rarely go beyond the Great Wall. But, acccording to the most reliable data from the International Textile Machinery Shipment Statistics-ITMSS of the Zurich-based International Textile Manufacturers Federation (ITMF), in 2012, 94 per cent of all shipped short-staple spindles were destined for Asia (9.91 million), with China alone absorbing 6.39 million or 65 per cent of global shipments, followed by India as distant second (1.97 million spindles or 19 per cent). China was again by far the biggest single investor in rotors absorbing 363,950 or 81 per cent of global shipments. India was again distant second with a total of 19,400 new open-end rotors (4.3 per cent). Again, the biggest single investor of draw-texturing machinery was again China where 489,600 new spindles or 68 per cent of global shipments were installed, followed by distant second India with 44,400 or 6.2 per cent. In shuttleless looms, the biggest global investor was again China with 58,900 looms (68 per cent), of which 34,400 were water-jet looms, 16,000 air-jet looms and 8,500 rapier/projectile looms. The biggest single investor in circular knitting machinery was once more China with a total of 28,280 (a global market share of 77 per cent) and in flat kniting machines where 33,040 new machines (72 per cent) were installed.
The Chinese textile manufacturers are developing some of the best answers in technical aspects of textile industry, along with very competitive prices. China-made textile machinery and equipment account for 80 percent of domestic textile machinery market. China is not only exporter of textile machinery but also a potential importer of textile machinery. The potential import markets for textile machineries were Chinese provinces like Jiangsu, Zhejiang and Guangdong, which accounted for roughly 71 per cent of the Chinese overall textile machinery imports.
Given the current climate in Asia's textile and garment sector, many experts in the industry concur that for the foreseeable future, China will remain the leading textile and apparel sourcing country. Against this background the fourth combined ITMA ASIA CITME exhibition is gearing up for another mega showcase in Shanghai, China. To be held from 16-20 June 2014 at the