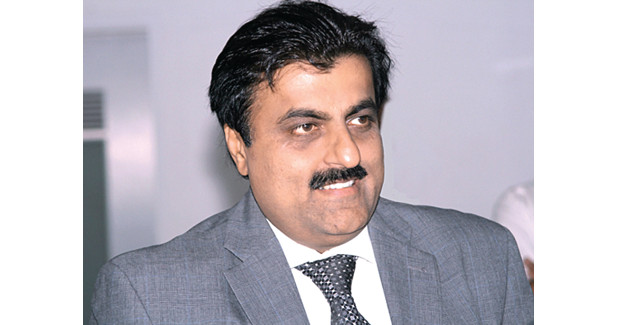 Archroma is there to support textile industry towards more sustainability
Headquartered in Switzerland, Archroma is a global colour and specialty chemicals company that operates with 3,000 employees over 35 countries and with 24 production sites.
Headquartered in Switzerland, Archroma is a global colour and specialty chemicals company that operates with 3,000 employees over 35 countries and with 24 production sites. It serves industries such as packaging, paper, construction, paint, as well as apparel and textile– delivering specialised performance and colour solutions to meet customers' needs in their local markets, touching and colouring people's lives every day, everywhere.
Anjani Prasad, Managing Director & Head, Brand Performance Textile Specialties – India, Nepal, Sri Lanka, Archroma, speaks on the company's position in the Indian market, in a conversation with ITJ Senior Sub Editor, Karthik Muthuveeran.
Excerpts…
Globally, Archroma is a leader in dyeing and chemicals. How is Archroma positioned in the Indian market?
We indeed are a recognised leaders in chemicals, dyes, pigments, sulphur dyes, etc. Let me give you an example. In denim, Archroma today is in the unique and envied position to offer a complete solution package combining eco-advanced colours, auxiliaries and finishes, such as its ADVANCED DENIM dyeing concept based on Diresul and Optisul sulfur dyes, introduced back in 2007. ADVANCED DENIM allows massive water and resource savings, and is today used by brands such as Patagonia. And, for designers and brands who long for authentic indigo inspiration, Archroma's Denisol range of pre-reduced liquid indigo dyes, manufactured in a "zero water discharge" production facility, offer a GOTS and bluesign certified option.
Archroma is there to support the textile industry towards more sustainability. This is how we aim to make a difference – through innovation that supports the needs and creativity of our customers and our commitment towards protecting the Earth and its inhabitants.
Nowadays, there are a lot of acquisitions taking place in the global market with the latest being Dow and DuPont merger. How has Archroma positioned itself in this regards?
Archroma was formed in October 2013 from the textile, paper and emulsions businesses of Clariant. Clariant itself was formed in 1995 as a spin off from Sandoz, a chemical company which was established in Basel in 1886. In 1997, Clariant acquired the specialty chemicals business of Hoechst, a German chemical company.
Since then, Archroma has been growing organically and with its first acquisitions. We acquired the global textile chemicals business of BASF in July 2015, and we own 75 per cent of M. Dohmen, an international group specialising in the production of textile dyes and chemicals for the automotive, carpet and apparel sectors. These acquisitions will help us grow and thus better support the challenges faced by our industries.
Which are the products for the Indian market?
Most of the technologies developed by Archroma for global textile market are available to the Indian market too. From fibre to finish, Archroma therefore can play a key role in India throughout the entire textile supply chain, with special chemicals for pretreatment, dyeing, printing and finishing of textiles.
In India, what are the various challenges faced by Archroma?
Challenges will be definitely be there in a growing economy. We have customers facing challenges in wastewater management, technical challenges, etc. and Archroma provides solutions and technical expertise to tackle these. Customers are looking at brands and also at the ecological and sustainable limitations. There again, we help them with our knowledge and experience, as well as with our ONE WAY sustainable service that helps them to select products and processes aimed to support their own productivity and sustainability goals.
Chemical industry is moving largely to the Asian markets particularly China in a big way. What is your take on this?
All markets have their own challenges to deal with; even China where manufacturers have to quickly adapt to growing regulations aimed at better water management. As far as the dyeing industry is concerned, India is growing at a considerable pace. More consolidation will take place in future. Smaller companies will move out, while bigger companies will get even more bigger. These transitions will happen even faster as the costs of wastewater management will increase due to tighter regulations and the growing pressure from brands, retailers, and NGOs.
Any future plans?
Be it apparel, denim, home textiles or technical textiles, we focus on answering the needs of our customers, in particular those who like us aim at growing and creating innovation and added value for their own customers, in a sustainable way.
How do you look at the market for technical textiles in India?
Archroma offers solutions to support technical textiles: In the areas of color, such as high performance Printofix TF pigment preparations; fire protection, with Archroma's halogen-free Pekoflam range; repellency and release, from C6 chemistry Nuva N to non-fluorine-based Smartrepel; and coating solutions.
At the moment, the market is not very big. However, the situation is changing as the industry has been gaining knowledge. There are a lot of investment happening in the field of technical textiles. The government has started to support with establishing centres of excellence throughout India. The industry needs a technical push, and we are here to help. The home textiles market is picking up, even though the consumption per capita is still relatively small. But as the economy moves, the Indian textile industry will also evolve.
Any recommendation to the government?
We could probably gain from support in the area of higher education, trade agreements with other countries, or tax rebates to support the investment needs of the textile industry, for instance in wastewater management.
Anjani Prasad holds a B.Sc (Tech) and M.Sc(Tech) in textile chemistry from UICT. He started his career in production with Century Mills, where he developed a new process for dyeing with aniline black dyeing for which he received two patents. He moved to Clariant (India) in 1991 as Technical Executive and progressively rose to become Country Head of Textile, Leather, Emulsion and Paper Division in 2006.
In 2010, Prasad was given a dual responsibility of Country Head – Textile Business and Head – Asia Pacific – NWC. He was seconded to Clariant International in 2011, first at Switzerland and then at Singapore, where he handled Global SCM projects, managed capital and cash flow for the business, aligned the apparel and interior in marketing and worked on sustainability projects. Since July 1, 2012 Prasad is Global Head of New Business and handles innovation, with focus on open innovation, asset light options and new business development.