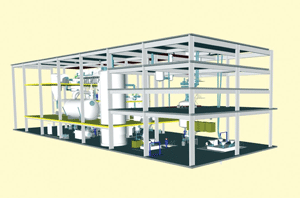 AQUAFIL Engineering LBT®Polyester Plant
The new innovation of AQUAFIL Engineering is a milestone in the polyester area and is called ¨Low Building Technology¨ (LBT®). The polyester plant fits into a normal hall and only requires some platforms. The building height of a LBT
The new innovation of AQUAFIL Engineering is a milestone in the polyester area and is called ¨Low Building Technology¨ (LBT®). The polyester plant fits into a normal hall and only requires some platforms. The building height of a LBT® plant is 50 per cent less compared to other modern polyester plants considering the same footprint. Building and erection cost and time are reduced significantly and the LBT® plant achieves the lowest electrical consumption worldwide.
The AQUAFIL LBT® convinced a new client in India. The LBT® plant is already under erection. More information will be published at a later stage.
The supply and service of AQUAFIL Engineering includes basic and detailed engineering, license, proprietary equipment of the plant (ISBL), main product valves / pipes, supervision, training and start-up.
AQUAFIL Engineering has long experiences in building and designing continuous and batch polycondensation plants for PET polymers for textile, film and bottle grades. The LBT® design is available for continuous and batch plants of all capacities.
For further information:
Aquafil Engineering GmbH
Düsterhauptstr. 13
13469 Berlin Germany
Tel: 30-403003-0
Fax: 30-403003-99
Email: polymer@aquafileng.com, Web: http://www.aquafileng.co