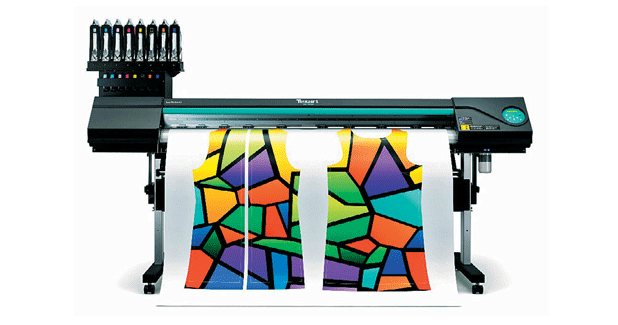 Apsom to launch sublimation printer at Garfab
Apsom Infotex Limited, the Indian master distributor to Roland DG Corporation and a leading worldwide manufacturer of wide-format inkjet printers and printer/cutters, has released the Texart RT-640A
Apsom Infotex Limited, the Indian master distributor to Roland DG Corporation and a leading worldwide manufacturer of wide-format inkjet printers and printer/cutters, has released the Texart RT-640A; an advanced 64¨ sublimation printer at Garfab-TX, which was held at Surat from May 15-17, 2015.
Dye-sublimation printing is an exciting and rapidly growing market in India. Sportswear, interior décor, displays, flags and banners are just a few examples of the many opportunities available with this technology. ¨The Indian textile sector is a hugely vibrant market, and this machine significantly lowers the barriers of entry to this and the soft signage market, offering a highly cost-effective and flexible solution for those considering expanding into this exciting sector,¨ MS Dadu, Director at Apsom said.
¨In fact, I agree with the statement that the digital textile printing business will become one of our core businesses and the next growth driver for the company,¨ he added.
The RT-640 is a state-of-the-art dye sublimation transfer printer featuring innovative print control technology, a powerful RIP software and a choice of four-colour (CMYK) or eight-colour (CMYKLcLmOrVi) original dye sublimation ink and offers numerous features custom made for digital textile production.
Among entry-level dye sublimation transfer printers, the RT-640 has achieved the industry´s highest level of practical print speed of 22 square metres per hour and a maximum speed of 32.6 square metres per hour, while optimised fan absorption power, keeps transfer paper flat for printing.
Furthermore, a newly designed Media Feed Adjuster at the front and back provides even tensioning and prevents skewing.
The results are a precisely wound roll on the take-up reel to deliver consistent feed tension when the media is passed through the calendar press.
With a choice of dual CMYK or 8-colour configuration, including orange and violet, Roland´s new Texart ink offers an extremely wide colour gamut to enable bold and vibrant printing with high contrast, subtle gradations and remarkable fine detail. The new strong Black ink has depth and density to produce accurate and rich output. For ultimate ease, the RT-640 uses Roland´s proprietary Ink Switching System, to automatically switch to the other ink pouch for unattended continuous printing. This allows the user to replace an empty ink pouch without stopping the printer.
ErgoSoft Roland Edition RIP software is included with a RT-640 purchase. This premier software has a well-deserved reputation for quality in the textile printing industry and one will benefit from a number of features designed to combine excellent high-speed RIP throughput and image quality.
The Texart RT-640 is equipped with Roland´s latest gold-plated print head, which enables the highest quality imaging. Variable dot control produces droplets of seven different sizes for precise, detailed graphics. The result is high quality printing with vibrant colours, smooth gradations and superb contrast.
¨Backed by highly efficient service structure and outstanding support nationwide by Apsom Infotex Ltd, we look forward to welcoming visitors to the stand and explaining how Roland devices can transform customers´ imagination into profit.¨ Deborshi Pal Chaudhury, Business Head, Apsom Infotex said.
For further information:
Arun Rao,
Taurus Communications,
Cell: +91 98250-38518 / 91575-07938
Email: arun@taruruscomm.net
Deborshi Pal Chaudhury,
Business Head,
Apsom Infotex Ltd,
Email: debu@apsom.com