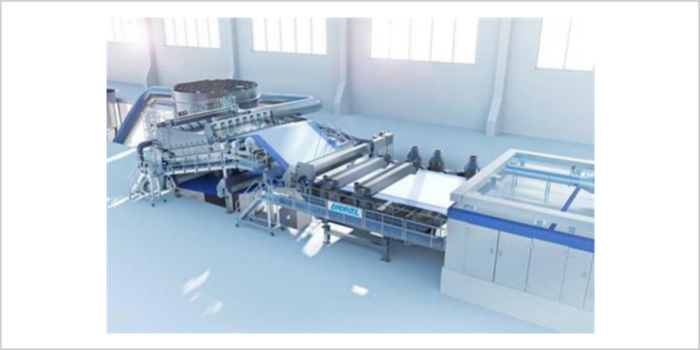 Andrtiz's cutting-edge tech for Indian market
The ANDRITZ service centre in Chennai ensures fast and reliable support for any service needs. In addition, the strong global service network within ANDRITZ guarantees highest quality and efficiency.
ANDRITZ Nonwoven is one of the world's leading suppliers of technologies for the nonwoven and textile finishing industry. Its key competences lie in technologies for needlepunch, spunbond, spunlace, wetlaid, textile calendering and converting. Long years of experience in the hands of the well-known companies Küsters, Perfojet, Asselin-Thibeau and Diatec form the foundation of the ANDRITZ Nonwoven technology. The innovative technologies of these companies complement one another ideally in process solutions for a great variety of applications.
By uniting forces in engineering and process development, ANDRITZ can provide unrivalled expertise to the benefits of their customers. Complete lines, rebuilds, upgrades and automation are part of the portfolio, as well as business with individual machines. The nonwoven eXcellence brand stands for certified high-quality performance from forming to finishing, top-class service, and prompt, smooth project execution.
As a major player, ANDRITZ Nonwoven is compelled to continuously seek innovative technologies that fulfill customer demands. It has manufacturing facilities and technical centres worldwide that comply with international standards, thus providing high quality assurance and quality control practices.
ANDRITZ shares technologies and unites market experience, cultural diversity, as well as well-established customer and supplier relations all along the value chain. Listening to customers and understanding their products is the initial step in all development work. International R&D teams from all competence and service centers have joined forces to create innovative and visionary concepts for sustainable products.
In addition, ANDRITZ also works in close partnership with well-known universities, institutes, and associations in order to evaluate and improve processes, and at the same time identify talented future employees for engineering, process or project management positions.
Dedicated service for India
Running complete lines calls for in-depth nonwoven and textile expertise and excellent service. ANDRITZ knows how important uptime is for customers' production efficiency: That is why everything is designed to keep interruptions to a minimum. ANDRITZ offers a full service portfolio and thus can ensure improved uptime, productivity, and product quality. This includes on-site support, remote maintenance/assistance, specific trainings, line audits and troubleshooting, upgrades and modernizations, genuine spare parts, service centers in Europe, North America, China and India. The ANDRITZ service centre in Chennai ensures fast and reliable support for any service needs. In addition, the strong global service network within ANDRITZ guarantees highest quality and efficiency.
Cutting-edge needlepunch tech
Based on many years of experience in all fields of needlepunch technology, ANDRITZ creates cost-efficient, flexible, and reliable turnkey needlepunch lines, from opening and blending, to the winder. As one of the worldwide market leaders, ANDRITZ has developed its technology extensively, working in close cooperation with its customers, and has always designed new solutions in order to improve fabric evenness, bring added value to nonwoven webs through additional fabric performance, or create systems to optimise productivity and minimise maintenance requirements. With state-of-the-art installations in the needlepunch technical centers in Elbeuf, France, ANDRITZ process engineers serve as customers' partners in evaluating new processes and products, and in establishing the right parameters for product quality.
Driven by the vibrant market for durable nonwovens, ANDRITZ has developed a unique elliptical pre-cylinder tacker – the PA3000. With this state-of-the-art machine, ANDRITZ is responding to customer demands for higher capacities and lighter products. The PA3000 is an optimised cylinder pre-needleloom, which offers greater speeds and widths and has been specially developed for lighter webs. There is no friction between the web and the rolls, and there are no issues with the visual appearance.
ANDRITZ is also focusing on its latest needling technology for producing veloured felts, mainly for applications in the automotive industry. The long-lasting brush design combined with a needleloom for high production capacities ensure reduced production costs and a high return on investment for customers. ANDRITZ enjoys considerable market confidence with its needlepunch systems and needlelooms as the core process technologies, especially in the segment for needleloom devices manufactured according to special customer requirements.
In addition, ANDRITZ introduces the next generation of its batt forming technology, the ProWin system. ProWin is a further development of ProDyn and ProWid, which have achieved a high level of acceptance on the market with around 200 systems installed. This technology improves the current weight-profiling options and increases the actual production capacity.
Wetlaid tech to reach new markets
The ANDRITZ neXline wetlaid opens the door to niche market manufacturers, offering products made from special fibers such as aramid, carbon, micro-glass, and other high-tech fibers, and is the right choice for end uses in the automotive, aerospace, agricultural, construction, medical/hygiene, and household sectors. Numerous options are available to meet individual needs.
Moreover, the Wetlace technology provides unique technology for outstanding performance in the production of flushable, dispersible and biodegradable wipes. It combines the ANDRITZ web forming solution with ANDRITZ hydroentanglement units, optimizing the wet strength of wipes for use and rapid disintegration when flushed.
The ANDRITZ wetlaid line for glass fibers comprises a completely new, revolutionary development in the manifold, diffusor, and former machinery segments. Highly uniform fiber distribution with optimal structures during the laying process is a basic prerequisite for high-quality end materials. An ingenious recycling management system ensures a continuous reduction in the consumption of raw materials and water, while a resource-saving water and energy system also helps to reduce costs from the very first day of operation. This is possible due to ANDRITZ's many years of experience in stock preparation and to its mature pump technology.
ANDRITZ raises the bar for Asia
Asian nonwovens manufacturers are increasingly requiring higher capacities and top-class quality for spunlace nonwoven products serving local and export markets. ANDRITZ Nonwoven has the right solution and offers neXline spunlace eXcelle with TT card web forming and JetlaceEssentiel hydroentanglement units for very high capacities. Cutting-edge Asian nonwovens producers are clearly targeting this configuration. In addition, ANDRITZ Nonwoven offers a neXline spunlace eXcelle in crosslapped configuration, which is especially suitable for technical products and multipurpose wipes. Both configurations have been developed and optimised to create sustainable products with high absorbency and in compliance with single-use plastic product reduction policies.
Tailor-made spunbond solutions
The ANDRITZ portfolio for the spunbond market ranges from calenders and spunjet equipment to finishing solutions and dryers. Customers can produce the exact fabric characteristics they need with the ANDRITZ superior technologies from complete system solutions, a single unit, a rebuild, an automation system, or comprehensive life-cycle services.
Customers benefit from over 60 years of experience and comprehensive project management.
With more than 600 nonwovens calenders in operation worldwide and installations in all high-end nonwovens lines, customers get top performance from ANDRITZ. Depending on the final product and its parameters, such as strength, softness, or air permeability, our nonwoven calender portfolio ranges from low and medium capacities (aXcess range) to high capacities (eXcelle range).
The ANDRITZ aXcess calender range is especially developed to suit the production of low to medium capacities of up to 16,000 t/a. The compact design of these calenders takes up very little space and allows easy access to all components. The complete unit is delivered to customers' factory floor with only minimum assembly work required, saving even more time.
ANDRITZ textile calender range
Depending on customers' final product and its requirements, such as soft handle, gloss, or air permeability, the ANDRITZ textile calender portfolio ranges from two-roll calenders to three-roll calenders to special configurations designed precisely to meet customers' needs. Customers can use ANDRITZ textile calenders in a large number of markets, such as home textiles, clothing, technical textiles, denim or African damask. Take advantage of an all-embracing, first-class product and service portfolio in the textile calender market. Together with the prestigious ramisch technologies, ANDRITZ has made its way to the top of this market.
The latest development within the ANDRITZ textile calender range is the teXcal Raconip TT. The long tradition of excellent calender technology for the textile industry is continued with that innovative machine. The teXcal Raconip TT is aimed primarily at customers who are at home in the large market for technical textiles with highest quality standards. These end products are, for example, sports and work wear, sailcloth, parachute fabrics, or packaging materials.
This new calender offers the operator a number of features that are useful during operation such as user friendliness, excellent data management for the calender process and product quality in real time, and extended maintenance intervals. In addition, the calender contains an innovative, deflection-controlled roll, the Raconip TT. It offers highest flexibility by providing unrestricted profiling over the entire fabric width by means of hydrostatic pistons. This ensures top quality, such as absolute flatness and spot-on air permeability.
In addition, one of the special applications in textile finishing is simili-mercerisation, which achieves a special wash and dye-permanent gloss on high quality damasks (e.g. African damask) and poplin material of pure cotton, at the same time retaining smoothness and density. The ANDRITZ teXcal simili four-roll calender hosts two steel rolls and two special rolls with a cover made of cotton blend, a special fiber blend, or a homogeneous composite material. The special fiber blend cover ensures excellent product parameters and can withstand very high surface temperatures.
Converting tech from ANDRITZ Diatec
With the acquisition of Diatec in 2018, ANDRITZ enlarged its product portfolio to include state-of-the-art converting lines for the hygiene, lamination, medical and food pad sectors. A wide range of special machines and technologies for the production of baby diapers and pants, adult incontinence underpants, adult diapers and pants, adult light incontinence products, sanitary napkins, panty shields, food pads, medical and laminating applications extend the supply and value chain of ANDRITZ. The converting process for hygiene products requires premium quality standards, high capacities, and top-level production efficiency by reducing labor costs and machine downtime. Every detail is essential. This is why customers can develop and run trials on ANDRITZ pilot facilities to optimise raw materials, roll goods and final product applications.
ANDRITZ Diatec presents its adult pants line, which offers top-class components and an innovative technology process. The growing market for adult incontinence products has resulted in a state-of-the-art process with highest quality standards, such as the development of ultrasonic side seam solutions with excellent results in terms of bond strength and system reliability. The machine speed no longer limits quality bonds. As a result, operations and size changes are faster and easier. The modern forming system for higher SAP concentration and the turning and placing system guarantee maximum process stability and put customers' adult pants at the top of the adult hygiene market.
The new ANDRITZ D-TECH face mask line (for surgical and respiratory masks) can be customized to laminate different layers of fabrics, ensuring highest quality and hygiene standards. The line comprises unwinding and guiding units for nonwoven webs, automatic splicing of all raw materials, cutting and positioning devices for the metal nose bar, an edge welding and cutting unit, a 90-degree rotation process, positioning and welding of the ear loop elastics, as well as quality control using the D-TECH Vision System. In addition, a broad selection of options are available for the main line. Machine dimensions can be customised according to customers' plant requirements.
Customers benefit from a fully automated production line including full ultrasonic technology, a facility to include printing systems, and an interface to the automatic packaging machine. Moreover, there are different packaging options available: Products can be packaged in bags by an automatic flow pack machine or packed in cardboard boxes by an automatic cartoner.