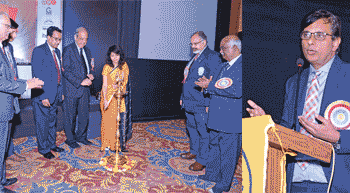 Aim for 30% global share, says Dr Kavita at TAI meet
Indian textile industry is vibrant, and many decades ago, its share in global textile trade was 45 to 50 per cent.
"Indian textile industry is vibrant, and many decades ago, its share in global textile trade was 45 to 50 per cent. But now this has come to 5.8 per cent, and we have been losing out to many new countries like Vietnam and Bangladesh. But still the potential to capture a bigger share of at least two digits, that is about 20 to 30 per cent, is very much present in the Indian textile industry," said Dr Kavita Gupta, Textile Commissioner as the chief guest at a Conference on Innovations at ITMA 2015, Milan, held recently at the Hotel The Lalit, Mumbai. The conference, which was attended by nearly 275 people from various segments of the textile industry, was organised by the Textile Association (India), Mumbai Unit. It was supported by the Office of the Textile Commissioner, Ministry of Textiles.
Dr Kavita Gupta was introduced by TK Sengupta, Vice President, TAI, Mumbai Unit. "India has the largest pool of powerlooms at 2.51 million, and today upgradation of looms is vital and state of the art shuttleless looms are the need of the hour. We need to import as much as possible if they are not available in the country," said Kavita.
While the welcome address was given by C Bose, President of TAI, Mumbai Unit, VC Gupte, Convener & Chairman of TAI, Mumbai elaborated on the need for the conference, which was expected to benefit those who have not visited the Milan mega show. "The focus today is on the Asian countries with India at the centre, and understanding all the new technologies that unfolded during ITMA Milan is very important for the growth of the Indian industry," said Gupte. He also announced that there will be an international conference on Make in India on December 1-2, 2016, just before the India-ITME show opens.
Aniruddha Deshmukh, Managing Director and CEO of Mafatlal Industries Ltd, who was the Guest of Honour, spoke about the industry's need to go beyond just adopting modern machinery. "Technology is important, but focusing on a customer-centric approach is more important. One has to look at the market from a customer point of view and in totality. The ultimate consumer thinking is not about machinery or loom efficiency, etc., but about the product that he receives from the industry. The right product at the tight price is all that matters. Besides, we should think in terms of consumer satisfaction. Are we making products that will satisfy the consumer? Then, packaging is also very important, so that finally you are delivering a quality product in the right form," said Deshmukh.
Citing the example of mobiles, Deshmukh said: "Today, 80 per cent of applications are the same in all mobiles.
But there are some distinguishing features in some that tell them apart. In textiles too, the process and product have to go through a continuous cycle of changes, and then only perfect quality can be achieved."
The inaugural session, which ended with a vote of thanks by AV Mantri, Secretary, TAI, Mumbai was followed by three sessions of presentations that covered many aspects of textile technologies and their relevance and applications.
In all, there were six technical papers presented during the conference:
* Jorg Machholz, Product Application Technologist, Fongs Europe GmbH, spoke on Goller – Cold Pad Batch
* Matthias Wulbeck, Area sales manager, Mahlo, Germany
* Updeep Singh, Managing Director, Itema Weaving (India) Pvt Ltd
* Elliyas Mohammad, Business Development Manager, (Disperse Dyes), Colourtex Industries Pvt Ltd, presented the paper on sustainable innovation
* Manash Kumar Dey, Voltas Limited expressed his views on Thies Dyeing Machines
* Vinod Kumar V, Sales Manager, Voltas Limited made the presentation on Reggiani Digital Printing
The last session began with Panel Discussion, which was moderated by Dr Sanjiv Kamat, Vice President, Kothari Info-Tech Limited. The panel discussion drew much more attraction and enthusiasm during the conference. There was substantial presence of the participants for this session. The panel comprised Dr AN Desai, Director, BTRA; Tapas Nandi, Country Head (India), Groz-Beckert Asia Pvt Ltd; Dilip Gianchandani, COO, Fibre2Fashion.com; Nitin Bavkar, Director, Smitin Marketing Pvt Ltd; Anand Jaiswal, Director, Euro Texmach Pvt Ltd; and VR Sai Ganesh, General Manager – Marketing (National), Atul Ltd.