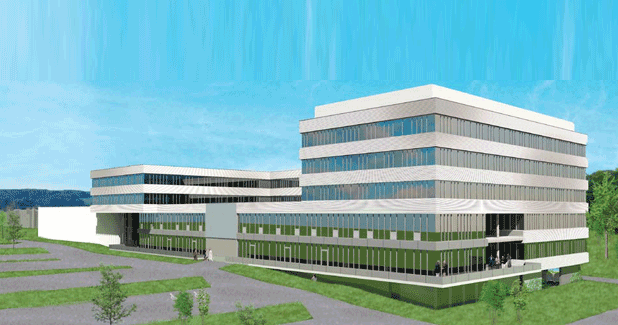 ABB to invest Rs.100 mn in global innovation campus
The new innovation and training campus will develop technologies for the factory of the future, based on ABB ability, in which production will be undertaken autonomously by smart and cloud-connected machines and robots.
The new innovation and training campus will develop technologies for the factory of the future, based on ABB ability, in which production will be undertaken autonomously by smart and cloud-connected machines and robots.
One year after announcing its acquisition of B&R (Bernecker + Rainer Industrie-Elektronik GmbH), ABB is to invest €100 million in Austria to build a state-of-the-art innovation and training campus at the home of B&R in Eggelsberg, Upper Austria. It is the largest organic investment in industrial automation in ABB's more than 130-year history and lays the foundation for around 1,000 new high-tech jobs in Austria.
The new innovation and training campus will develop technologies for the factory of the future, based on ABB Ability, in which production will be undertaken autonomously by smart and cloud-connected machines and robots. With this investment, ABB is delivering on its Next Level strategy, which defines innovation as a key driver of profitable growth. The company invests $1.4 billion in R&D annually, and has a team of around 30,000 R&D and application engineers. B&R has 1,000 employees working in R&D and application development.
The new R&D campus will cover 35,000 m² and be home to a significant number of state-of-the-art facilities. Alongside ultra-modern R&D laboratories, which will develop and test new automation technologies, from industrial control systems up to machine learning and artificial intelligence, there will be an Automation Academy to train and educate customers, partners and employees in these technologies. The ground-breaking ceremony is planned for this summer, and the new campus is expected to be up and running in the course of 2020. Once complete, the Eggelsberg site will be one of ABB's largest R&D centres.
With the new campus, the world's second-largest provider of industrial automation solutions will further expand its leadership position in machine and factory automation. The development of disruptive technologies will enable ABB to better serve the highly attractive $20-billion machine and factory automation market segment.
ABB acquired B&R, then the largest independent provider of product- and software-based open-architecture solutions for machine and factory automation worldwide, in July 2017. Today, B&R is integrated into ABB's Industrial Automation division as its global Machine & Factory Automation business unit. With the combined portfolios, ABB is today the only industrial automation provider offering customers the entire spectrum of technology and software solutions around measurement, control, actuation, robotics, electrification and digitalisation.
"B&R has had an excellent start within ABB and has exceeded our expectations. We are well on track to achieve our goal of revenues of more than $1 billion soon," said ABB CEO Ulrich Spiesshofer, at a press conference in Linz with the Austrian Chancellor, Sebastian Kurz. "With our €100 million investment, we are strengthening this dynamic and the pillars of this success story: innovation and people. In addition to the new research and development capacity, our investment will expand B&R's Automation Academy, offering customers, partners and employees globally unique education and training programs."
"With this clear commitment to the Eggelsberg location, ABB has established itself as the market leader in automation in Austria," said Chancellor Sebastian Kurz. "True to its word, the company is now making an investment that is of tremendous importance to Austria as a business location of international standing. This is the starting signal for a location offensive in the key segment of digital industry. It is an important impulse for the creation of highly-qualified new jobs and the positioning of Austria as a high-tech location."
This will also be beneficial for the country`s educational landscape. "Further strengthening our good relationships with universities, universities of Applied Sciences and higher technical education institutes is part of our innovation and research strategy. This way we can further accelerate our speed of growth and innovation as well as extend our technology leadership," said Hans Wimmer, Managing Director of B&R.
"This is a great day for B&R," said Josef Rainer, Co-founder of Bernecker & Rainer Industrie-Elektronik GmbH. "The smooth integration shows that the company Erwin Bernecker and I founded 39 years ago is in excellent hands. I am delighted that ABB continues to write and accelerate our success story with this historic investment."
Secure and seamless communication with POWERLINK and OPC UA
An OPC UA companion specification is now available for POWERLINK according to a joint announcement by the OPC Foundation and the Ethernet POWERLINK Standardization Group (EPSG). The companion specification describes how payload data is exchanged between POWERLINK and any OPC UA platform. The result is integrated communication from the sensor to the cloud – without any interfaces whatsoever.
"As technologies, OPC UA and POWERLINK complement each other perfectly," emphasised Thomas Burke, President of the OPC Foundation, in his announcement. "POWERLINK is among the leading real-time bus systems used in plants and machinery. Together with OPC UA, POWERLINK networks can now communicate seamlessly and securely with the IT environment and into the cloud."
"This specification allows OPC UA and POWERLINK to fuse into a single network," added Stefan Schönegger, managing director of the EPSG. "We're then able to join devices from different manufacturers and across different levels of the automation pyramid into a single, cohesive system." A joint working group between the OPC Foundation and the EPSG had been working on the specification since 2016. The document can be downloaded from the OPC Foundation website: https://opcfoundation.org/markets-collaboration/ethernet-powerlink-standardization-group-epsg/
The Ethernet POWERLINK Standardization Group (EPSG) is an independent organisation founded in 2003 by leading companies from the fields of motion control and automation technology. Its aims are the standardisation and further development of the POWERLINK protocol first introduced by B&R in 2001. This high-performance real-time communication system is an advanced protocol based on the IEEE 802.3 Ethernet standard designed to ensure real-time data transfer in the microsecond range. The EPSG cooperates with leading standardisation organisations such as CAN in Automation (CiA), the OPC Foundation and the IEC.
Manage hardware configurations with ease
Modular applications can now be implemented even more easily. B&R's new software component, mapp IO, makes it possible to add I/O modules at any time. This can happen before a machine is delivered or even at runtime, thereby greatly simplifying the task of managing variants of machinery and equipment.
With mapp IO, I/O configurations can be generated directly from an ERP or order management system. No engineering tools are required, even if third-party drives or modules are added. Additional variants and options are configured directly on the machine using mapp IO and then programmed using mapp CodeBox. With mapp CodeBox, you can program options in ladder logic without affecting the machine's primary application. The machine can be commissioned without having to modify the original machine software.
B&R is an innovative automation company with headquarters in Austria and offices all around the world. On July 6, 2017, B&R became a business unit of the ABB Group. As a global leader in industrial automation, B&R combines state-of-the-art technology with advanced engineering to provide customers in virtually every industry with complete solutions for machine and factory automation, motion control, HMI and integrated safety technology. With Industrial IoT communication standards like OPC UA, POWERLINK and open SAFETY as well as the powerful Automation Studio software development environment, B&R is constantly redefining the future of automation engineering. The innovative spirit that keeps B&R at the forefront of industrial automation is driven by a commitment to simplifying processes and exceeding customer expectations.