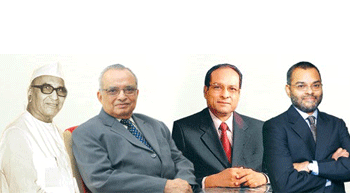 A.T.E.: Bringing best to India
It all started in 1939 with a man´s gritty decision to challenge the British monopoly in the field of textile machinery in India, as a part of India´s freedom movement. The man in question took upon himself the difficult task of selling German textile
It all started in 1939 with a man´s gritty decision to challenge the British monopoly in the field of textile machinery in India, as a part of India´s freedom movement. The man in question took upon himself the difficult task of selling German textile machinery in India – to counter the British rule, and of course also as German technology was considered to be amongst the best, and he wanted the best for India. The man we are talking about is none other than Shyamlal Bhagwati – or Kakaji, as he was fondly known – the founder of A.T.E. Kakaji was a tireless man of great stature, full of patriotic fervour and Gandhism. Though Kakaji originally planned to become an accountant and auditor, he ended up being a professor at the National College, Ahmedabad.
Like every business, A.T.E. too faced its share of turbulent times in its journey. Soon after the company was founded, the company almost reached a stage of closure due to the outbreak of World War II, with even contact impossible with its German counterparts. But Kakaji somehow held on to the business and as soon as the hostilities ceased, he reestablished contacts with his German prinicpals and quite adroitly rebuilt the business from scratch, pulling the company onto a trajectory of success.
Rise of A.T.E.
In 1954, Atul Bhagwati, Kakaji´s nephew joined the family business after completing his graduation in electrical and mechanical engineering. With Kakaji´s solid foundation and Atul Bhagwati´s own hard work, the company progressed in leaps and bounds. Atul Bhagwati made sure he captured the nitty-gritties of the business to the core by undergoing intensive training. Initially he spent 6 months in a large mill in Ahmedabad and later he went to Germany for training in the factories of A.T.E.´s principals, especially Truetzschler. He soon took complete charge of A.T.E. as the Managing Director and converted the company into a private limited concern.
As the company started tasting the success of importing a lot of textile machinery from Germany to India, came the next shock-the import curb imposed by the government in India in 1957, to conserve the country´s foreign exchange. However, the ingenuity of Kakaji and Atul Bhagwati resulted in their persuading German manufacturers to make their machines in India in collaboration with well-established Indian engineering firms nominated by Kakaji – a master stroke that helped in saving foreign exchange, and also ensured the availability of German technology in India. A.T.E. then became an agent for these companies.
Under the leadership of Atul Bhagwati, A.T.E. not only expanded its agency bus ines s , but al so forayed into manufacturing in joint ventures with manufacturers from Europe. He was joined in this endeavor by his younger brother, Prakash Bhagwati, who joined the company in 1973. An engineer by profession, Prakash Bhagwati shared the same integrity and diligence that Atul Bhagwati exhibited. He played a major role in setting up the manufacturing facilities of ATE Atul Bhagwati was the master mind for setting up various manufacturing projects, and Prakash Bhagwati meticulously put those ideas into effect. Their first factory in Ahmedabad went into commercial production in 1975 for manufacturing high speed light weight aluminium alloy flyers, which were previously imported.
This was just the beginning. Thereafter A.T.E. went on an expansion and diversification spree, adding one company after another, not just in the field of textile engineering, but also in the fields of flow technology and print and packaging solutions. Thus Atul Bhagwati took A.T.E. to a level which probably even Kakaji didn´t envision! ¨Our first choice is always A.T.E., due to complete solution availability and technical support¨, said Hiren Shah, Managing Director, Ruby Mills.
Atul Bhagwati, with his foresight and ethics, emerged as an industry leader and an inspirati